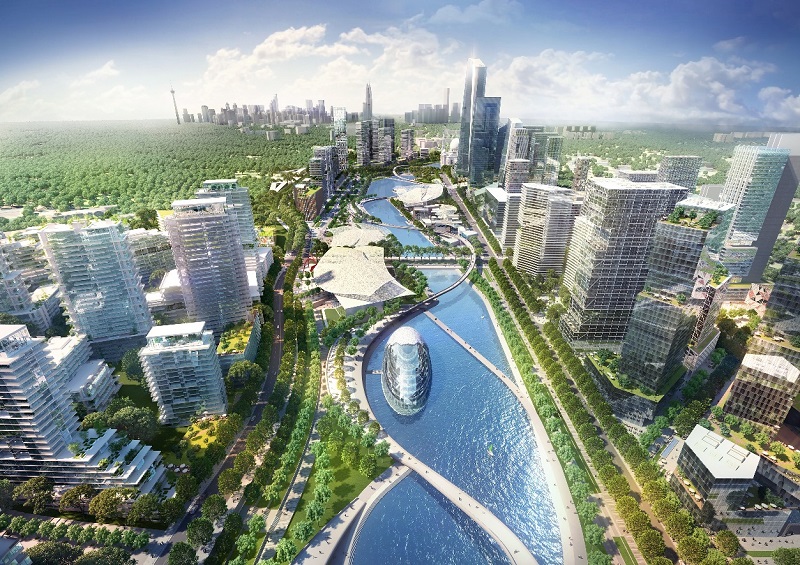 KUALA LUMPUR (Dec 29): 1Malaysia Development Bhd (1MDB) is near to sealing an agreement with a prospective partner to sell 60% of its shares in Bandar Malaysia Sdn Bhd before the year ends.
1MDB is now down to two bidders to choose from.
It is learnt that the consortium led by China Railway Construction Corp Ltd (CRCC) and property tycoon Tan Sri Lim Kang Hoo's Iskandar Waterfront Holdings Sdn Bhd (IWH) is back in favour although Tan Sri Desmond Lim together with Qatari investors submitted a late bid after the tender was closed.
Bandar Malaysia is developing the massive mixed-use development here with an estimated gross development value of RM40 billion.
On Dec 7, The Edge weekly reported that Desmond's bid is understood to be worth about RM15 billion, vying — with that of front runner the IWH-CRCC consortium's RM13 billion — to be the equity investor and development partner of Bandar Malaysia.
When contacted yesterday, 1MDB president and group executive director Arul Kanda Kandasamy declined to comment, saying the negotiation process is still in progress.
"As we are still in negotiations with the bidders, it is not possible to comment on [the] query. We will, however, make an announcement as soon as there is a tangible development," he told The Edge Financial Daily.
Bandar Malaysia is a 486-acre (196.6ha) development on the former Sungai Besi Air Force base.
On Nov 12, The Edge Financial Daily reported that the strategic development company had narrowed down the list of 40 initial bidders to two, including a consortium led by a China-based company in a tie-up with Kang Hoo and several other local developers.
This follows an announcement by CH Williams Talhar and Wong (WTW) — the transaction adviser to Bandar Malaysia's master developer 1MDB Real Estate Sdn Bhd (1MDB RE) — that it had received two final, binding and funded bids from development partners for the proposed sale of the 60% stake in Bandar Malaysia, but did not name them.
WTW said it, together with 1MDB RE, was seeking clarification and undertaking a comprehensive analysis of the two bids. 1MDB RE had on Dec 16 changed its name to TRX City Sdn Bhd.
IWH is a partnership between Kumpulan Prasarana Rakyat Johor (KPRJ) — a Johor state government entity — and Kang Hoo. IWH has a 47.16% stake in Iskandar Waterfront City Bhd, which is principally involved in property development and construction activities.
1MDB obtained planning approvals for Bandar Malaysia's mixed development project, located 3.5km from KLCC Twin Towers, in October.
Bandar Malaysia will house the terminals for the Kuala Lumpur-Singapore High-Speed Rail (HSR), Mass Rapid Transit Lines 2 and 3, KTM Komuter and Express Rail Link, among others.
Considering that a big portion of the Kuala Lumpur-Singapore HSR will run through Johor, an earlier consideration was that it would make sense to have Kumpulan Prasarana Rakyat Johor involved in the Bandar Malaysia development.
Moreover, the RM13 billion bid would put 1MDB in a better position financially. Late November, 1MDB disposed of its power assets, parked under Edra Global Energy Bhd, to China General Nuclear Power Corp, for RM9.83 billion.
With the sale of the power assets, 1MDB managed to trim some RM16.63 billion from its RM48.36 billion estimated debt, leaving it with borrowings of about RM31.73 billion.
An additional RM13 billion would reduce 1MDB's debt to less than RM20 billion.
Loca media also reported that 1MDB's cost in acquiring the Bandar Malaysia land was RM1.6 billion for the entire 486 acres, which works out to RM74.20 per sq ft. Selling 60% of it for RM13 billion would peg the value of 1MDB's 40% at RM8.67 billion.
1MDB was given a six-month extension until March next year to file its financial year ended March 31, 2015 accounts, so its latest debt level is not known.
With the power assets and 60% of Bandar Malaysia sold, 1MDB's remaining assets include the 70-acre Tun Razak Exchange (TRX), which is slated to be an international financial hub, as well as a 9.5ha piece of land in Ayer Itam, Penang. TRX is estimated to have a gross development value of RM26 billion.
Interested in investing in properties in Penang after reading this article? Click here.
This article first appeared in The Edge Financial Daily, on Dec 29, 2015. Subscribe to The Edge Financial Daily here.