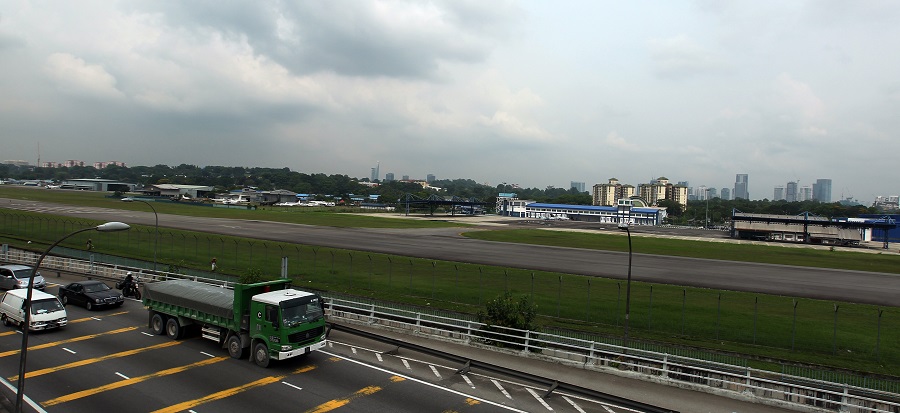 1 Malaysia Development Bhd (1MDB) is understood to be considering a late bid by businessman Tan Sri Desmond Lim, partnering a Qatari state-owned firm, even though it was made after the tender closed.
This means there are now three interested parties keen on acquiring a 60% stake in Bandar Malaysia Sdn Bhd, which owns 486 acres of the former Sungai Besi Air Force Base (pictured), sources say.
Desmond's bid is understood to be about RM15 billion, vying with that of earlier front runner, Tan Sri Lim Kang Hoo's Iskandar Waterfront Holdings Sdn Bhd (IWH), in partnership with China Railway Construction Corp Ltd (CRCC).
"1MDB is obliged to take a look at the bid, even if it came in late. The management's mandate is to get the best deal possible, so even if it's a little late, we are looking at the merits of the deal ... there is an obligation to the shareholder," one source familiar with the matter tells The Edge.
"(But) with Desmond's RM15 billion cash deal, many new considerations have to be taken into account," he adds without elaborating.
But a source familiar with low-profile Desmond denied he had made a late bid, and would only say "we have other plans".
Before this, only two out of 40 initial candidates had remained to vie for the 60% stake in Bandar Malaysia — one from Iskandar Waterfront-CRCC, and the other from a local government-controlled investment fund. The details of the bid were not made public, with 1MDB's transaction adviser CH Williams Talhar and Wong seeking clarification and analysing the two bids before it makes a recommendation to the 1MDB board.
"Initially, Kang Hoo's bid was the favourite, but with Desmond now in the fray, it is not so clear," another source says.
Asked about the denial by Desmond's aides, the source says "he (Desmond) is known to be low key, and could be trying to avoid publicity."
The late bid by Desmond more or less nudges out the GLC, turning it into a two-horse race.
IWH is a partnership between Kumpulan Prasarana Rakyat Johor (KPRJ) — a Johor state government entity — and Kang Hoo. IWH has 47.16% in Iskandar Waterfront City Bhd.
1MDB had obtained planning approvals for Bandar Malaysia's mixed development project, located less than 10km from KLCC Twin Towers, in October.
Bandar Malaysia will house the terminals for the Kuala Lumpur-Singapore High-Speed Rail (HSR), Mass Rapid Transit (MRT) Lines 2 and 3, KTM Komuter and Express Rail Link (ERL), among others.
Considering that a big portion of the Kuala Lumpur-Singapore HSR will run through Johor, an earlier consideration was that it would make sense to have Kumpulan Prasarana Rakyat Johor involved in the Bandar Malaysia development.
A RM15 billion bid would put 1MDB in a better position financially. Late last month, 1MDB hived off its power assets, parked under Edra Global Energy Bhd, to China General Nuclear Power Corp, for RM9.83 billion.
With the sale of the power assets, 1MDB managed to shave off some RM16.63 billion from its RM48.36 billion debt, leaving it with borrowings of about RM31.73 billion.
An additional RM15 billion would reduce 1MDB's debt by about half.
According to news reports, 1MDB's cost in acquiring the Bandar Malaysia land was RM1.6 billion for the entire 486 acres, which works out to RM74.20 psf. Selling 60% of it for RM15 billion would peg the value of 1MDB's 40% at RM10 billion.
1MDB was given a six-month extension until March next year to file its FY2015 accounts, so its debt level is not known. With the power assets and 60% of Bandar Malaysia sold, 1MDB's remaining assets include the 70-acre Tun Razak Exchange or TRX, which is slated to be an international financial hub, and 9.5ha of land in Ayer Itam, Penang. TRX is estimated to have a gross development value of RM26 billion.
Desmond's interest in Bandar Malaysia could stem from the fact that there was talk that the Sungai Besi land would be sold to him during the administration of Tun Abdullah Ahmad Badawi.
It seems he had plans for Bandar Malaysia, which would benefit his flagship Pavilion Mall in the heart of Kuala Lumpur. Desmond and his wife have a 37.40% stake in Pavilion Real Estate Investment Trust, while the second largest shareholder is Qatar Holding LLC, with a 35.93% stake.
Other companies linked to Desmond include developer Malton Bhd, in which he holds 37.92% equity interest.
While Desmond's RM15 billion bid has created a buzz, Kang Hoo cannot be easily dismissed. Apart from being a close associate of the Sultan of Johor, Sultan Ibrahim Sultan Iskandar, Kang Hoo is also known to have good connections in Putrajaya.
Furthermore, China-based China General Nuclear Power Corp (CGNP) has paid a premium price to take over 1MDB's power assets.
Kang Hoo's partner CRCC is a leading rail firm in China with a market capitalisation of US$28.45 billion.
Kang Hoo also has a controlling 32.38% in civil engineering outfit Ekovest Bhd, 33.15% in Knusford Bhd, which deals in building materials and machinery, and 23.42% in PLS Plantations Bhd, among others.
Interested in investing in properties in Sungai Besi after reading this article? Click here.
This article first appeared in The Edge Malaysia on Dec 7, 2015. Subscribe here for your personal copy.