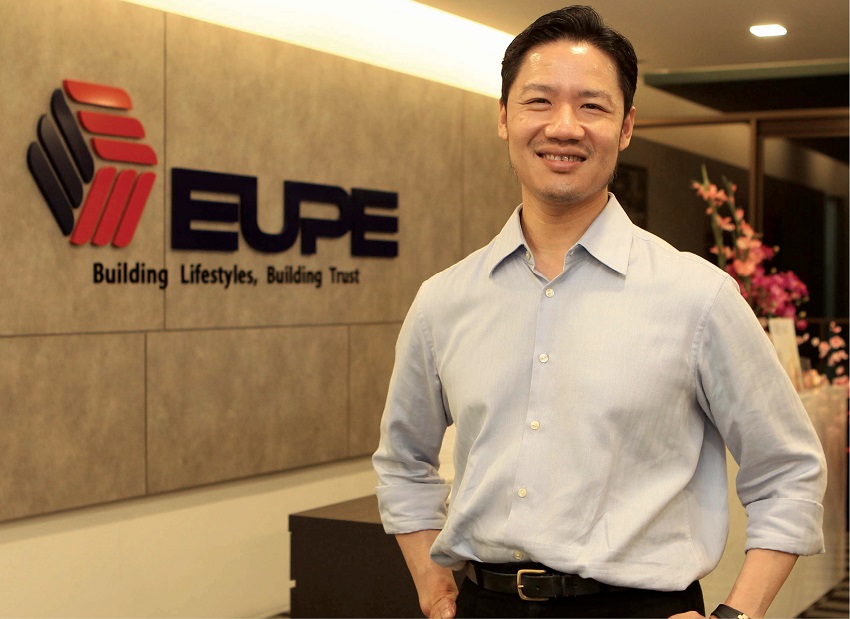 KUALA LUMPUR (Aug 22): After a rather dismal year in which earnings plummeted 75% on reduced profit margin as revenue slid 23% on lower construction contribution, Kedah-based property player EUPE Corp Bhd expects its financial year ending Feb 28, 2017 (FY17) to chart better numbers in both revenue and profit.
Firstly, it expects stronger sales from its developments this year, especially as contribution from its Novum Serviced Residences in Bangsar South, the group's maiden Kuala Lumpur project, starts flowing in.
The Novum, with a gross develoment value (GDV) of RM562 million, comprises three towers which will house 729 condominium units priced between RM720,000 and RM1.73 million. Launched in March this year, its take-up rate is now above 70%.
Inclusive of Novum, EUPE managing director Datuk Beh Huck Lee stated that total GDV for the group's ongoing projects is at RM823 million.
The second reason underlying the group's confidence of a better financial year is Bank Negara Malaysia's recent move in cutting the overnight policy rate from 3.25% to 3%, which it believes will boost the slowing property sector. As such, EUPE is gearing up for better times ahead.
"Among the projects that we will be busy with this year are Novum and two other KL projects — The Weave in Cheras as well as a project in Seputeh, both of which we plan to launch sometime next year. Aside from that, we also have our Sungai Petani developments," he said, referring to projects like Astana Parkhomes and Cinta Sayang Resort Villas.
"As for projects in the pipeline, we are planning some RM1.47 billion worth of developments, both in Kuala Lumpur and Sungai Petani," he told The Edge Financial Daily in a recent interview.
The company may be a newbie in the Kuala Lumpur property scene, but it is recognised as one of the largest property developers in Sungai Petani, Kedah.
Founded in 1986 by Huck Lee's father, Datuk Paduka Beh Heng Seong, and friend, Datuk Wira Tajudin Haji Hashim, EUPE has carved a name for itself over the past 30 years in township planning in Kedah, with some RM1.75 billion worth of projects, in terms of GDV, completed to date.
Today, Huck Lee and his mother, Datin Paduka Teoh Choon Boay, control approximately 41.65% of EUPE through their interests in EUPE's largest shareholders, Betaj Holdings Sdn Bhd and Beh Heng Seong Sdn Bhd.
Tajudin's son, Muhamad Faisal Tajudin, who is also a non-independent executive director of EUPE, controls some 23.48% of the company through his interest in Betaj Holdings.
On why EUPE chose to embark on the highly competitive Kuala Lumpur property market, away from its comfort zone in Kedah, Huck Lee said the decision was made after accounting for the country's changing demographics.
"We have to keep up with the trends. Young people are now moving into the big cities and if you look at the long-term prospects for Malaysia's economy, it is stemming from the major cities. We do not want to lose out on that.
"On the other hand, we believe property development strategies cannot be overly lopsided. With rapid development in KL, there would also be volatility. So, we need some sort of stability, which is where our [Sungai Petani] township developments come in," said Huck Lee.
However, having ventured into Kuala Lumpur doesn't mean the group is ready to embark on township planning here.
"That would be something we would like to embark on, but not in the next five years, as it comes down to the issue of land availability, gauging by the fact that our smallest township in Sungai Petani is on 200 acres (80.94ha) of land," he said.
In the group's first financial quarter ended May 31, 2016 (1QFY17), net profit dropped 66% with RM263,000 compared with RM775,000 a year earlier, though revenue gained 3.9% to RM37.64 million.
EUPE attributed the earnings decline to its loss-making chalet and golf management business, which saw its loss before tax widen to RM1.5 million from RM535,000. The business segment operates the Cinta Sayang Resort in Sungai Petani, which has a hotel, golf course and a water park.
Huck Lee said EUPE is now looking at reviving the resort. "We have invested RM12 million for an 18-month turnaround plan for the resort, which commenced in June this year. We have also entrusted the turnaround process to a leading hotel management company, InVision Hospitality."
It remains to be seen if EUPE's remaining FY17 quarters will catch up to deliver the anticipated better performance for the year and if the resort business will continue to remain a drag on earnings. Its net profit was RM3.34 million in FY16, on revenue of RM129.33 million.
EUPE shares closed up one sen or 1.31% at 77.5 sen on Friday, valuing the company at RM99.2 million.
Want to know the price trends of a development? Click here.
This article first appeared in The Edge Financial Daily, on Aug 22, 2016. Subscribe to The Edge Financial Daily here.