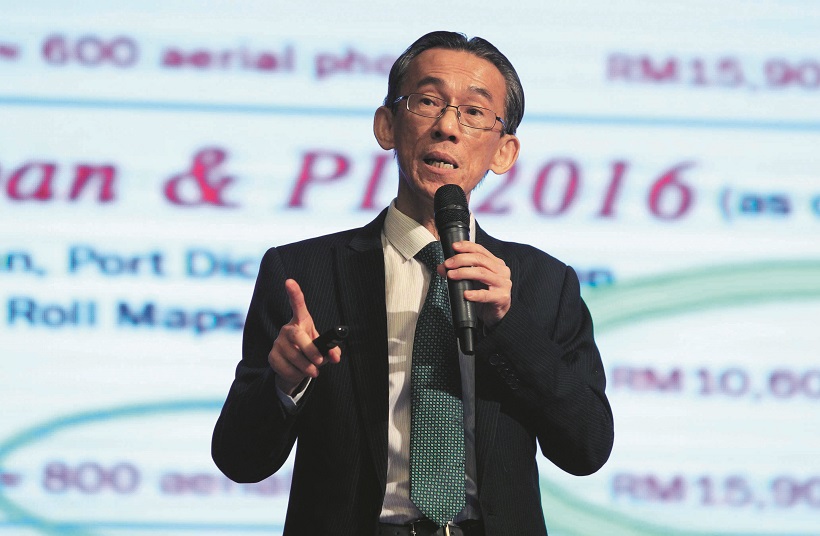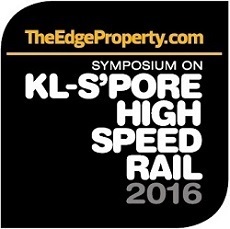 REAL estate investors looking for opportunities to tap on the Kuala Lumpur-Singapore High Speed Rail link project (HSR) can start by looking out for land available for sale near the proposed stations, said Ho Chin Soon Research Sdn Bhd chairman Ho Chin Soon.
"There are land purchase opportunities for developers and individual investors. For developers, they should look for plantation land. As for individual investors who want to buy 5 or 10 acres of land, they should look for smallholding land," he said during his presentation "Hot spots along the alignment: Where are the opportunities?" at TheEdgeProperty.com's "Symposium on Kuala Lumpur-Singapore High Speed Rail 2016" themed "Where to invest — Don't miss the boat!".
The government of Malaysia and Singapore signed the memorandum of understanding (MoU) to kick-start the 350km rail link project last month. The HSR is expected to attract 17.6 million potential users with the number estimated to grow at a pace of 2.9% per annum to about 24 million in 10 years. The project is expected to be operational by 2026.
Ho noted that some developers have acted fast to acquire land near some of the proposed stations while developers with developments near the proposed stations are already promoting their projects with the HSR as a major selling point.
During his presentation, Ho also showed a map on land use and land ownership in the areas surrounding the proposed terminus in Bandar Malaysia and the six intermediate stations in Putrajaya, Seremban, Ayer Keroh, Muar (Pagoh), Batu Pahat and Iskandar Puteri.
"You can get a lot of information when looking at this map," he said. "Looking at Bandar Malaysia, we can see that Taman Desa is just a stone's throw away," he offered, adding that real estate owners there may benefit from the proximity to the HSR station.
He also reminded investors not to underestimate the potential of the intermediate HSR stations as travel time becomes shorter to and from Kuala Lumpur or Singapore.
Ho cited the Ayer Keroh station as an example. "The location is further away from Kuala Lumpur than Seremban, but when the HSR becomes operational, the journey from Ayeh Keroh to Bandar Malaysia in Sungai Besi, Kuala Lumpur will only take about half an hour.
"One can arrive at Bukit Bintang City Centre (an upcoming iconic integrated development in Bukit Bintang, Kuala Lumpur) in another 15 minutes by using the future Sungai Buloh-Serdang-Putrajaya MRT station in Bandar Malaysia," he said.
Speaking of Bukit Bintang City Centre, Ho noted that the Kuala Lumpur Golden Triangle or locational centre of gravity is moving towards Bukit Bintang.
The Bukit Bintang City Centre project on the old Pudu prison site is a 19.4-acre integrated development which is being developed by a consortium comprising UDA Holdings Bhd, Eco World Development Group Bhd and the Employees Provident Fund (EPF).
The first phase of the project, with a gross development value (GDV) of RM4.7 billion, comprises a hotel, offices, a condominium, Mitsui Shopping Centre, a 2.43ha green park and a concert hall. The development is expected to begin construction next month.
"We should not ignore towns such as Pagoh or Muar which offer smallholding and plantation land purchase opportunities," Ho said.
Another intermediate station that seldom gets mentioned is the proposed Kampung Dato Abu Bakar Baginda station in Putrajaya. "I took some time to scout the area and found some nice houses, although they are on Malay Reserve Land."
While the proposed site of the HSR stations are currently said to be on greenfield lands, Ho said developers with land near these stations will be planning or re-drawing their development plans taking into consideration their proximity to the stations.
The symposium, which was held at Sunway Putra Hotel, Kuala Lumpur on Aug 27 was organised by TheEdgeProperty.com and supported by The Edge Malaysia. The presenting sponsor was Bukit Bintang City Centre.
Ho also pointed out that some major landowners and property players with land near the proposed HSR stations include Sime Darby Bhd (Seremban and Pagoh stations), Johor Corp and Genting Plantation Bhd (Batu Pahat station) and Lion Group, Hatten Group, IOI Properties Group Bhd, Bellworth Group, Encorp Bhd and MTD Capital Bhd (Melaka's Ayer Keroh station).
According to a JPMorgan report, UEM Sunrise Bhd (UEMS) has large tracts of land in Iskandar, Johor, which is 7,307 acres based on effective stake.
As a percentage of total project GDV, the exposure to Johor among developers under JPMorgan's coverage is largest at UEMS (85%), followed by Sunway Bhd (948 acres based on effective stake, 53% of GDV), Eco World Development Group Bhd (2,487 acres based on effective stake, 26% of GDV), Mah Sing Group Bhd (1,584 acres based on effective stake, 23% of GDV) and S P Setia Bhd (781 acres based on effective stake, 9% of GDV).
Other developers with Johor exposure include IOI Properties Group Bhd (6,100 acres based on effective stake, 19% of GDV), Eastern & Oriental Bhd (105 acres based on effective stake) and KSL Holdings Bhd.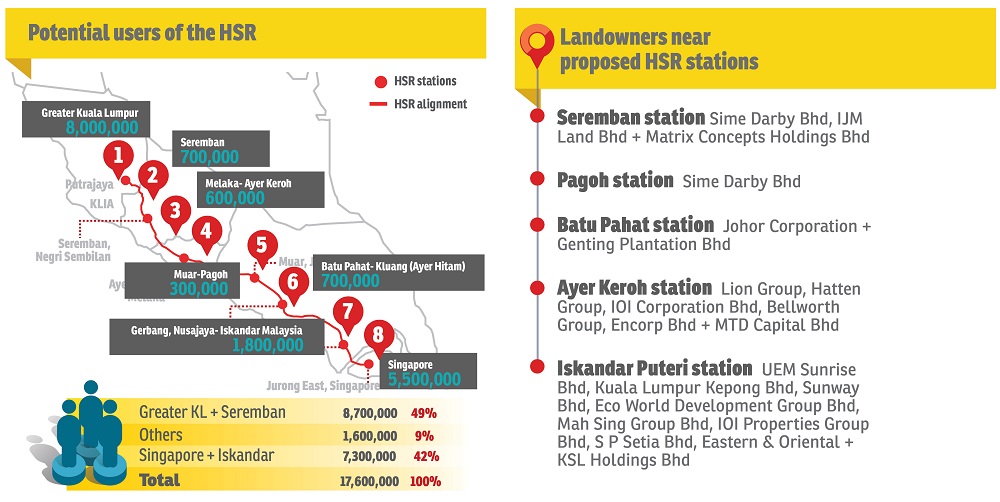 Not sure how much you will have to pay a month for your home? Check out our mortgage calculator here.
This story first appeared in TheEdgeProperty.com pullout on Sept 2, 2016, which comes with The Edge Financial Daily every Friday. Download TheEdgeProperty.com pullout here for free.
HSR270816