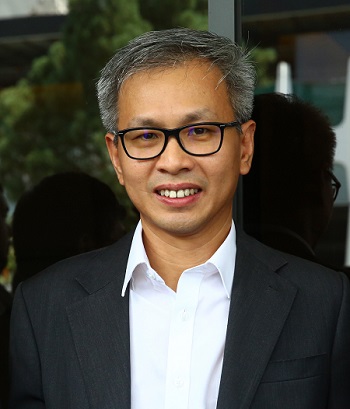 KUALA LUMPUR (Nov 7): The DAP's Tony Pua questioned as to why the Malaysian government was awarding the 600km East Coast Rail Link (ECRL) project to China Communications Construction Company (CCCC) at RM55 billion or RM91.7 million per kilometer without any open competitive tender exercise.
In a statement today, Pua, who is DAP national publicity secretary and MP for Petaling Jaya Utara cited a report by The Edge weekly quoting an executive from a construction outfit who said that at RM55 billion, the ECRL "could be the most expensive rail infrastructure project in the world in its class... it's a good project but not at this ridiculous price".
Pua said the Minister of Transport, Datuk Seri Liow Tiong Lai tried to allay the concerns of the Malaysian public by claiming that the RM55 billion is not the cost of construction.
"Instead he claims that it is merely the value of the Financing Framework Agreement.
"We have no idea whether the Transport Minister knows what he is talking about or whether he has even seen or read the above agreements given that his Deputy told the Parliament that he could not answer ECRL queries because it was not under the purview of the Transport Ministry but is instead under the Prime Mininster's Department control," said Pua.
The lawmaker said the question hence arises as to whether Liow, who is also the MCA President was merely shooting off his hip, especially since the Prime Minister himself disclosed during his Budget 2017 address that "the 600-km rail will connect townships such as Port Klang, ITT Gombak, Bentong, Mentakab, Kuantan, Kemaman, Kerteh, Kuala Terengganu, Kota Bharu and ends in Tumpat, with an estimated cost of RM55 billion."
"Does Transport Minister Datuk Seri Liow Tiong Lai really know what he is talking about when he said the East Coast Rail Link (ECRL) doesn't cost RM55 billion?" he asked.
Pua said Liow even assured Malaysians that the construction cost of the ECRL was "very transparent" and that industry players were well aware of the cost per kilometre of the rail that would be laid.
"If so, then why didn't he reveal the "real" cost of the project then?
"Even if Datuk Seri Liow does indeed know better than his Prime Minister, his response further begs the question as to why should Malaysia borrow RM55 billion if the cost of the rail project is significantly less?" Pua questioned.
He said Malaysians fear a repeat of the multi-billion dollar 1Malaysia Development Bhd (1MDB) scandal where the state-owned company borrowed US$3.5 billion and RM6.8 billion, or approximately RM18.3 billion (at the then exchange rate of US$1:RM3.30) to acquire Tanjong Power and Genting Sanyen power plants for RM10.8 billion.
"Can Datuk Seri Liow or any other Cabinet Minister guarantee Malaysians that the excess borrowings will not be misappropriated, perhaps even to bailout of 1MDB debts which were stolen?
"Is the Malaysian Government digging a bigger hole for itself in order to cover up the previous holes?" he said. — theedgemarkets.com