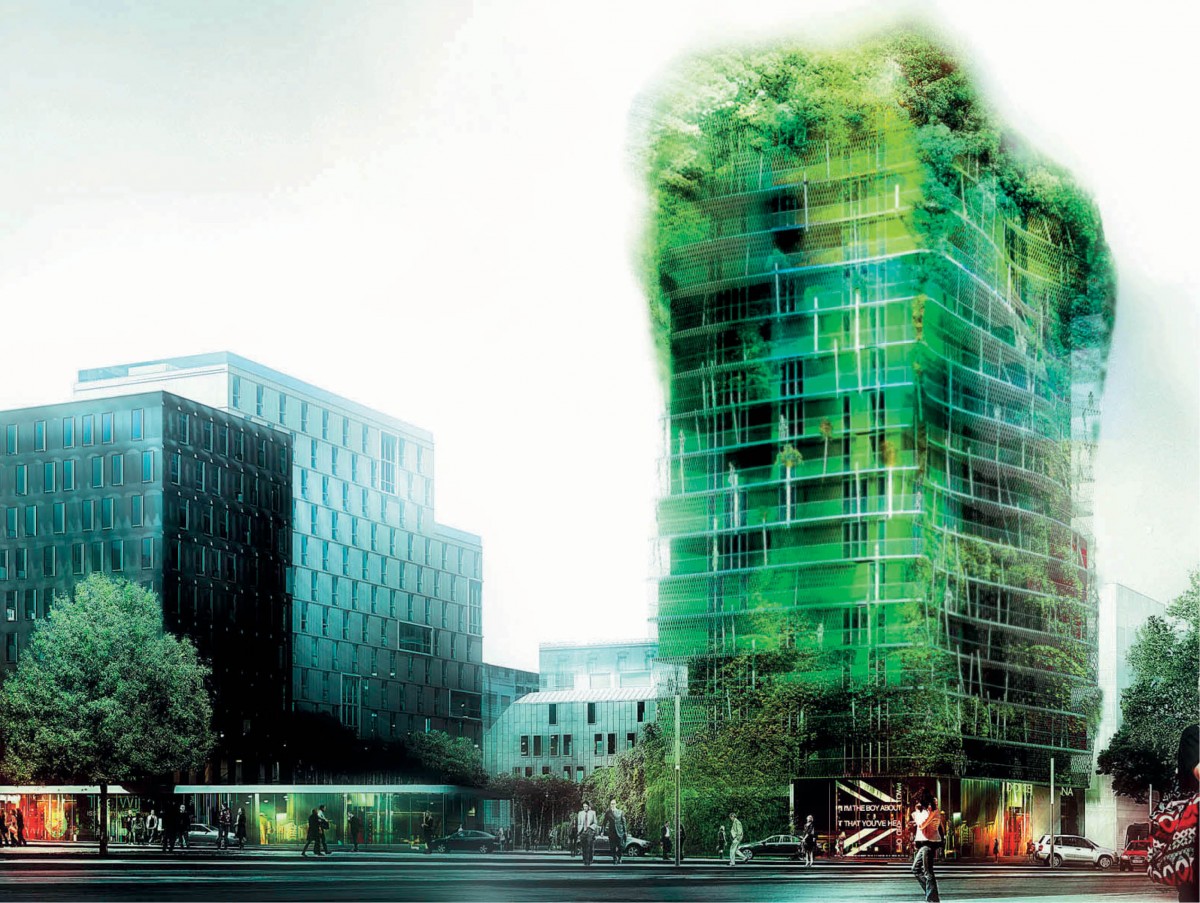 One of the most heated discussions of our age is climate change. While it cannot be solely attributed to humans alone, there is little doubt that the industrial human activity, or 'development', has played a role in unusually destructive weather patterns.

Consequently, the rapid rate of urbanisation that precedes the dwindling of natural habitats has made sustainability crucial in designing new developments.

The construction industry's use of sustainable building materials is a start. Vertical gardens are another recent measure, an innovative means of balancing nature and development.

Edouard Francois' sustainable buildings
Architect and urban planner Edouard Francois has been in the business since 1986, and established his own architectural, urban planning and design studio in 1998. He has taught in many schools around the world, and his work has been exhibited across the globe, earning him multiple accolades, including the National Sustainable Neighbourhoods Awards (2009) and the Sustainable Housing Award (2008).

Sustainable development, utilisation of local materials and services, as well as the preservation and enhancement of existing buildings are all recurring themes in his work.
1. Tower Flower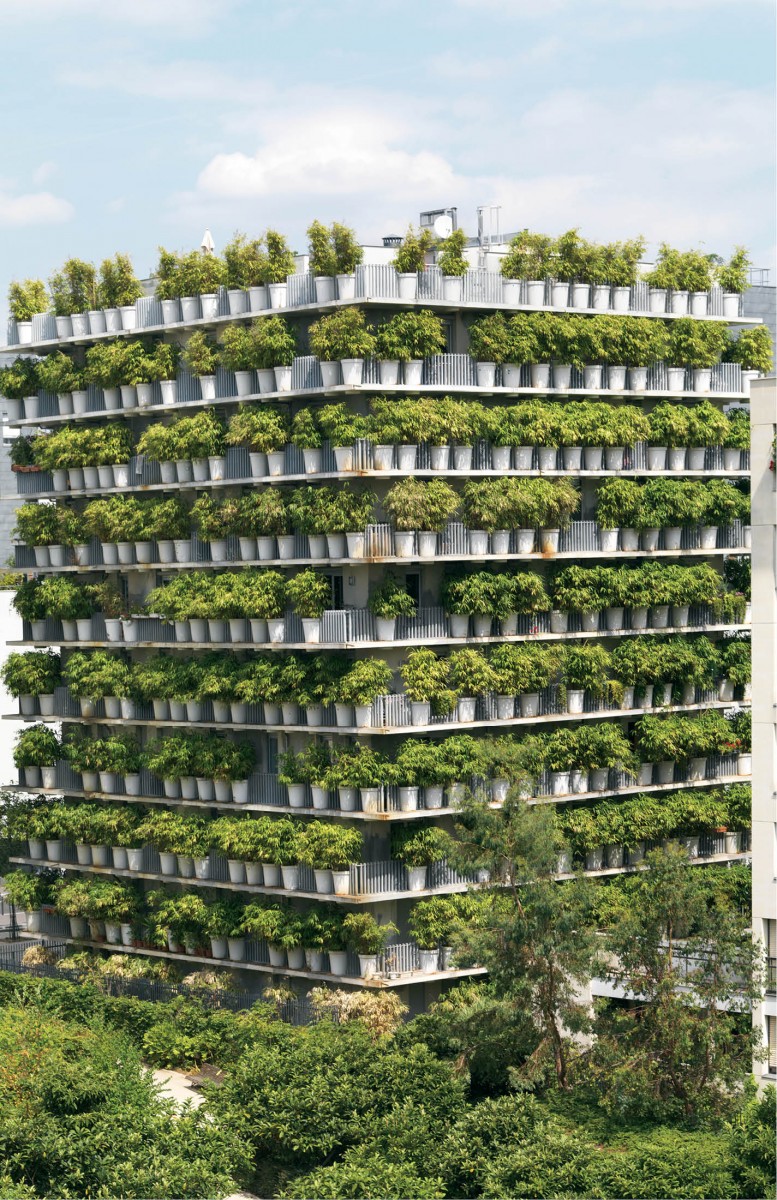 One of the notable projects that launched Francois' career, the Tower Flower in Paris entailed the vertical continuation of an adjacent park. Completed in 2004, the tower consists of 30 dwelling units and 41 parking bays and has a 2,600 sq m net floor area. The development is marked by giant flower pots hanging from balconies, inspired by Parisian window planters, allowing its inhabitants to enjoy natural lighting filtered by foliage as well as freedom from all bearing walls. Its elevator is on the facade and glazed on both sides to also enable natural lighting.

2. M6B2 Tower of Biodiversity

The project entailed the design and construction of four residential buildings, a nursery and retail outlet and has a net floor area of 13,830 sq m. Scheduled for completion this year, the tower catalyses plant seeding by allowing wind to spread class one purebred seeds into the urban environment. The development is covered in plants from wild natural areas, and aims to imbue a 'green' aura on Paris. Its vegetal facade extends to its smaller surrounding buildings, allowing for pedestrians to stroll through.

Green Over Grey vertical gardens

Green Over Grey is an award-winning Canadian design firm based in Vancouver. It creates green walls throughout North America as part of its mission to create more sustainable environments, contribute to cleaner air and improve the collective wellbeing. In short, it adds a touch of green to the city greys.

The living walls of Green Over Grey's are systems comprising a frame, waterproof panels, an automatic irrigation system, and special materials depending on the project. Waterproof panels are mounted to the frame, built in front and attached to several points of the wall. The low-maintenance walls work using the irrigation system and lightweight porous material that substitutes the need for soil, in addition to it distributing moisture and nutrients evenly to the plants.

1. Les Courants (The Currents)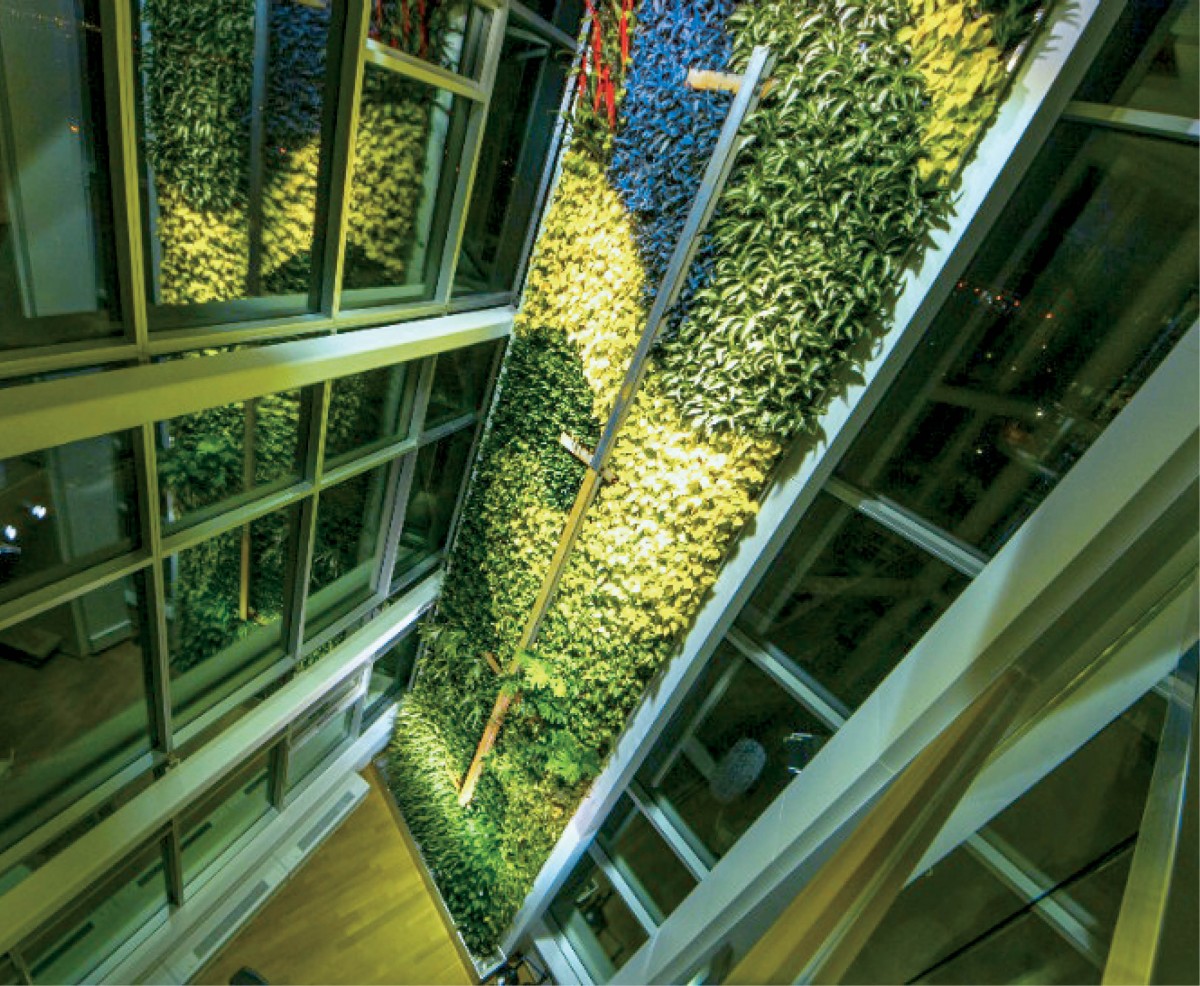 Currently the tallest vertical garden in the world, Les Courants occupies a total vertical green space of 2,130 sq ft and has 42 species of plants. Located in Cité Desjardins, an office building hosting around 1,450 employees in Quebec, the vertical garden is fully hydroponic (soil-free) and measures 213 ft high. The 11,000 individual plants were laid out to evoke the beauty of the St Lawrence River as witnessed from the Quebec and Lévis areas, and can be seen from the opposite side of the coast.


2. Semiahmoo Sky Garden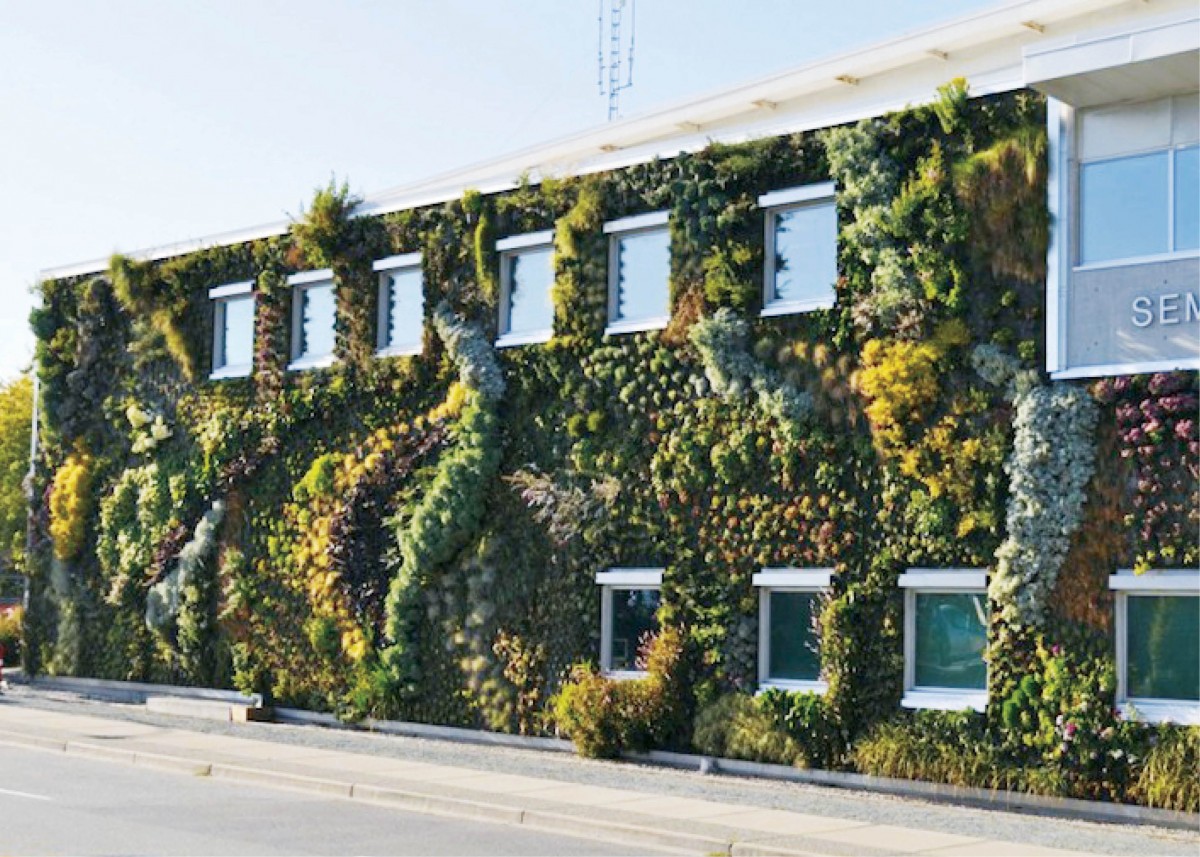 Found at the Semiahmoo public library in Surrey, Vancouver, the green wall measures 2,680 sq ft comprising 120 species of plants. Out of the 10,000 individual plants, 37% are native and 83%, evergreen species. Work started in August 2010 and was completes in October the same year. Its objective to have the exterior transition into a self-sufficient green wall to enhance its interior environment in addition to supporting a healthy urban ecosystem.

3. Edmonton International Airport

Aiming to achieve LEED (Leadership in Energy and Environmental Design) certification, Edmonton International Airport incorporated a living wall into its architecture in its main terminal. Measuring 1,440 sq ft with 32 plant species, the living wall is made self-sufficient with a drip-irrigation system that percolates through layers of recycled fibre. The central wall design was inspired by Cirrus cloud formations while the side wall areas were inspired by local Canadian artists.

Chris Bribach's Florafelt systems

Founded by Chris Bribach, whose love for organic ideas in architecture blossomed into the creation of a synthetic growing medium called Florafelt. It was made from felt fiber, which are transformed from recycled PET plastic water bottles. The pleated felt is then stapled onto a lightweight plastic board. The roots of the plant grow into the felt and all plants will be watered equally and automatically through drip line waters that wick down through the felt. The patented pleated design provides breathability and function to the plant by directing the moisture inwards and keeping the exterior dry.

1. Los Altos Hills residence vertical garden





Constructed in 2011 and comprising 504 ferns, two massive Floraframe living wall systems were mounted onto existing walls within the home. Ferns were chosen due to the openness of the atrium and its bright indirect light as an optimal environment for the ferns' growth. San Francisco's Living Green Landscape Design planted the remaining landscape for this vertical garden.

2. Urban Bistro, California




A total of 360 individual ferns were planted into the Florafelt pocket planters and installed on a 14-inch by 12-inch wall for Urban Bistro in Burlingame, California. This living wall was constructed in 2011 to enhance the cafe's ambience and provide sustainable and easily maintained architecture, aside from acting as a vivid centrepiece to attract customers.


This story was first published in The Edge Property pullout, Dec 18, 2015, that appears every Friday with The Edge Financial Daily. Tap here to download your personal copy of The Edge Property pullout for free.