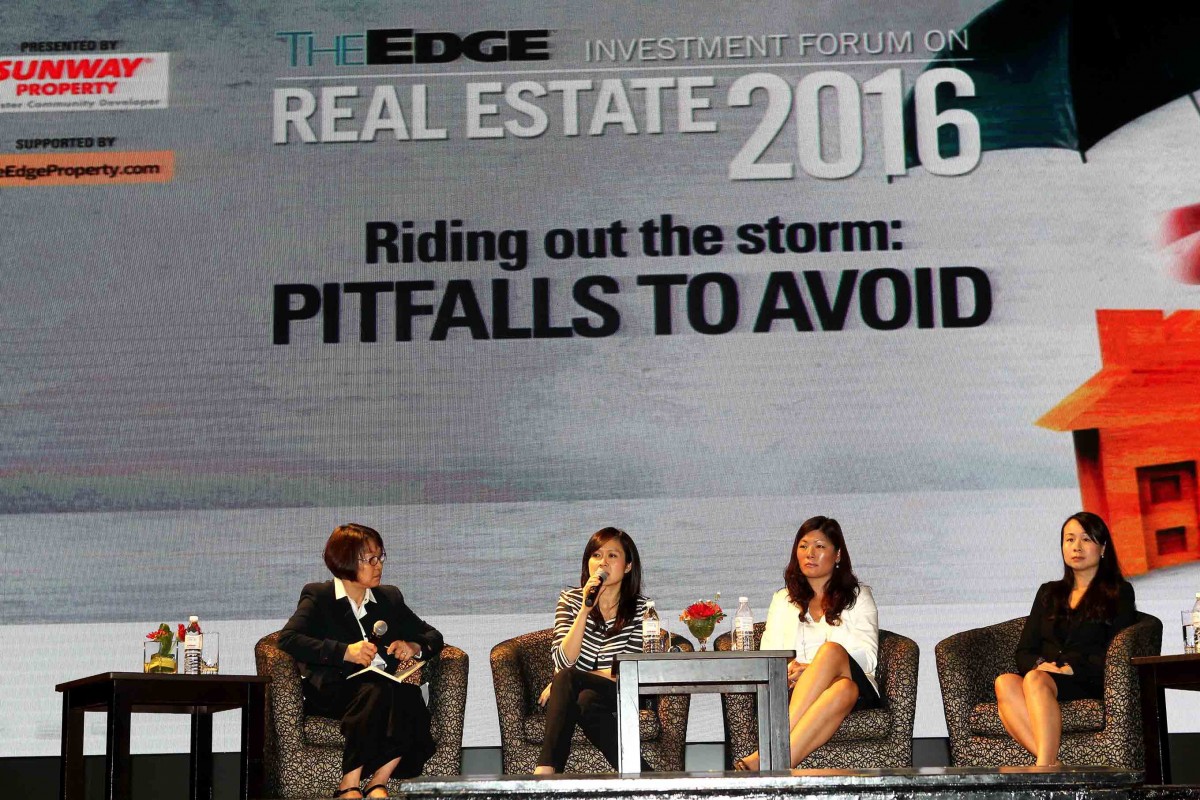 KUALA LUMPUR (April 30): No matter if times are good or bad, there are always opportunities in the real estate industry, be they physical assets, stocks or REITs, depending on one's risk appetite, according to industry experts.
Sunway Bhd managing director of the property development division for Malaysia and Singapore Sarena Cheah noted that property prices have been on the uptrend for the past 10 years with an average capital appreciation of 8% to 9% from 2005 to 2015, buoyed by a healthy employment rate and low interest rate.
"Property price growth for 2015 had dipped 2% compared with 2014, but the compounded annual growth rate (CAGR) of capital appreciation had achieved 12%," she shared her view during the panel discussion entitled "Where to put your money – real estate, stocks or REITs?" at The Edge Investment Forum on Real Estate 2016 (REIF 2016) today.
The Edge Communications and The Edge Property Sdn Bhd managing director Au Foong Yee was the moderator for the panel discussion.
Cheah said 2015 was a year of adjustment for the Malaysian property market, and the correction will continue this year, offering buyers a window of opportunity to look for potential good deals.
"The time is right now, but buyers need to look at properties in good locations, developed by reputable companies as well as potential future growth before making their decision," she added.
Kenanga Investment Bank Bhd head of equity research Sarah Lim said the company has placed an underweight rating on the property sector as they expect property stocks to be volatile and eventually be range-bound due to absence of catalysts while earnings risks still remain.
"However, pocket opportunities are still available, depending on investors' horizons. Investors will need to have more than a 12 to 18 months view for a convincing re-rating as share prices may be volatile over 2016," she noted.
"For longer-term investors, there are deep-value developers backed by strong management while those with compelling yields may offer downside support," she said.
She added that one of the undervalued small to mid-capital players to look out for is Hua Yang Bhd – it is undervalued and has high yields.
Meanwhile, steady defensive big-cap players such as UOA Bhd and S P Setia Bhd have light balance sheets and high exposure to Klang Valley areas. Sunway and EcoWorld are also counters worth looking at.
On the market outlook, Lim noted that Malaysia's residential supply is outpacing demand in the wrong segment.
"There is insufficient supply for residential properties priced between RM250,000 and RM500,000, even when the demand is strong especially in urban areas. Residential developments priced below RM500,000 constitute less than 35% of most developers' upcoming projects," she said.
Axis REIT Managers Bhd chief executive officer and finance director Leong Kit May said the dividend yield of REITs is the highest at 6.69%, compared to fixed deposits which is at 3.31% and the Employees Provident Fund yield which is at 6.40%.
"REIT investment is suitable for investors who are looking for a conservative but stable return investment, especially during times of uncertainty. When the market is good, people will go for stocks because they earn more. When the market is bad, REITs are good to defend your income," she added.
According to Axis REIT's data, M-REITs have outperformed the FBM KLCI by 79% as at March 2016, and have always outperformed since 2011.
She noted that REITs can be the cornerstone of a portfolio of quality assets.
The benefits in investing in REITs include the predictability in income stream in the form of distribution income, having a liquid proxy to physical property investment as REITs offer daily liquidity, transparent daily pricing, high level of disclosures and transparency, low entry cost and professional management.
On the future performance of REITs, Leong said the company foresees there would not be an interest hike and this will be positive for REITs.
Do not ask your auntie about the value of your home. Click here at The Edge Reference Price to find out.
Grab the May 6 issue of TheEdgeProperty.com for a more detailed report on REIF 2016. The full report comes out in the May 9 issue of City & Country, the property pullout of The Edge Malaysia.