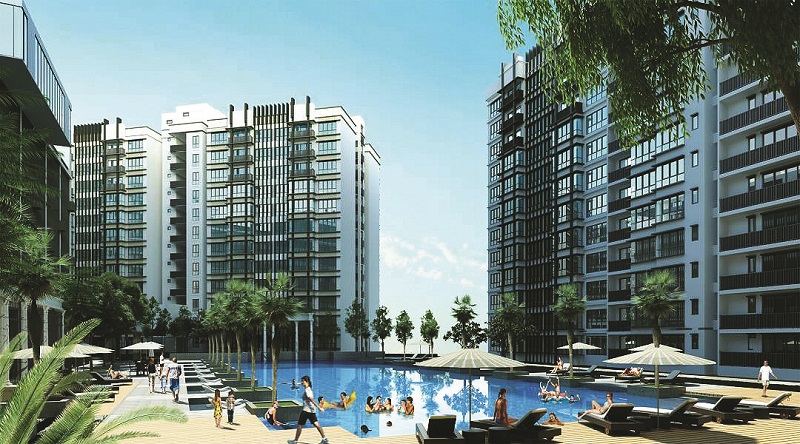 SHOPPING mall operator and property developer EcoFirst Consolidated Bhd, which has planned projects with an estimated gross development value of more than RM2 billion for its landbank, aims to grow its market capitalisation to RM1 billion in the next two to three years.
CEO Datuk Tiong Kwing Hee says the company's two maiden developments — one in Ipoh, Perak, and the other in Ulu Kelang, Selangor — are expected to contribute earnings of over RM180 million in the next 2½ years.
"Our project in Ipoh should generate a gross profit of RM82 million between the financial year ended May 31, 2015 (FY2015), and FY2017 while the one in Ulu Kelang could contribute more than RM100 million from FY2016," he tells digitaledge Weekly.
Tiong, 57, had joined EcoFirst as an alternate director in September 2008 and was appointed as executive director and CEO in January 2009. He is also the executive director of car paint maker and construction firm Mercury Industries Bhd.
Currently, EcoFirst owns and operates two commercial-retail malls — South City Plaza in Seri Kembangan and 1 Segamat Mall in Johor.
About 24% of the company is owned by Datuk Dr Patrick Teoh Seng Foo, Kenneth Teoh Seng Kian and Teoh Seng Aun while Tiong has a 17% stake in it.
The Teoh brothers and Tiong are also common shareholders of Meda Inc Bhd, a locally listed hotel operator and property firm.
EcoFirst had launched its project in Ipoh, dubbed Upper East @ Tiger Lane, in December last year. The project, which has a GDV of more than RM300 million, consists of 529 exclusive luxury apartments housed in five 12-storey blocks and is progressing according to schedule.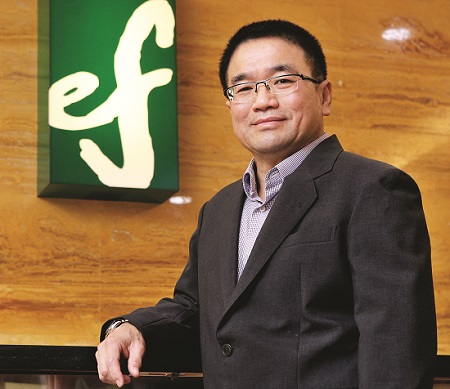 According to Tiong, the eight-acre parcel, which was bought by EcoFirst late last year, is in one of the most sought-after locations in Ipoh. He says the take-up of Upper East is about 75%.
The company's 62-acre tract in Ulu Kelang is also prime land and has been earmarked for a high-end commercial and residential development. The first phase of the 10-year project — with an estimated GDV of over RM650 million — will be launched by the end of this year.
The Ipoh and Ulu Kelang projects have a combined GDV of more than RM2 billion.
Tiong believes these two developments will drive EcoFirst's shares, which he deems "undervalued" at the moment. "We are positioning ourselves as a boutique developer that undertakes high-end projects on the prime land. EcoFirst should be seen as a healthy company and, hopefully, our market cap can hit the RM1 billion mark within two to three years," he says.
Year to date, EcoFirst's shares have fallen 8.33% and at their close of 27.5 sen on Aug 6, the company was valued at RM200.8 million.
Commenting on the company's financial results, Tiong says the growth rate is expected to be "very fast" while the numbers will be "quite good" in FY2016.
Nevertheless, EcoFirst saw its net profit decline sharply by 80% to RM6.1 million in FY2015 from a year ago, although revenue more than tripled to RM81.2 million.
In a filing with Bursa Malaysia on Aug 4, EcoFirst explained that the previous year's profit included waivers of loans and interest arising from a debt restructuring exercise. It said the group had performed better operationally in FY2015, as reflected in the higher gross profit of RM34.3 million compared with RM14 million in FY2014.
Moving forward, rental collection from South City Plaza and 1 Segamat Mall, which contributed 63% to EcoFirst's operating income, will continue to be a substantial source of recurring revenue for the group.
Tiong says the group is in the midst of buying from IGB Corp Bhd another 25 acres next to the 62 acres it owns in Ulu Kelang. This deal will be presented for shareholders' approval at an extraordinary general meeting that is expected to be held in two months.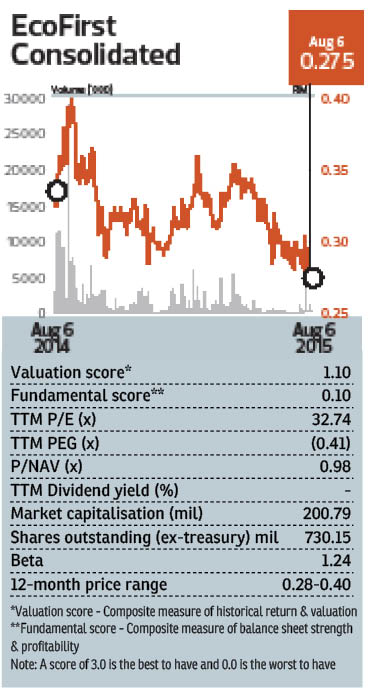 "Eventually, we will have 87 acres of freehold prime land for future development. How many non-government-linked property companies in town have that much of landbank in the Klang Valley?" Tiong asks.
He says when he was head-hunted to undertake a major restructuring of EcoFirst in 2009, he knew it was going to be a long-drawn-out battle. EcoFirst was saddled with huge accumulated losses and was servicing interest payments of some RM16 million a year on an annual turnover of just RM5 million.
"First, we needed financial restructuring as our loan was too much and could not match our assets. Second, we needed operational restructuring as our old employees were not efficient and productive enough. Third, we needed corporate restructuring with the injection of new businesses and projects," Tiong explains.
Today, thanks to the three exercises, EcoFirst has returned to profitability and is in a better shape with positive cash flow. The company has also moved its headquarters from South City Plaza to KL Sentral.
"A year ago, I said I wanted to move to KL Sentral. Everybody thought I was dreaming. Even my shareholders were stunned because KL Sentral is a posh area, only big companies can be there. I told them, 'EcoFirst is going to be a big company'," Tiong recalls.
It is worth noting that Tiong has an 8% stake in Mercury Industries Bhd, a 14.92% stake in Meda Inc as well as an 11.69% stake in premium office furniture maker AHB Holdings Bhd.
He says he sees synergies between EcoFirst, Meda Inc and Mercury Industries but there are no plans to consolidate or merge the three companies as they are his personal investments.
"If a huge project is coming, EcoFirst and Meda Inc may collaborate to bid for it while Mercury will be our construction arm. Yes, I am a common shareholder but I don't want to merge them," he remarks.
Interestingly, EcoFirst, when it was still known as Kumpulan Emas Bhd, was a substantial shareholder of SEG International Bhd with a 31.28% stake in 2001 before exiting the education group in 2010.
SEGi, formerly known as Systematic Education Group Bhd, was founded by Tan Sri Clement Hii Chii Kok, who was the managing director of EcoFirst from 2006 to 2009 with a substantial stake.
This article first appeared in the digitaledge Weekly on Aug 10, 2015. Subscribe here.