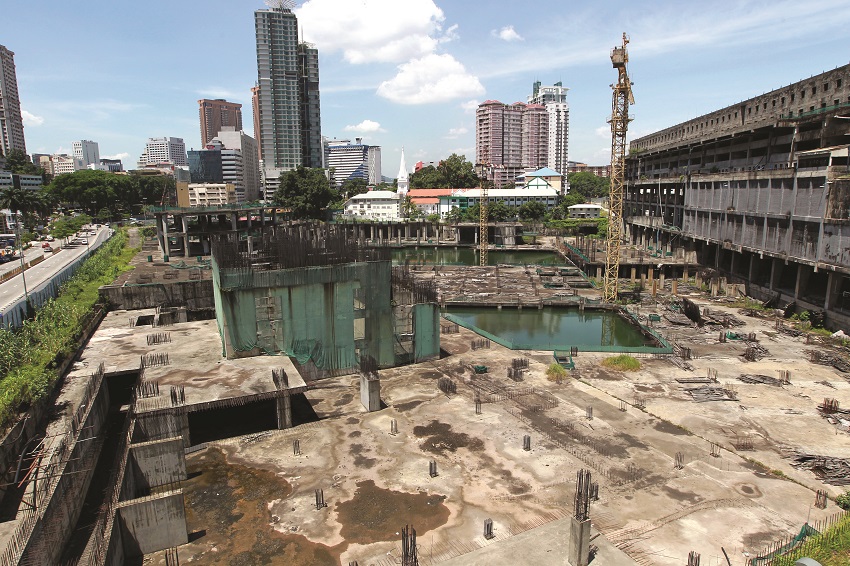 GUANGDONG Debao Land Co Ltd, a property development company based in Guangdong, China, plans to invest in the long abandoned Plaza Rakyat project in Jalan Pudu.
According to Tan Sri Abdul Samad Alias, a major shareholder of Profit Consortium Sdn Bhd — the developer of Plaza Rakyat — Guangdong Debao will acquire equity in Profit Consortium, but the stake is still being worked out.
"If not, how can we get the money to fund the development [of Plaza Rakyat]? We will negotiate how much Guangdong Debao will purchase later," says Abdul Samad.
Last Friday, he represented Profit Consortium in signing the sale and purchase agreement (SPA) for the Plaza Rakyat project with Dewan Bandaraya Kuala Lumpur (DBKL), which was represented by KL Mayor Datuk Mohd Amin Nordin Abdul Aziz.
Under the SPA, Profit Consortium will pay RM740 million to take over the 15.3-acre site. Some RM40 million of the purchase price will be allocated to the company to resolve compensation issues with the 211 shoplot buyers.
The signing of the SPA provides a glimmer of hope for the buyers of Plaza Rakyat, who have been waiting for almost 20 years. The project was abandoned in 1997 as a result of the Asian financial crisis.
Despite the SPA, questions remain because the road to completion of the project is fraught with uncertainty. For instance, Profit Consortium will have to drain water that has been ponding at the site and ascertain whether the foundations and structures can still be used.
"If Profit Consortium finds out that the structure has to be demolished, that will incur costs and we will have to renegotiate with DBKL on the pricing," says Derek J Fernandez, the lawyer who acts for Profit Consortium.
Even if the project goes through, Profit Consortium will have to negotiate with the buyers on whether they want cash compensation or to continue owning a unit at the project, says Fernandez. An ex-gratia payment will also be considered.
The land is still under the previous lease, which expires in 2081. Profit Consortium wants to negotiate an extension of the lease with DBKL if it finds the project is viable.
During the signing ceremony, Profit Consortium paid a RM70 million down payment on the purchase price to DBKL.
It is not known how Profit Consortium will fund the rest of the purchase price and the development cost.
Guangdong Debao has a Singapore-listed subsidiary Debao Property Development Ltd. According to the company's announcement to the Singapore Exchange (SGX), Debao Property made a net loss of RMB80.1 million during the first half of the financial year ending Dec 31, 2015.
On Sept 25, Debao Property announced to SGX that it is in the process of buying a 90,008 sq ft parcel in Jalan 1/77B, Kuala Lumpur, near Berjaya Times Square, for RM388 million or RM4,310 per sq ft for the development of both commercial and residential properties.
A check on Bloomberg reveals that Debao Property's market capitalisation is S$57.4 million (RM176.7 million).
Profit Consortium is owned by Gabungan Tiasa Sdn Bhd, which in turn lists Maxcorp Development Sdn Bhd, SW Land Sdn Bhd and Abdul Samad as shareholders. Maxcorp and SW Land each own a 42.99% stake, while Abdul Samad holds the rest. Note that he is also the chairman of Perbadanan Insurans Deposit Malaysia (PIDM).
Maxcorp is owned by Major (Rtd) Anuar Adam and his sons Aldillan Anuar and Almiran Anuar. The family is the largest shareholder of Tadmax Resources Bhd, with a 26.2% stake, and also sit on the board of the property development company.
SW Land is owned by Sungei Wang Group Sdn Bhd, which has Abdul Jaliludin Jamaluddin as the largest shareholder with a 69.3% stake. Other shareholders include Simon Wee Howe Yew with 29.7% and Tan Peng Koon with 0.99%.
The RM700 million price tag for the 15.3-acre site translates to RM1,050 psf. In 2010, Gamuda Bhd paid RM820 psf or RM105 million to Wearne Brothers Properties Pte Ltd for the Robertson land, which is just next door to Plaza Rakyat.
In February this year, BBCC Development Sdn Bhd, a joint venture of UDA Holdings Bhd, Eco World Development Group Bhd and the Employees Provident Fund, paid RM1,183 psf for the 7.85ha Pudu Jail land.
The original Plaza Rakyat project, under Plaza Rakyat Sdn Bhd, was conceived as a RM1.5 billion mixed-use development, comprising a 79-storey office tower, 46-storey residential tower, 24-storey hotel and seven-storey shopping centre.
It was to be the country's first property development integrated with a rail-based public transport system. The location, next to Pudu UTC (formerly Pudu Raya), provides an integrated land transport system for the project.
While Profit Consortium and its partner Guangdong Debao still have to go through certain procedures and processes before the redevelopment of Plaza Rakyat can begin, the buyers are hoping that their agony will end soon.
"We have been waiting for this project for almost 20 years. Some of the buyers have already passed away. I hope this time the project can take off and we can finally see our units being completed," says septuagenarian Steven Yong, one of the buyers.
Curious about the value of your home? Click here at The Edge Reference Price to find out.
This article first appeared in The Edge Malaysia on Nov 2, 2015. Subscribe here for your personal copy.