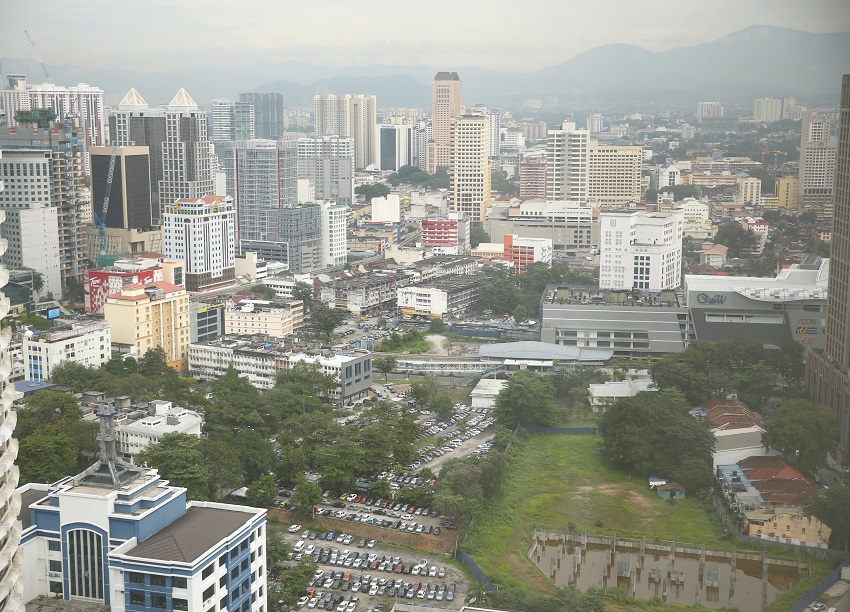 A large supply of office space continued to weigh on rental rates in Kuala Lumpur, KL Fringe and Beyond KL (Selangor) in 3Q2015, while the overall market is expected to remain gloomy until year end.
This quarter, the cumulative supply of office space for KL City and Beyond KL stood at 91.97 million sq ft, following the completion of Ilham Tower with 394,000 sq ft of net lettable area (NLA), Menara Bangkok Bank (475,000 sq ft NLA) in KL City and Q Sentral (one million sq ft NLA) and The Vertical 1 & 11 (830,000 sq ft NLA), based on The Edge/Knight Frank Klang Valley Office Monitor 3Q2015.
The total cumulative office space under construction in KL City, KL Fringe and Beyond KL stood at 9.88 million sq ft. The supply of office space is expected to grow about 10.7% from 4Q2015 to 4Q2017.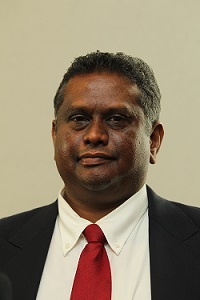 "Overall, rental rates may dip due to heightened competition in a tenant's market. Coupled with a further slowdown in the country's economy and low business confidence, many businesses are freezing recruitment, reducing investment in staff and consolidating their positions. This will inevitably impact take-up rates and overall occupancy levels," says Knight Frank Malaysia managing director Sarkunan Subramaniam (pictured, right). "Nonetheless, rental rates of well-located, dual-compliant, good grade office space are expected to remain resilient."
In 3Q2015, demand for office space remained subdued, in line with a further slowdown in the country's economic activities (lower gross domestic product growth of 4.7% in 3Q2015 versus 4.9% in 2Q).
"The depreciation of the local currency and weaker commodity prices, coupled with domestic and external headwinds, do not bode well for the office market, which traditionally has been driven by the services and oil and gas (O&G) sectors. The contraction of the O&G sector is the significant trend from the fall of oil prices. The main lifeline of one of the leading sectors has dried up," says Sarkunan.
Overall, occupancy and rental rates are expected to decline in the coming quarter due to high levels of impending supply and competition among building owners.
"The high level of existing and new supply, coupled with a weaker leasing market (fewer enquiries), which is seeing more consolidation/mergers and acquisitions amid an increasingly challenging business environment, will increase downward pressure on occupancy and rental rates moving forward," he says.
"It remains a tenant's market with landlords embarking on aggressive marketing plans to achieve significant occupancy and to improve their occupancy levels. Tenants continue to be spoilt for choice, as there are many offering attractive rents, incentives and tenancy terms such as a longer free-rent period.
"During construction, landlords and developers of office projects need to market their developments in newspapers, showcase their projects at property expositions, provide special incentives to agents to secure anchor or big tenants within the stipulated time period et cetera — these marketing plans and strategies will help to ensure that, upon completion, these office projects would have achieved significant occupancy levels."
Moreover, says Sarkunan, tenants will feel the pinch of the current economic situation. "It is best for landlords to embrace the situation by being flexible with tenants who need to contract, thereby retaining them and being the long-term space provider."
Sliding occupancy, stagnant rents
The overall occupancy rate in KL City dipped 1.7% to 82.4% in the previous quarter. "[Since] the completion of Ilham Tower in 3Q2015, it has yet to achieve significant occupancy," says Sarkunan.
Occupancy in the central business district (CBD) has dropped 2.7% to 87%. The Golden Triangle also recorded a decline of 1.5% to 81.6%.
On a more positive note, there has been an increase in almost all areas in the KL Fringe.
Overall, KL Fringe occupancy rose 0.3% to 89.1%, propped up by higher occupancy in Damansara Heights (up 0.8%) and KL Sentral (up 5.2%).
"In Damansara Heights, the ongoing rejuvenation of Damansara Heights with the mixed-use project Damansara City and the upcoming Pavilion Damansara Heights, is expected to revive demand for office space in the area. This will be supported by improved mobility via the MRT Line 1 with two stations nearby (Samantan and Pusat Bandar Damansara)," says Sarkunan.
"Another reason for the rise of KL Fringe is KL Eco City. This ongoing integrated urban city development on about 25 acres in Bangsar may be seen as an extension to the established Mid Valley City (MVC) locality. Two office towers in Damansara City and several office components (strata office suites and The Pillars) in KL Eco City are expected to be completed next year."
Meanwhile, occupancy at MVC/Bangsar/Pantai dropped by 4.5% to 92.8%.
The overall occupancy rate Beyond KL has increased to 76.5% from 75%. Petaling Jaya and Subang Jaya saw the rate rise to 66.2% and 91.5%, respectively, while Shah Alam has experienced a tremendous recovery to 62.1% from 54.3%. "The overall occupancy for Shah Alam has improved significantly, by 14.4%, following further take-ups at Top Glove Tower, which includes two floors by the landlord Top Glove Corp Bhd (34,800 sq ft) and Level 10 by Fitness Centre (17,400 sq ft)," says Sarkunan.
Improved occupancy in several office buildings, which include The Ascent @ Paradigm, Oasis Square Block H and Wisma AmFirst in Damansara/Tropicana/Kelana Jaya, led to a 11.8% quarterly increase.
Rental rates, meanwhile, remained steady in 3Q2015 despite downward pressure.
Grade A rental rates in KL City — Golden Triangle Prime A+ (RM11.33 psf) — remained unchanged from the previous quarter. However, Golden Triangle Grade A and CBD Grade A experienced a decrease of 0.3% (RM7.19 psf) and 3.6% (RM5.41 psf), respectively.
Over at KL Fringe, overall rental rates remained unchanged from the previous quarter — Damansara Heights Grade A (RM5.43 psf), KL Sentral Grade A (RM6.78 psf) and MVC/Bangsar/Pantai Grade A (RM5.90 psf).
Likewise for average rental rates for Beyond KL, with the overall rental rate at RM4.19 psf. Rental rates in Petaling Jaya (RM4.41 psf), Subang Jaya (RM3.91 psf), Shah Alam (RM3.50 psf) and Cyberjaya (RM4.17 psf) remained the same.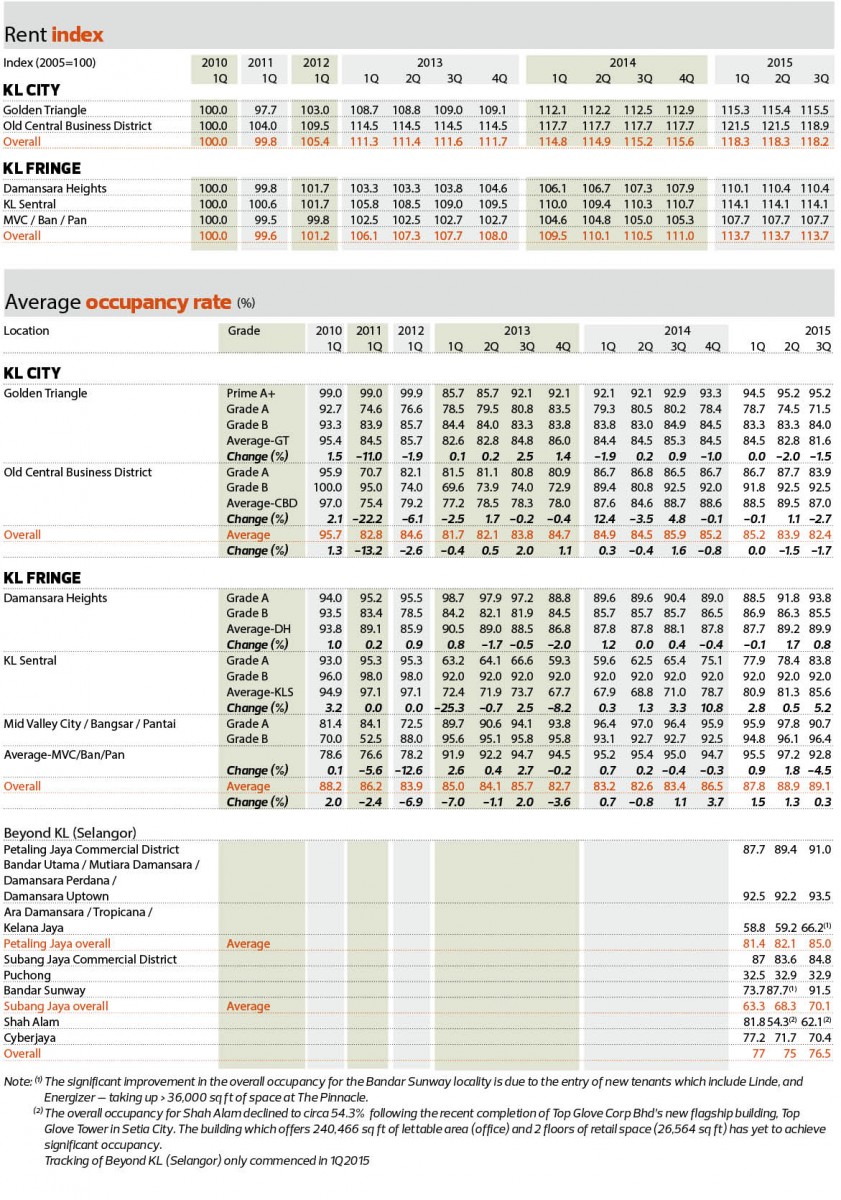 Notable transactions and movements
On Aug 10, Affin Bank Bhd announced that it will develop its own head office building on a 54,266 sq ft parcel at Tun Razak Exchange acquired for RM255 million, or about RM4,699 psf (plot ratio of 15.2 times).
The proposed international class, Grade A, 35-storey office building development will have a gross floor area (GFA) of 823,439 sq ft and 830 parking bays.
On July 3, Hong Leong Bank Bhd entered into a conditional share sale agreement with Hong Leong Real Estate Holdings Sdn Bhd (a unit of Guocoland [Malaysia] Bhd) to acquire the entire issued and paid-up share capital of DC Tower Sdn Bhd (DCT) for RM189.33 million cash.
DCT is principally a property investment company, holding the development and ownership rights for a 33-storey purpose-built stratified office building (Office Tower A — 506,069 sq ft NLA) located within the ongoing integrated development project known as Damansara City Kuala Lumpur. The appraised value of Office Tower A is RM1,150 psf over its aggregate NLA.
The review period also witnessed a few notable movements. In KL City, BAE Systems Detica (M) Sdn Bhd acquired a further 11,200 sq ft of Menara Binjai.
Minat Megah Sdn Bhd moved into Etiqa Twins, taking up 14,400 sq ft. In KL Fringe, 1 Sentrum welcomed two new tenants (Novo Nordisk Pharma Malaysia Sdn Bhd and AmMetLife Insurance Bhd) while Google Malaysia expanded, taking up 103,000 sq ft and 51,000 sq ft, respectively.
Meanwhile, Tricor Services Malaysia Sdn Bhd moved out of The Gardens North Tower, leaving 36,000 sq ft.
PA Group, a US-based international insurance group, will establish its regional operations in Kuala Lumpur. Meanwhile, UK firm Needle Partners has opened a new marketing office in Kuala Lumpur that aims to promote its English law and white label service called Needle Network.
CTBC Bank Co Ltd, the banking subsidiary of CTBC Financial Holding Co, has received permission from Malaysia's financial supervisory institution to establish a representative office in Kuala Lumpur. CTBC Bank will be the first Taiwanese bank to set up an operational base in Malaysia in 17 years.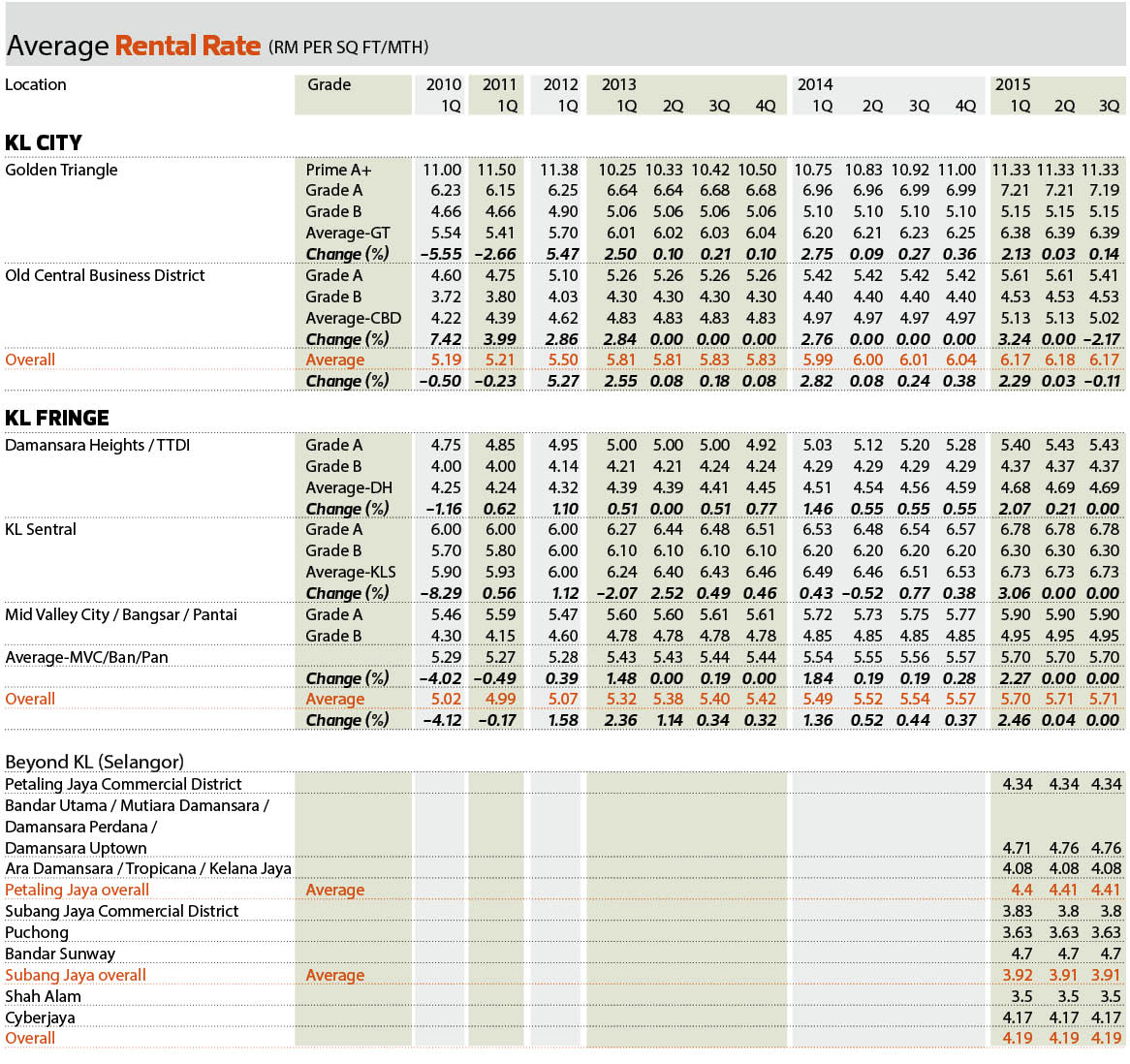 Notable announcements
KLCC Holdings Sdn Bhd and its partner Qatari Diar Real Estate Investment Co are understood to have invited interested parties for a pre-screening process for its RM5 billion project in the city centre called Cititower.
Slated to come up in 1Q2016 on a 1.6ha plot between Suria KLCC and the Asy-Syakirin Mosque, Cititower's proposed components are a 9-storey retail podium, a 59-storey hotel, an 80-storey office tower, a link way between Suria KLCC and the project, a ramp in Jalan Ampang and landscaping works.
Pelaburan Hartanah Bhd is reportedly planning to develop a 6.8-acre site that used to house the office of the Kuala Lumpur Regional Centre for Arbitration in Jalan Conlay.
Located directly opposite Kompleks Kraftangan, the proposed development will comprise a 50-storey serviced apartment building and two blocks of 37-storey office suites that will sit atop an 8-storey retail podium and a 3-storey basement car park.
Meanwhile, IJM Corp Bhd's unit IJM Construction Sdn Bhd has received a letter of award from GDP Architects Sdn Bhd on behalf of Hotel Equatorial (M) Sdn Bhd and Fenghuang Development Sdn Bhd to undertake stage two works for the redevelopment of the former Hotel Equatorial in Jalan Sultan Ismail into a 52-storey mixed-use development for RM455.5 million.
At KL Fringe, Hong Leong Group will occupy Office Tower A (appraised based on RM1,150 per sq ft over its aggregate NLA) as its global headquarters.

Concurrently, GuocoLand is finalising agreements with tenants for its Office Tower B — a 19-storey office tower with 240,000 sq ft NLA. It has reportedly secured 70% occupancy, with two global multinational corporations to date. The rental rate for Office Tower B is around RM7 psf. GuocoLand, which currently occupies three floors of Menara HP, will also move into this office block. Damansara City has a gross development value (GDV) of RM2.5 billion, and is expected to be fully operational by mid-2016.
There were a few notable announcements for Beyond Kuala Lumpur. Mercu Mustapha Kamal at Damansara Perdana consists of a 27-storey Tower 1 and a 14-storey Tower 2 with net floor areas (NFA) of 285,091 sq ft and 213,719 sq ft, respectively.
Tower 2 (183,000 sq ft NLA) is available for lease and en bloc sale and is scheduled to be completed by December. Tower 1 will be completed in October 2016 and will also be available for lease.
Mercu Mustapha Kamal has a GDV of RM385 million. The MSC-status development is pre-certified Green Building Index (GBI) Gold with features such as automatic control of lighting and zoning, energy-efficient lights, waste management and sky gardens on multiple floors. Its developer, Emkay, has plans for three more office projects in Damansara Perdana, Cyberjaya and Kuala Lumpur city centre.
In Kota Damansara, Menara Mitraland, the corporate tower that houses the headquarters of Mitraland Group, has officially opened. The 30-storey building — the tallest structure in the locality — is part of the new Cascades mixed-use development which includes residential, retail and office components. The retail and residential units have mostly been taken up while the office building is over 50% occupied.
In Shah Alam, meanwhile, Naza TTDI Sdn Bhd recently opened its new head office, Menara Naza TTDI. Located in Section 13, the 20-storey office tower with 250 parking bays has a GFA of 306,000 sq ft and facilities such as a gymnasium, swimming pool and café.
The Selangor State Development Corporation (PKNS) is spending about RM170 million on Laman PKNS, its new headquarters in Shah Alam. The building will sit on a 1.6ha plot in Section 14. Due to be completed by end-2015, the building is rated GBI Platinum.
Electrical home appliance maker Khind Holdings Bhd is planning a mixed-use project on a 65,340 sq ft tract in Setia Alam, Shah Alam, as part of its diversification exercise.
The RM150 million project will include an office building (to be partly occupied by Khind), a retail component and serviced apartments. Construction is targeted to start in 1Q2016 and is expected to be completed within 36 months.
This article first appeared in City & Country, a pullout of The Edge Malaysia Weekly, on Dec 14, 2015. Subscribe here for your personal copy.