Penang's street food, laid-back lifestyle and melting pot of cultures draw investors, visitors and would-be residents from near and far. This has resulted in a property boom that saw a host of ambitious projects sprouting up around the state. Among them is The Light Waterfront, which aims to become the pulse of the north when fully developed.
This flagship Penang integrated development by IJM Land Bhd is one of three recipients of The Edge Malaysia Notable Property Achievement Award 2015.
The real estate arm of IJM Corp Bhd also ranks among Malaysia's top 10 developers at The Edge Malaysia Top Property Developers Awards this year.
Building an iconic landmark in Penang is no simple feat. Coming up on 152 acres of reclaimed land off the coast of Jelutong, next to Penang Bridge, The Light Waterfront has a gross development value (GDV) of RM6.5 billion. To date, its first five completed parcels have received Green Building Index certification.
It won the award, thanks to its outstanding concept and, more importantly, its commitment to bringing the idea to life. In this case, it was to bring the ocean to its residents, regardless of where they would be living within the development, says northern region senior general manager Datuk Toh Chin Leong.
"When we got this piece of land by the water, we knew that people would love to get close to the water. That gave [The Light Waterfront] a premium.
"So, we wanted to get people close to the water, but we only have one shoreline. [Therefore,] if we cannot bring everyone to the water, we will bring the water to everyone," he tells The Edge.
This overarching philosophy is reflected throughout the development, which is divided into three phases. The 42-acre Phase I features a variety of homes, which are almost completed.
This phase has seen some impressive sales, especially during the launches in 2009, after the global financial crisis. The homes were fully sold in a matter of days, thanks to the location, pent-up demand and easy credit.
IJM Land managing director Edward Chong recounts earlier times when potential buyers camped overnight to buy properties, with some selling their places in the queue to others.
Phase II will comprise a mall, convention centre, marina, hotels, offices and homes. Phase III will be a seven-acre public park that will take a year to develop.
Bringing the water to the people
Phase I is home to a 6.3-acre marine sanctuary named The Waterways, the first ever in a private residential scheme (certified by no less than The Malaysia Book of Records).
The sanctuary has an astonishing six million litres of seawater coursing through channels of concrete and glass around the residential precinct. It teems with a variety of aquatic flora and fauna such as corals, nerve sharks, clown fish, oysters and turtles.
There are four species of turtles in the sanctuary — green, leatherback, hawksbill and Olive Ridley. The green and Olive Ridley turtles are endangered while the leatherback and hawksbill are listed as critically endangered by the International Union for Conservation of Nature.
The turtles are on loan from the Department of Fisheries, which is responsible for growing their population. The turtle conservation programme was mooted by IJM Land's external aquatic specialist, Andy Tan.
"I thought it would be a shame to have such a big marine sanctuary but not have any turtles, especially since it is so close to the sea," Tan says.
The programme began with 32 turtles in 2012. Since then, the sanctuary has recorded an impressive 95% hatchling survival rate, more than double those of other sanctuaries.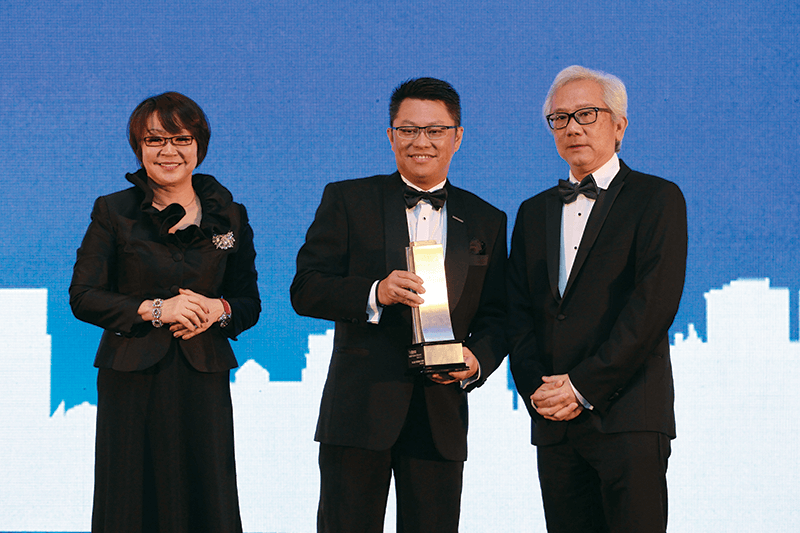 Toh recalls that when IJM Land first mooted its very own marine sanctuary, it was met with scepticism.
"Our biggest challenge was dispelling the belief that it could not be done. They said even to take care of a small aquarium, you need to maintain the pH value and all that, it's impossible!"
The sceptics believed that the developer would be — figuratively speaking — out at sea, given its lack of expertise in marine conservation.
"But by going one step at a time — we worked with [Tan] — we cleared each hurdle, and I think we made it," says Toh.
Today, The Waterways is much beloved by the residents. Toh says they are very mindful of the rules, which include not feeding and scaring the animals and polluting the water.
It is this sense of caring for the environment that IJM Land hopes to tap. There are plans to conduct public tours around The Waterways — subject to the agreement of the joint management body — a few times a week and the fees will be donated to other nature-related causes.
A new iconic hub
IJM Land has big plans for the rest of The Light Waterfront, especially the 103-acre Phase II, which is being developed in a 50:50 joint venture with Singapore's Perennial Real Estate Holdings Ltd.
Chong wants The Light Waterfront to become an iconic tourist spot in Penang — selfie central and a destination to be hash-tagged and checked into — that must be visited at least once. In fact, he compares its eventual popularity with that of KL City Centre.
The first part of Phase II will comprise 256 condominium units. However, given the current weak market sentiment, it will only be launched in 2Q2016.
Other components of this phase include a mall with a gross retail space of 1.5 million sq ft, thematic shops, a convention centre, two hotels with a total of 750 rooms and an office tower.
The 287,000 sq ft convention centre is expected to accommodate up to 600 booths during exhibitions or up to 800 tables for functions. "Now we are tweaking the centre to accommodate shows like Disney on Ice. We can hold up to 10,000 people for a concert. So, with this kind of capacity plus the catchment generated by the mall, offices and hotels, it's a lot of people," laughs Toh.
The office tower is expected to have a gross floor area of 656,000 sq ft.
Chong says this precinct alone is expected to create 26,000 jobs.
Recognising the growing number of malls in Penang — a news report in September said about 7.6 million sq ft of retail space would come onstream over the next five years, adding to the current 9.07 million sq ft — Toh says IJM Land expects the mall to be successful, based on two reasons.
Firstly, it will benefit from the population of the entire development. "We know we can create our own population as we have the convention centre as a pull factor. Let's say I have an event every weekend, I'll have a few thousand people, including those staying in the hotels," Toh says.
Chong reckons that the mall will draw a few thousand people every day, thanks to Penang's robust tourism industry.
It will stand out by offering something that is not a typical boxed retail experience, in keeping with The Light Waterfront's philosophy of bringing the outdoors indoors, says Toh.
"We are not making a concrete box where everything is inside and you don't know if it is raining outside or not," he adds.
"We are by the waterfront, so we need to give people both the indoors and the outdoors, flow them through the promenade along the seafront. Bring the courtyard indoors."
Inspired by The Waterways, IJM Land is mulling an aquarium in the mall as well. Toh says Aquawalk, the company that runs the famous Aquaria KLCC, has approached them numerous times to take part in this project. "But I said we don't want a normal aquarium. They are very keen and they said they'd try their best."
As a homage to Penang's street food culture, the mall strives to fill its lanes with the best of the state's famous hawker fare.
"We want to recapture the old charms of Penang, the street shopping, small lanes, heritage façades, clusters for hawker food, fashion. This is how we want to make the experience different," says Toh.
The mall will also include a theme park. "We are now talking to a theme park operator about a compact, modern park. In fact, the operator opened one in Manila in May," he adds.
The theme park will tentatively occupy 38,000 sq ft (less than an acre) and have nine rides. "You'd think you need 20 to 30 acres to build rides like roller coasters and all that, but the operator said it's not necessary because what they do is they strap you in the seats that move, turn off the lights and project onto a 360° screen. In fact, you can change the theme of the ride," says Toh.
IJM Land will have the option of licensing popular themes such as The Avengers or create its own rides for a fee.
"It's very interesting. It's a different ride each time you go in. And there's no need for engineering, checking and safety [unlike rides like roller coasters], so you can create something compact. With the mall and convention centre and everything, it will be a hub [of activity] in Penang," he says.
IJM Land envisions the mall's promenade as the place to be in, especially during New Year's Eve when fireworks go off at the iconic Penang Bridge. "It will be a party all night long," he enthuses.
"We will have something going on there every festive season. Last year, when we had a New Year's Eve countdown at Karpal Singh Drive (seaside promenade at nearby Bandar Sri Jelutong). It was bigger than the state's event, we had 11,000 people. We told the state that this year, we'll be holding our own countdown again and we're expecting 15,000 people, so the chief minister is coming.
"So we told our architect that when we hold New Year's Eve countdowns at The Light Waterfront, we are expecting at least 25,000 to 30,000 people."
Easing traffic flow
With huge crowds come the inevitable massive traffic volume. How will IJM Land prevent this traffic from building up?
According to Chong, the main goals of its traffic plan is to make the flow as smooth as possible. This means ensuring that vehicles can come out of each building's car parks with ease and passengers can be dropped off easily and safely.
"With Perennial, a retail and commercial expert, we are working on improving the traffic flow. We don't claim to be a master in all areas, which is why we got them as a joint-venture partner. We aren't just looking for a project co-funder but also people with expertise in areas where we are not as good. That's where our partnership will work well," he says.
According to Toh, the group has already submitted its proposal to the state executive council.
"It's a lot of fun working out the traffic flow. For example, the Tun Dr Lim Chong Eu Expressway is just in front [of The Light Waterfront]. So, is it possible to have a dedicated tunnel linking the highway to the convention centre? Can we have an exit from the first or second level basements?
"Each component needs its own drop-off zone and dedicated car park. So, they cannot be in conflict with each other. What about the pick-up points? The unloading bay for lorries? That's why we worked for so many months, so that everyone is happy," he explains.
IJM Land plans to start construction in the 3Q2016, which means Phase II should be completed in three to four years.
If all goes as planned, The Light Waterfront will become a beacon of northern Peninsular Malaysia, drawing people from all over. TEPEA 2015
Do not ask your BFF about the value of your home. Click here at The Edge Reference Price to find out.
This article first appeared in City & Country, a pullout of The Edge Malaysia Weekly, on Dec 7, 2015. Subscribe here for your personal copy.