PETALING JAYA (May 3): Malaysia has been placed fifth in the the Global Infrastructure Investment Index (GIII) 2016 in the ranking by global design and consultancy firm Arcadis.
Malaysia has climbed two positions from the last Index in 2014. This is the third edition of the Index.
Arcadis Asia head of client solutions Graham Kean said Malaysia remains the second most attractive country for infrastructure investment in Asia.
"Malaysia's strong economic performance and continued long-term investment in infrastructure have made the market attractive for private/inward investment," Kean said in a press release on the Global Infrastructure Investment Index report.
The biennial report ranks 41 countries on their attractiveness to investors in infrastructure.
The report highlighted that the most attractive markets for investors are those with the strongest growth potential, most secure business environments, well-established legislative and regulatory systems, and stable political environments.
Singapore came out on top followed by Qatar, United Arab Emirates and Canada. The top four countries' positions have remained unchanged from 2014..
The other five countries in the Top 10 list are Norway, Sweden, the US, the UK and the Netherlands.
Kean noted that long-term political and economic stability leads to stronger investments and these are the main reasons Singapore and Malaysia remained at the top of the list.
The report pointed out some mega infrastructure developments in Malaysia that helped to elevate its ranking. The projects include those in the 11th Malaysia Plan. Major projects to be completed by 2020 include the Klang Valley MRT Line, the 2,000km Pan Borneo Highway and the West Coast Expressway.
Malaysia also completed projects such as 93,000km of new roads and increased urban rail investments by 32%.
"Singapore retained its position as the world's most attractive market for infrastructure investment, with its stable political situation, secure business environment and strong growth potential," he explained.
Although Malaysia's strong economic performance and long-term continued investment in infrastructure have made its market attractive for investment, in the short-term, investment is threatened by a number of risks including its currency depreciation against the dollar and a high-profile, high-level corruption scandal that has delayed some projects,"said Arcadis.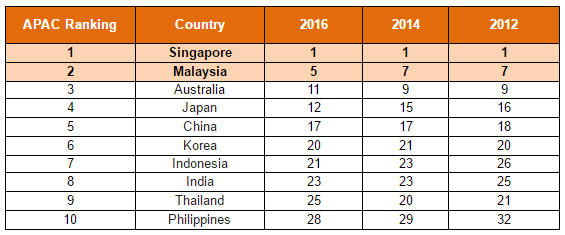 Do not ask the taxi driver about the value of your home. Click here at The Edge Reference Price to find out.