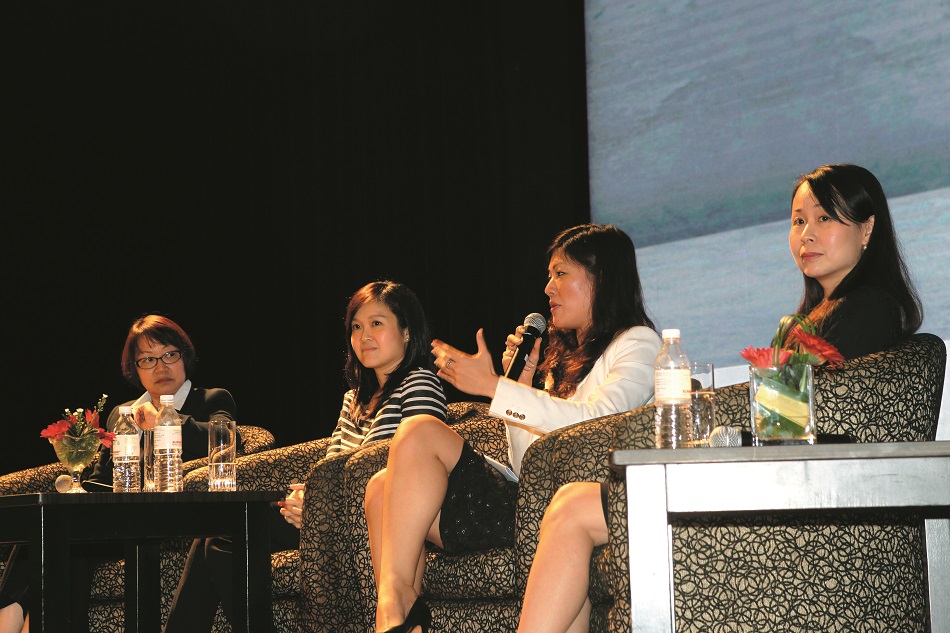 CHECK your risk appetite and start investing as this is as good a time as any to invest in real estate be they physical assets, property stocks or real estate investment trusts (REITs).
Industry experts held this view during a panel discussion entitled "Where to put your money – real estate, stocks or REITs?" at The Edge Investment Forum on Real Estate 2016 (REIF 2016) on April 30.
For housebuyers especially, this is a good time to buy as the market correction which started last year will continue this year, said panellist Sunway Bhd managing director of the property development division for Malaysia and Singapore
Sarena Cheah.
She said the banking sector is well-capitalised while non-performing loans are declining, which means borrowers still have the ability to service their loans.
Cheah noted that property prices have been on the uptrend for the past 10 years with an average capital appreciation of 8% to 9% from 2005 to 2015, buoyed by a healthy employment rate and low interest rate.
"Property price growth for 2015 had dipped 2% compared with 2014, but the compounded annual growth rate (CAGR) of capital appreciation had achieved 12%," she shared.
"Property investment is a safe investment as it is one of the basic necessities. Strong demand will continue to support the capital appreciation of properties," she added.
However, she advised investors to study the location, the developer and the future growth potential of a property or project before buying.
Also on the panel were Kenanga Investment Bank Bhd head of equity research Sarah Lim and Axis REIT Managers Bhd chief executive officer and finance director Leong Kit May. The Edge Communications Sdn Bhd and The Edge Property Sdn Bhd managing director Au Foong Yee was the moderator.
Lim expected property prices to plateau for the next few years before the next upcycle.
"The big rally in transaction volume and prices in 2010 to 2012 was supported by the baby boomers who were in their late 30s or early 40s. The next upcycle will depend on the next generation which would be the Millennials," she explained.
In the near term, Kenanga Investment Bank has placed an "underweight" rating on the property sector as it expected property stocks to be volatile and eventually be range-bound due to the absence of catalysts, while earnings risks remain.
However, steady defensive big-cap players such as UOA Bhd and S P Setia Bhd have light balance sheets and high exposure to areas in the Klang Valley while Sunway Bhd and Eco World Development Group Bhd are worth looking at, she said.
Among the small to mid-capital players to look out for is Hua Yang Bhd – it is undervalued and has high yields.
Lim also noted that Malaysia's residential supply is outpacing demand in the wrong segment as there is insufficient supply for residential properties priced between RM250,000 and RM500,000.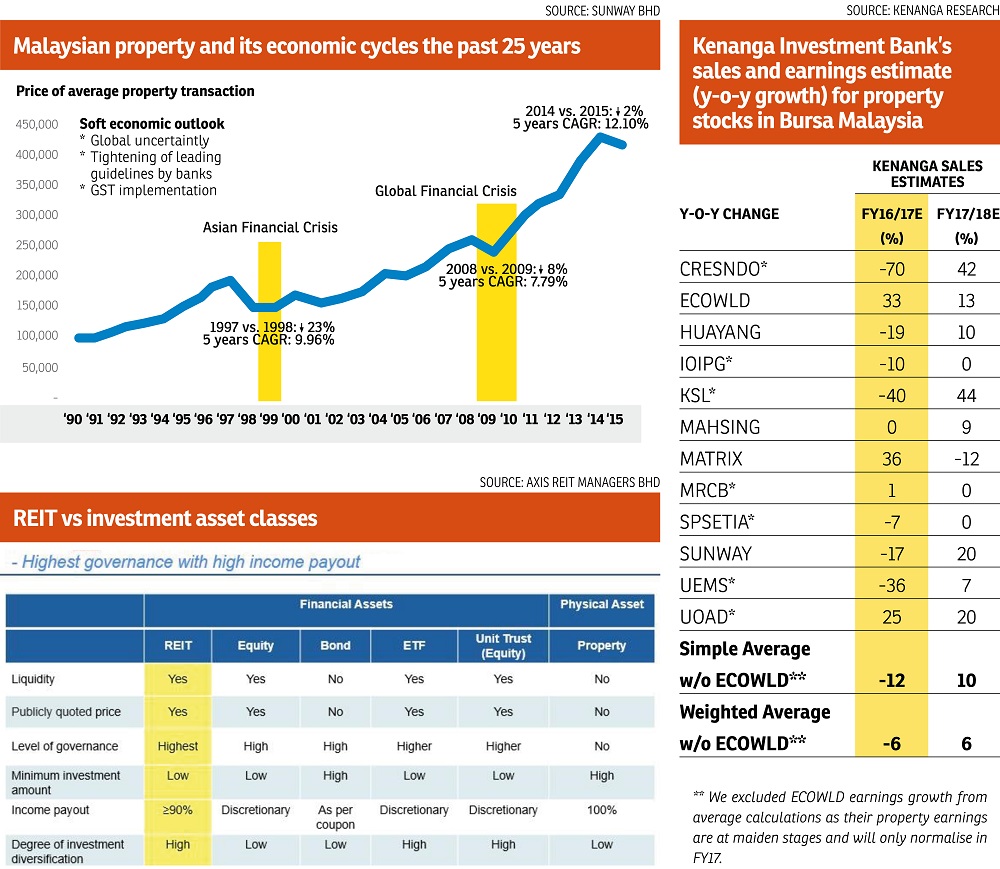 "Residential developments priced below RM500,000 constitute less than 35% of most developers' upcoming projects," she said.
Meanwhile, REITs could be the cornerstone of a portfolio of quality assets for investors who are looking for lower risk and stable income from rental properties.
"A REIT is a listed vehicle that invests in a portfolio of income-generating properties. Rents collected from tenants, less expenses, are distributed on a regular basis to provide stable yields to unit holders," said Leong.
She noted that the current dividend yield for Malaysian REITs is at 6.69%, compared to fixed deposits which is at 3.31% and the Employees Provident Fund's yield of 6.40%.
"The benefits of investing in REITs include the predictability in income stream in the form of distribution income, having a liquid proxy to physical property investment, transparent daily pricing, high level of disclosures and transparency, low entry cost and professional management," she added.
On the future performance of MREITs, Leong said the company foresees no future interest hikes which augurs well for REITs as a higher interest may affect the trust companies' ability to pay higher dividends.
Read the full report in the May 9 issue of City & Country, the property pullout of The Edge Malaysia.
Do not ask your BFF about the value of your home. Go to The Edge Reference Price to find out.
This story first appeared in TheEdgeProperty.com pullout on May 6, 2016, which comes with The Edge Financial Daily every Friday. Download TheEdgeProperty.com here for free.