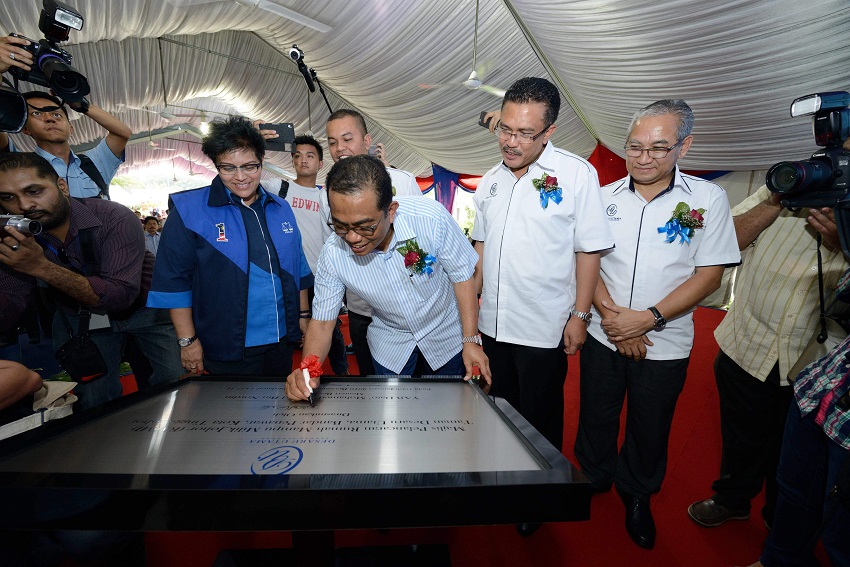 JOHOR BAHRU (Jan 12): MB Group has launched its affordable house product, Rumah Mampu Milik Johor (RMMJ) in Bandar Penawar, Kota Tinggi, Johor yesterday. Its Desaru Utama clubhouse was also launched at the same time and venue.
The official launch of the Taman Desaru Utama affordable homes, RMMJ, and the township's clubhouse is the first step in actualising the Johor government's aim of building 60,000 units of affordable homes by 2019.
Taman Desaru Utama 2, with an estimated GDV of RM1.7 billion, will encompass nearly 800 units of affordable houses – 456 townhouse units and 328 single-storey terraced units, both of which measure up to 1,000 sq ft. Their selling price is RM150,000 each.
"The projects are idealised to provide a better quality of life to our residents and the families that will grow within them. This collaboration with the Johor government to provide affordable housing to mid- and lower-income families is a great step forward for Johor," said MB Group planning and development director Datuk Abdullah Yusup in his speech during the event.
"In view of economic uncertainty, such projects are crucial to ensure the people of Johor benefit from them. The state government will continue to ensure the best solution for our rakyat," said Johor's Menteri Besar Datuk Seri Mohamed Khaled Nordin during his speech at the event.
Aside from the affordable homes, the group will be launching their final 250 units of 2-storey semi-detached and bungalow houses in the remaining 56 acres of Taman Desaru Utama 1 this year, as well as its Arcadia units, which comprise of 2-storey bungalows and semi-detached houses. Prices are still being finalised.
Abdullah also said that MB Group's RM500 million sales target will be driven by future launches.
"Our sales target of RM500 million will be maintained from the previous sales record of 2015," he said.
This will be achieved through the sales of the company's developments within Taman Desaru Utama, comprising the 495-acre Taman Desaru Utama 1 and 470-acre Taman Desaru Utama 2 townships. The former, with an estimated gross development value (GDV) of RM1.22 billion, has witnessed an 80% take-up rate since the beginning of its redevelopment in 2006, when the group took over the site.
Abdullah added that the group is looking at upcoming developments in Melaka this year, while making preliminary plans to expand its brand to Australia.
Since its inception in 1983, MB Group has businesses constituting property development, construction, building material trading, interior and landscape design, hospitality, credit finance and the Malaysia My Second Home (MM2H) Programme. Its portfolio covers more than 30 residential and commercial properties in South Malaysia.
Interested in investing in properties in Johor after reading this article? Click here.