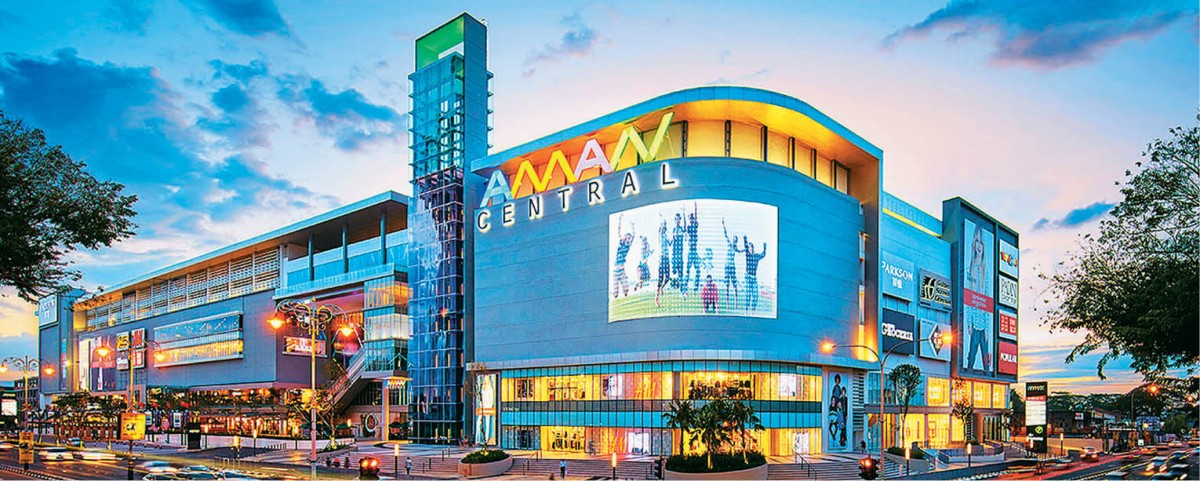 PENANG-BASED property developer Belleview Sdn Bhd is said to be seeking a buyer for its Aman Central shopping mall in Alor Setar, Kedah. The mall, touted as the largest in the state, which commenced operations on Oct 1 last year, has an occupancy rate of 95% and high visitor numbers.
The Edge understands that several potential suitors, including foreign funds that invest in Malaysian malls, have met with Aman Central's owner and manager Great Realty Sdn Bhd.
According to at least two separate sources, US-based Pramerica Real Estate Investors Ltd may be one of the foreign funds.
This is not surprising, given that the Belle-view Group has dealt with Pramerica in the past. Belleview Group sold Island Plaza in Jalan Tanjung Tokong, Penang, to Asian Retail Mall Fund II (ARMF II) in 2007. ARMF is a Pan-Asian real estate fund managed by Pramerica, the real estate investment management and advisory business of Prudential Financial Inc of the US.
Belleview Group also jointly developed 1st Avenue mall in George Town, Penang, with Pramerica and Lion Group. Pramerica now wholly owns the mall.
Another mall owned by Pramerica is Setapak Central in Kuala Lumpur. In September 2014, it acquired KL Festival City from Parkson Holdings Bhd for RM349 million. The mall was renamed Setapak Central in October last year.
Apart from Pramerica, ARA Asset Management Ltd, CapitaLand Malaysia Mall Trust, Hektar Real Estate Investment Trust, Sunway Real Estate Investment Trust and Pavilion Real Estate Investment Trust are seen as possible suitors.
According to a source, Great Realty may be willing to divest its retail asset "should the price be right".
The estimated asking price is between RM550 million and RM650 million. Prior to the completion of the mall, Aman Central's gross development value was reported to be RM500 million, including the land and building.
Belleview Group is helmed by Datuk Sonny Ho Kiong Chan, who is the managing director of the group. Ho did not respond to calls and text messages from The Edge.
Aman Central, which sits on 7.03 acres of freehold land, has a total gross floor area of 1.25 million sq ft and net lettable area (NLA) of 780,000 sq ft. The mall has eight floors and two basement levels and a total of 1,700 parking bays.
The mall houses 390 retailers, including 60 mini retailers. The anchor tenant, Parkson, occupies 135,000 sq ft of NLA while other tenants include a Golden Screen Cinema, Padini Concept Store, Starbucks, H&M and Uniqlo. It is interesting to note that 70% of the retailers who have opened for business at this mall were making their debut in Alor Setar.
Aman Central's website says the mall is aiming for 12 million visitors a year.
According to another source, the mall saw a monthly average of between 1.2 million and 1.5 million visitors from its opening till Chinese New Year (CNY). Post-CNY, it recorded around one million visitors a month.
A mall operator, who declined to be named, told The Edge that new malls tend to have a high frequency of visitors in the first few months after opening. Thereafter, the rule of thumb is one person for every sq ft of NLA.
Based on its 780,000 sq ft NLA, it appears that the mall is drawing above-average visitor frequency.
It was reported in 2013 that the catchment in the area was about four million — 500,000 in Alor Setar and the rest from areas further out.
The ground floor rent at the mall ranges from RM12 to RM25 psf.
It was previously reported that Aman Central sits on the site of a 30-year-old abandoned project. Belleview was invited by the Kedah government to revive it and the property was subsequently acquired by Great Realty in 2011.
Great Realty is wholly owned by Belleview Sdn Bhd, which in turn is 30% owned by Ho, Jelma Sentiasa Sdn Bhd (30%), Splendid Springs Sdn Bhd (30%) and Ho's wife, Datin Suryani (10%).
Belleview Group's next major project is expected to be in Seberang Prai, Penang.
A year ago, the group was reported to have said it planned to turn a 20-acre parcel of land opposite Mega Mall in Jalan Baru, Seberang Prai, into a mixed-use development project comprising a mall, hotel and high-rise condominium, with a gross development value of RM2.5 billion.
Do not ask your sister about the value of your home. Click here at The Edge Reference Price to find out.
This article first appeared in The Edge Malaysia on April 25, 2016. Subscribe here for your personal copy.