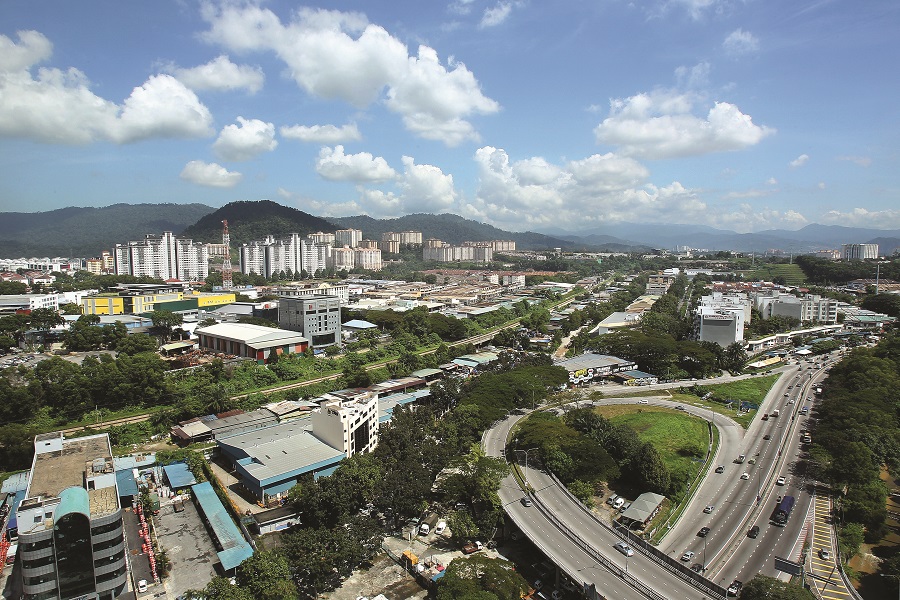 WITH the demand for property slipping, competition among property developers chasing a shrinking market has become stiffer.
Companies such as IOI Properties Bhd and Mah Sing Group Bhd are getting more innovative and holding out big carrots to prospective buyers.
IOI Properties, for example, has a buy now, pay later scheme. Under the scheme, if a buyer obtains an 80% loan on the property, he is allowed to stagger the payments for the remaining 20%, which he would normally have to pay up front.
"Depending on the development and the handover period of the project, we are able to defer the outstanding amount a buyer has to pay after deducting the loan amount from the bank. The deferred payment can be done in instalments over a period," says a sales agent with the company.
Meanwhile, Mah Sing has an ongoing Chinese New Year special that gives buyers an additional RM8,888 cash rebate when they purchase any of the group's participating properties.
According to its website, the offer is valid until the end of this month and it is on top of the existing rebates, discounts and incentives offered for its other developments.
For example, the RM8,888 is in addition to a 25% discount on Mah Sing's M-Suites in Jalan Ampang, says a sales agent with the company.
"The two-bedroom units in the 900 sq ft range are priced at about RM1 million before the 25% discount. The units are semi-furnished and have value-added things such as kitchen cabinets, a washing machine, heater, air con and fridge," the agent says, adding that the 25% discount was introduced a few months ago.
Indeed, property developers will need to use a whole new bag of tricks to attract buyers in a slowing market. However, say analysts, their margins will not be badly affected.
"They won't sacrifice too much of their margins. We must remember that the prices of property had gone up over the years. The reason behind the rebates and discounts given today is to help generate sales as demand has fallen too much … it is to help buyers so that they don't have to fork out so much money up front and to entice them to buy," says a property analyst with a local research house.
The operating margins of property developers ranged from 20% to 35% as at Sept 30, 2015.
Property analysts say a big concern today for developers is the lack of demand in the market now, which has hit their top line.
"Margins may weaken but there is still room for them to adjust. Steel and cement prices are coming down. On top of that, some of them have low land cost. A more pressing issue for developers today is sales … they have a buffer now, thanks to unbilled sales, but if they are not able to grow new sales, their top line will be hit eventually when the unbilled sales taper off and new sales trend downwards," says another property analyst.
As at Sept 30, 2015, UEM Sunrise Bhd had RM4.1 billion of unbilled sales while Sunway Bhd had RM1.7 billion. Eco World Development Group Bhd had RM4.2 billion of unbilled sales as at October 2015 while S P Setia Bhd had RM9.5 billion.
Moving forward, property analysts do not expect developers to drop launch prices to entice buyers as that would have a "cascading effect". "What we will see happen is that they will keep the ASP (average selling price) but have smaller units. For example, three bedrooms in a 950 sq ft unit. So, the total value of the property is lower but the ASP is the same because of the smaller size," says the analyst.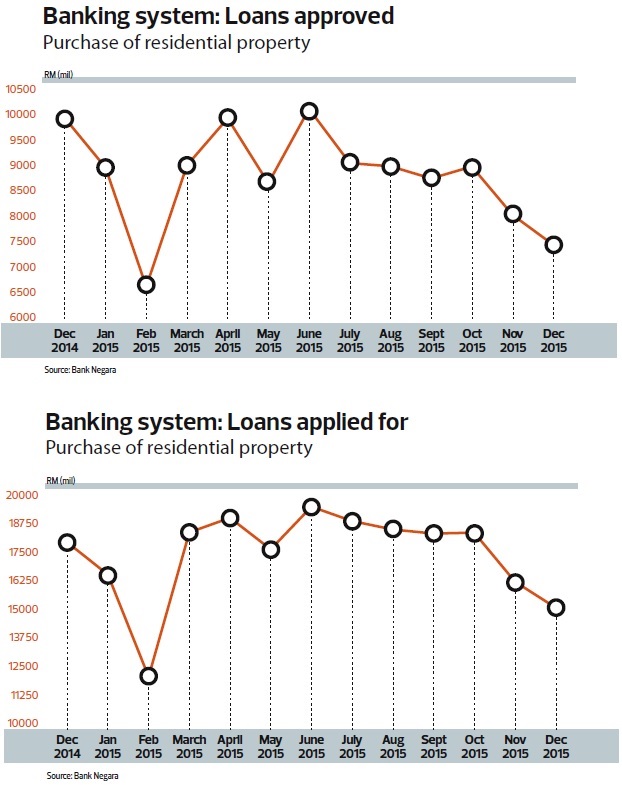 Weakness in residential loans
That the demand for residential properties has fallen is evident from Bank Negara Malaysia's statistics. The number of loans applied for such properties fell between June and December 2015. In fact, the number of loans applied for in December 2015 were down 16% year on year.
About RM14.9 billion worth of loans were applied for to acquire residential properties in December 2014 compared with RM17.7 billion in December 2015.
On top of this, loans approved for residential properties were down 25% y-o-y to RM7.35 billion in December 2015.
Meanwhile, impaired loans for the purchase of properties rose every month between April and September 2015. From RM4.953 billion in April 2015, these trended up to RM5.159 billion in September 2015. Impaired loans had slowed to RM5.03 billion in December 2015 but were still higher than the RM5.01 billion recorded a year ago.
Maybank Investment Bank Research remains negative on the property sector from a top-down perspective. "The sector lacks a strong re-rating catalyst and the slowdown in property demand could extend another 12 months to 2017. Consequently, it could take a while longer to realise values. The negative lag impact on earnings from weaker sales will start to feature from 2017 onwards," it states in a Jan 13 report.
"Property stocks under our coverage are trading at an average discount of 36% to 62% to our RNAV estimates compared with a 50% to 70% discount during the GFC (global financial crisis). We advocate investors to go defensive in bottom-up stock selection. S P Setia Bhd (RM3.86 target price) is our 'buy' pick for the property sector."
Kenanga Research is "neutral" on the property sector. "We believe 2016 will be challenging and it is too early to tell if 2H2016 will be better than 1H2015. Recall that most developers are facing limited demand visibility, as experienced in 2015, while tight lending liquidity to the sector persists," it states in a Jan 7 report.
"We like UOA Development Bhd (RM2.22 target price; net cash position and net yield of 6.8% with IDRP) as a defensive pick. For those willing to take a longer-term view of deep-value developers, we recommend Hua Yang Bhd (RM2.20 target price), which is trading at a compelling 4.4 times forward PER (close to the historical trough) with high exposure to the affordable housing market in the Klang Valley and offers a very strong yield of 7%. We also expect a re-rating of Eco World Development Group Bhd (RM1.90 target price) closer to its Eco World International Bhd's listing (1Q2016)."
Do not ask the taxi driver about the value of your home. Click here at The Edge Reference Price to find out.
This article first appeared in The Edge Malaysia on Feb 8, 2016. Subscribe here for your personal copy.