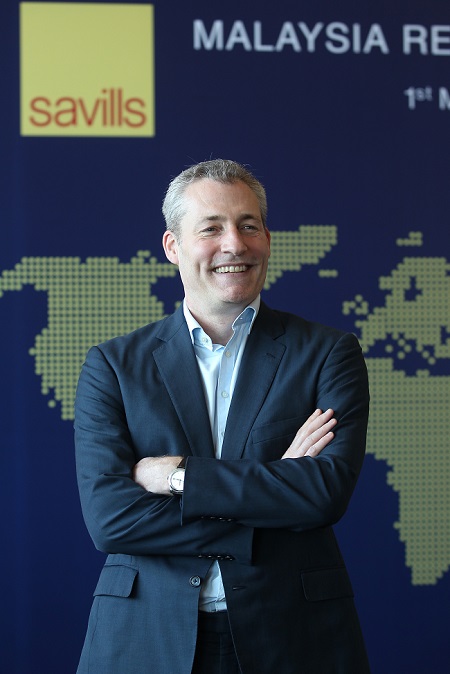 KUALA LUMPUR (March 2): Experiential shopping will be a new trend as consumers still prefer physical interaction – such as talking to the sales consultant and feeling and touching the product – which cannot be replicated through online shopping, said a retail property consultant.
According to Savills Hong Kong senior director of research and consultancy Simon Smith (pictured), e-tailing data showed that although online retail sales continue to rise, the growth rate is slowing down; global e-commerce annual sales value growth last year was 13% against 15% achieved in 2014.
"We also see physical stores worldwide evolving into experiential stores to gain consumers' attention," he explained during the Malaysia Retail Conference organised by Savills (Malaysia) Sdn Bhd.
Smith noted that the emergence of online retail sales used to be seen as a threat to physical retail sales; however, as consumers' spending pattern changed – researching the goods online and buying them at physical stores, or vice-versa – there are numerous opportunities for retailers to increase their sales.
"Physical stores will be an important element for brand building as they will become event destinations or places for consumers to experience brand culture and philosophy. For instance, shopping malls in Gangnam, Seoul, are moving towards the experiential shopping trend," he added.
Meanwhile, Smith also advised retailers to get ready for a shift in consumer demographics – from baby boomers to millennials – which could create new opportunities for retailers.
"Millennials are embracing the YOLO (you only live once) lifestyle and individualism mind set. They are not easily influenced by advertisements, and they are looking for something unique and prefer customisation," he explained.
He noted that personalised loyalty programmes or tailor-made marketing tools such as targeted discounts and promotions will help to attract the attention of millennials and keep the coming back.
Do not ask your gardener about the value of your home. Click here at The Edge Reference Price to find out.