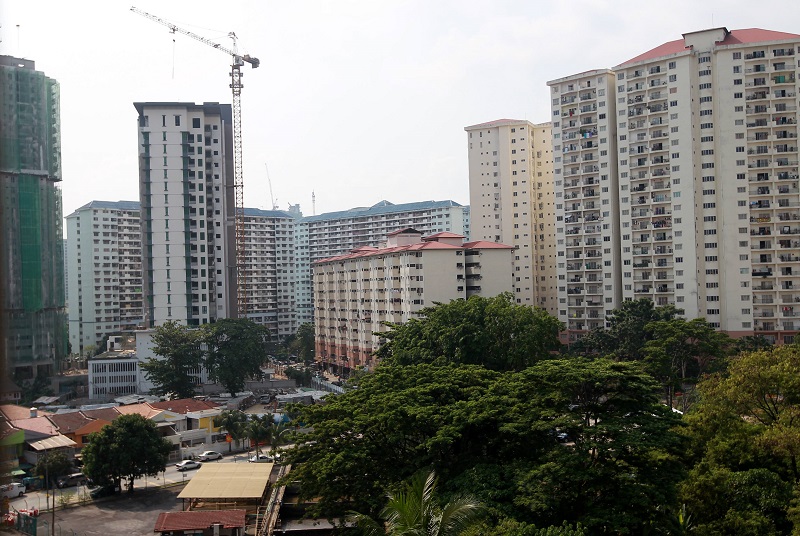 Setapak, a large and established suburb in the district of Gombak, Kuala Lumpur, has seen the average values of its high-rise homes outpace that of Kuala Lumpur's on the back of a strong rental market, affordability and good access via road and light rail transit.
According to research by theedgeproperty.com, prices of such homes in Setapak surged 30.9% y-y in 3Q2013, propped up by subsale market transactions at Setapak Green, the third-most expensive condominium in the area (average price, RM631,375 per unit). Due to cooling measures announced during the tabling of Budget 2014, growth of average values slowed to 12.5% in 3Q2014, bringing average prices to RM389 psf.
However, it still outpaced Kuala Lumpur's average high-rise home price — the Kuala Lumpur High-Rise House Price Index by the National Property Information Centre (Napic) rose only 7% and 9.6% in 3Q2014 and 3Q2013, respectively.
Despite its tremendous capital appreciation, Setapak is still nonetheless an affordable option for property buyers. In fact, data from theedgeproperty.com shows that even the most expensive condos fall well within the mid-market segment. For instance, Platinum Hill PV 8, which theedgeproperty.com identified as the most expensive high-rise home by average price, clocked in at a relatively affordable RM708,000. Notably, the average price was raised by two transactions of RM1 million each in 2014.
In the 12 months to 3Q2014, about 63.5% of Setapak's high-rise home transactions fell into the RM201-RM400 psf range, while 32.9% fell into the RM401-RM600 psf range.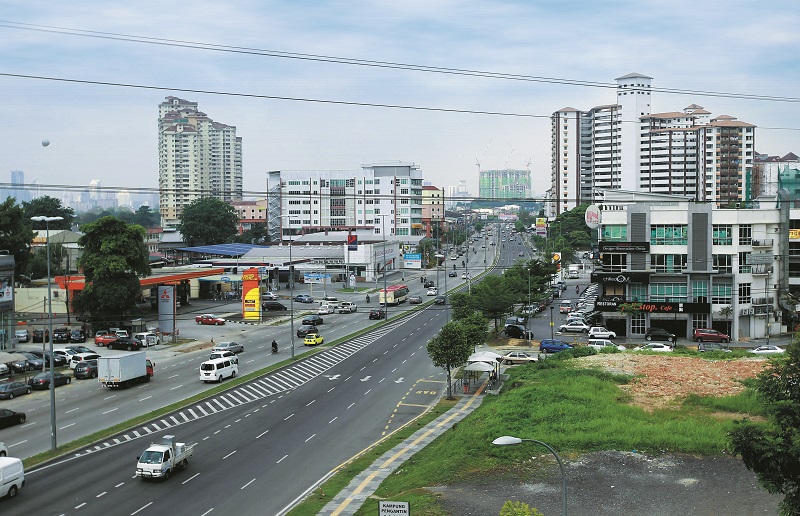 What drives interest in Setapak?
According to Hartamas Real Estate (OUG) Sdn Bhd negotiator Jack Tian, Setapak high-rise homes attract higher-than-average rental demand. "Due to higher rental demand, the homes are more for investment, with about a 60:40 ratio [of owner-occupiers to investors]," he tells The Edge Property.
He says owner-occupiers are drawn to the good accessibility offered by a number of major roads and public transport — the area is serviced by the Kelana Jaya LRT line and a number of stations, including Sri Rampai, Taman Melati and Wangsa Maju — as well as tourist attractions nearby such as Bukit Tabur, Berjaya Hills Resort, and Genting Highlands that make for nice weekend getaways.
According to Tian, typical tenants of these apartments include professionals, and university and college students mainly from the Tunku Abdul Rahman University College (TARC) at Taman Bunga Raya, just off Jalan Genting Klang.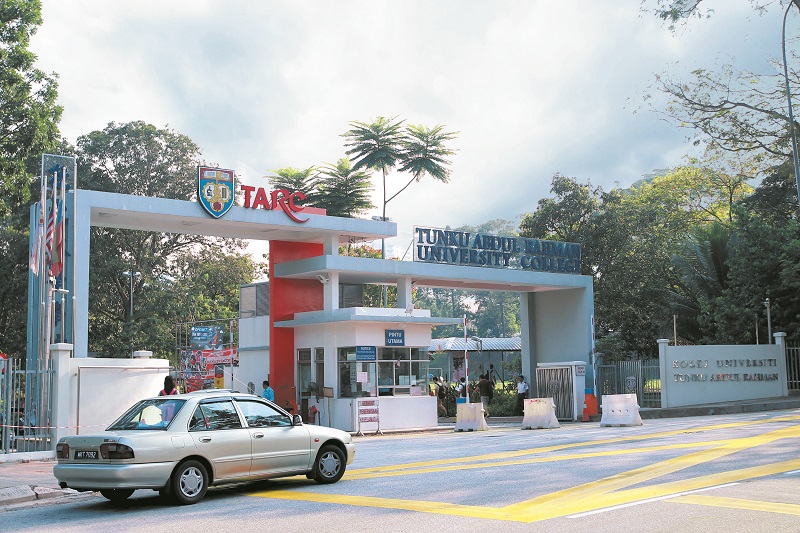 "Working professionals enjoy Setapak's good accessibility to major highways such as the Middle Ring Road 2 (MRR2), the Karak Highway, the Duta-Ulu Kelang Expressway, and access roads such as Jalan Genting Klang and Jalan Danau Kota," he explains.
Meanwhile, students appreciate the convenience offered by public transport, eateries, entertainment outlets and proximity to TARC.
"There is also demand for commercial space by businesses such as restaurants, entertainment, sports, electronics, grocers, offices, salons and so forth," he observes.
Vivahomes Realty senior negotiator Jantson Loh notes that Setapak's proximity to Ampang, Cheras and Kuala Lumpur's city centre — less than 35km away — coupled with its affordability and the presence of TARC makes it easy to sustain the area's rental market.
"Many students who stay here will graduate and choose to work in KL, because it is near the city centre and they are already familiar with the place. So some will graduate and buy an apartment here, because they realise if they keep paying rent, it is like 'burning' their money," he tells The Edge Property.
Loh notes that students tend to prefer condos in the vicinity of Jalan Genting Klang such as PV 12, PV 13, PV 14, PV 15 and PV 16, as well as condos in Taman Melati. This is due to the abundance of eateries and shops, and a free shuttle-bus service by TARC that covers these areas.
He says condos in Taman Melati, Genting Klang and Wangsa Maju usually enjoy an occupancy rate of above 90%. Newer partly furnished three-bedroom units can be rented out for at least RM1,800 a month while older units with a similar number of rooms and furnishings can command at least RM1,500 per month.
Rentals of condos and serviced apartments — such as those in Taman Setapak, Taman Gombak, and the Platinum Victory condos in Danau Kota, Genting Klang, Taman Melati — range between RM1.30 psf and RM1.70 psf, depending on furnishings offered, says Tian.
He estimates that the average return on investment for these homes is between 3.8% and 4.6%. Meanwhile, theedgeproperty.com research shows that the top 10 high-rise homes in Setapak yield an average return of 4.7% to 5.7%.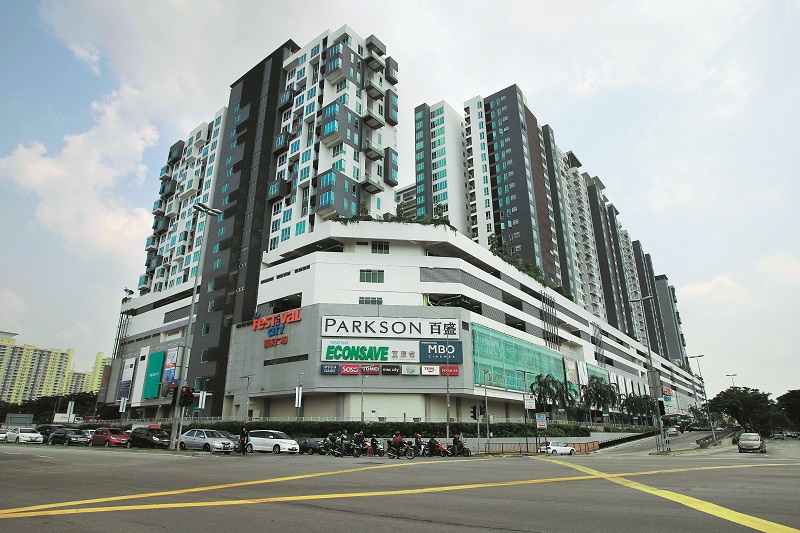 What's new in Setapak?
According to Tian, some roads have been widened while new ones are being built to improve the area's accessibility. For instance, the portion of Jalan Genting Klang in front of TARC that links Jalan Wangsa Maju, Jalan Genting Klang and Jalan Danau Kota to the MRR2 was recently widened. Meanwhile, the six-lane, 9km Tun Razak Link that will run from Jalan Tun Razak to Jalan Gombak is under construction. "This is estimated to relieve traffic congestion by 30% during peak hours," he says.
Meanwhile, there are also a few new projects that are coming up, which include high-rise and landed residential projects as well as commercial projects comprising shopoffices, and small offices/home offices (Sohos).
These projects are being built by local stalwarts and bigger national players, such as Platinum Victory Development Sdn Bhd, Sime Darby Property Bhd, Sunway Bhd, Kerjaya Prospek Sdn Bhd, UOA Development Bhd and MKH Bhd.
What is the outlook for Setapak?
Hartamas Realty's Tian says Setapak's rapid urbanisation has fuelled population growth that has, in turn, driven demand for residential and commercial properties.
"In recent years, upscale shopping malls were established to support the activities in this vicinity, namely Wangsa Walk mall and KL Festival City mall. More mixed-development projects have been proposed in Setapak. This would supply not only commercial activities but also jobs in Setapak," he says.
He reckons that high-rise homes in Setapak will continue to attract younger buyers such as graduates and those who have just joined the workforce, given that it is an affordable option for people looking for homes near Kuala Lumpur's city centre.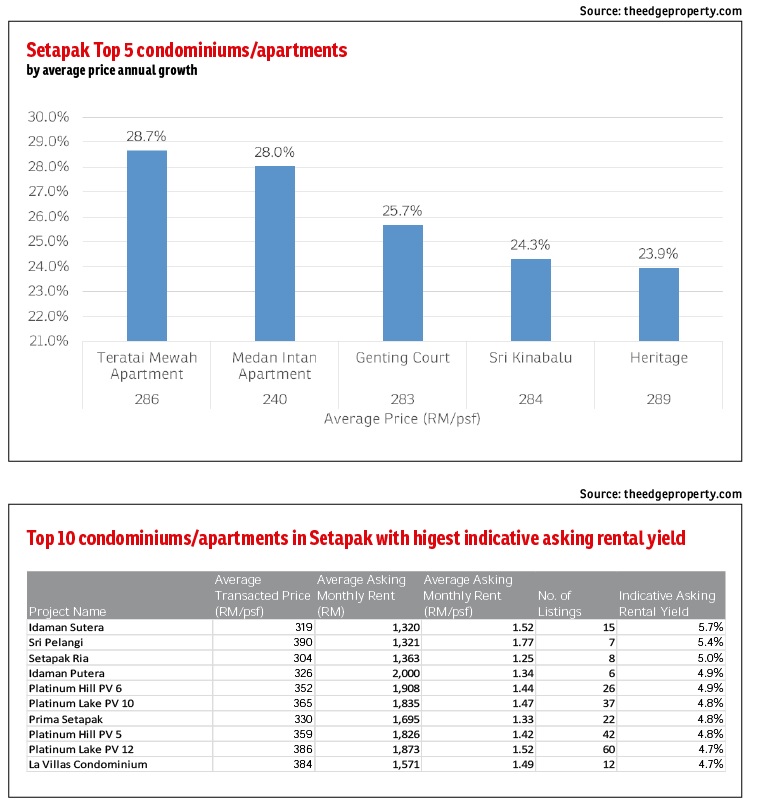 This article first appeared in The Edge Property pullout, July 3, 2015. Download a full copy for free here.
Related stories:
PROPERTY SNAPSHOT Affordable luxury at Setapak
PROPERTY SNAPSHOT What's affordable in Setapak?
PROPERTY SNAPSHOT What are developments priced at in Setapak?
PROPERTY SNAPSHOT What's hot in Setapak?