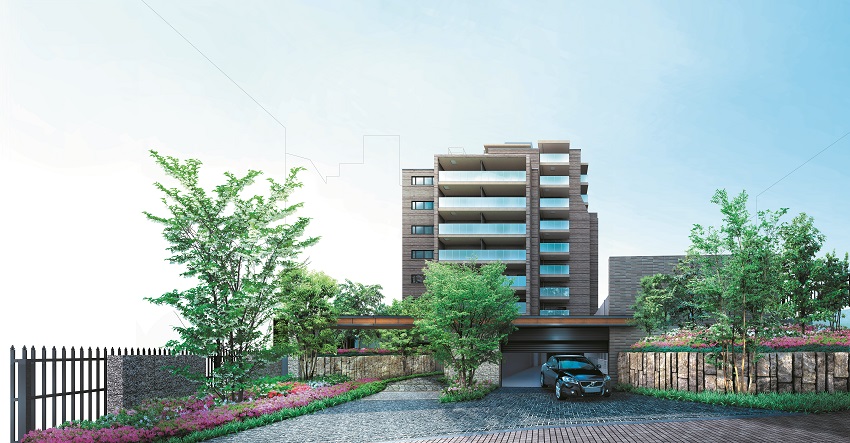 WHEN it comes to choosing a foreign destination to invest in property, Japan would not typically be the first country Malaysians think of.
Apart from the language barrier, there is Japan's slow economic growth in the 1990s — a period termed the "Lost Decade".
Things took a turn for the better when Prime Minister Shinzo Abe won a second term in the 2012 general election. He introduced a three-pronged set of economic policies — popularly known as Abenomics — aimed at rejuvenating the country's economy.
"Due to Abe's strong leadership and his policies to strengthen Japan's economy, corporate earnings have been increasing and the stock market has been revitalised. Tokyo winning the bid to host the 2020 Olympic Games has also encouraged foreigners to see the growth of the city. Perhaps the most important factor is the depreciation of the yen, which has depreciated against the US dollar by nearly 50% over the last three years," says Jones Lang LaSalle (JLL) K.K capital markets international director, Akihiko Mizuno (pictured, right).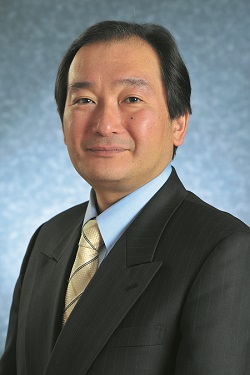 With this in mind, Tokyu Land Corp (TLC) and ARK Real Estate Co Ltd are bringing their 13-storey residential project, Branz Shibuya Tokiwamatsu (BST) in Tokyo, to Malaysia. TLC is part of the Tokyu Group, one of the major conglomerates in Japan. It was founded in 1953 and has been actively involved in urban development, particularly in Shibuya.
Located in the prime residential area of Tokiwamatsu under Shibuya Ward, BST is adjacent to popular areas such as Roppongi and Omotesando as well as the area around Shibuya Station. Across the street from BST is the royal family's mansion.
The 72-unit condominium will comprise 1 to 3-bedroom apartments with built-ups of 756 to 1,315 sq ft. All units will come with top-of-the-range utilities including a dishwasher, waste disposer, cooking stove and ventilation fan for the kitchen. Units will also have underfloor heating and a multifunctional air conditioner (heater, cooler and dehumidifier). Prices range from ¥77.7 million (RM2.6 million) to ¥198.4 million.
TLC's vision is to create an upscale residence in the city centre while maintaining the historic culture of the district as well as creating a mountain resort ambience.
Care has been given to ensure that the materials used will not fade with time and various materials used in the interior common areas were selected for their warmth, says the developer. The colour scheme is based on the reddish brown sycamore wood to suit the palatial yet serene feel of the land.
Buyers have an option to take up a five-year rental guarantee plan with an estimated gross return of 2.6% to 4%.
"The plan includes the fees and services of letting and daily management such as liaison with tenants, cash management and periodic check-up. It is offered by Tokyo Housing Lease, which is part of Tokyu Group," says Mizuno.
BST is located within a 15-minute walk of three train stations with 11 different lines, including Shibuya Station. There are also six bus stations within a five-minute walk, providing access to Shibuya Station, Ebisu Station, the Daikanyama area and National Stadium.
The project is expected to be completed in September 2017 and will be handed over the following month. JLL, the exclusive marketing agent for Malaysia, Singapore and Hong Kong, will be holding a preview of the project in Kuala Lumpur on Nov 28 and 29.
Benefiting from an evolving downtown district
Once home to samurai lords during the Edo period, Tokiwamatsu is now an upscale residential area with bountiful greenery that sits on high ground.
The area has an exciting future as Shibuya has been designated as one of Asian Headquarters' Special Economic Zone by the Tokyo Metropolitan Government. The aim is to bring in 500 foreign companies to set up offices in the special zone by next year.
According to The Japan Times, the zone covers five areas — the northern portion of Tokyo Bay from Roppongi to Odaiba, Shinjuku, Shibuya, the district shared by the Shinagawa and Tamachi Stations, and a vacant site formerly used by Haneda Airport.
Being part of the zone, Shibuya is expected to benefit from the increased opportunities brought in by international businesses. This in turn could lead to high residential demand in the area.
Shibuya Station, a major hub in Tokyo with eight train lines, is being redeveloped. The Shibuya Station Central District Redevelopment involves four redevelopment projects by public-private bodies.
TLC is participating as landowner and project member in two of the projects — the Dogenzaka 1-chome Station Front District Redevelopment and Shibuya Station Sakuragaoko Exit District Redevelopment. The redevelopment will also restore the Shibuya River to create a new oasis, with squares and walking paths.
"The redevelopment will bring more office space, which means more people will commute to the Shibuya Station area. This is expected to increase the demand for rental space, which in turn will increase yields and values," says Mizuno.
The entire redevelopment is expected to be completed in 2027.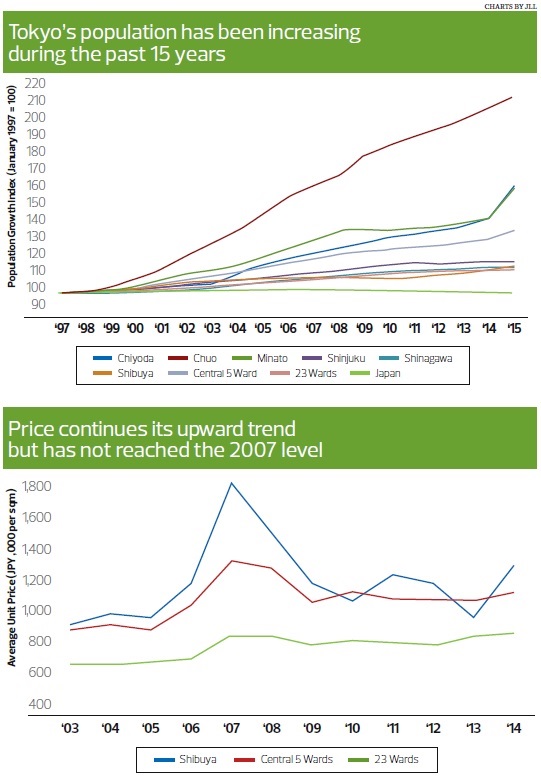 Key drivers
Calling Japan a "sleeping giant" in Asia, Mizuno says Tokyo is one of the top four cities in most surveys because of its political stability, the size of its economy and safety.
A steady growth in property values is expected across all sectors, particularly in Tokyo, says Mizuno.
"Within the last 10 years, the condo price index hit its peak in 2007. It decreased after that due to the global financial crisis and the earthquake in March 2011. Since Abenomics started in 2013, the price index has started to improve but has not reached the 10-year high yet," says Mizuno.
According to data from JLL, a 62.83 sq m unit in The Parkhouse Nishi-Azabu Residence in neighbouring Minato-ku was transacted in April 2013 for ¥77.5 million. After its completion in May 2014, it was sold for ¥98 million in July 2015, an appreciation of 26%.
Another example is Park City Osaki The Tower in Shinagawa-ku. It was first sold for ¥52.6 million in May 2014. After its completion in May 2015, it changed hands at ¥63 million, an appreciation of 20%.
"Although the population of Japan has started to decrease, the population in central Tokyo has been increasing. We believe this trend will continue," says Mizuno.
According to Savills Asian Cities Report — Tokyo Residential 2H2015, between 2005 and 2014, the population in Tokyo's 23 wards increased by over 57,000 per year on average, from 7.9 million to 9 million.
The area's share of the population — relative to Japan as a whole — increased from 6.3% to 7% during the same period, says Savills.
The number of households in the 23 wards also expanded from 3.8 million to 4.8 million between 2005 and 2014, or from 8% to 8.5% of the total number of households in Japan.
A noteworthy characteristic of Tokyo's 23 wards is its younger population. "The share of the working age population (between 15 and 64 years old) of Tokyo's 23 wards accounted for 67.7% in 2014, as opposed to 62.3% for Japan as a whole," says Savills.
Tokyo also has a low homeownership ratio. Savills notes that more than half of the households in Tokyo's 23 wards rent their accommodation.
"It is likely that migration of the population and increase in household numbers in Tokyo's 23 wards will continue. Hence, the demand for housing, in particular rental housing, in Tokyo can be assumed to be robust," says Savills.
The company, in its Residential Leasing Briefing 3Q2015, says after hitting bottom in 2012, rents in Tokyo's 23 wards and the central five wards — Shibuya, Minato, Shinjuku, Chiyoda and Chuo — have gradually recovered, although they are still below the 2008 average.
"The highest premium was seen in the central five wards, where on average, the premium stood at over 13%. There are, however, some variations in the premium rate within each surveyed area."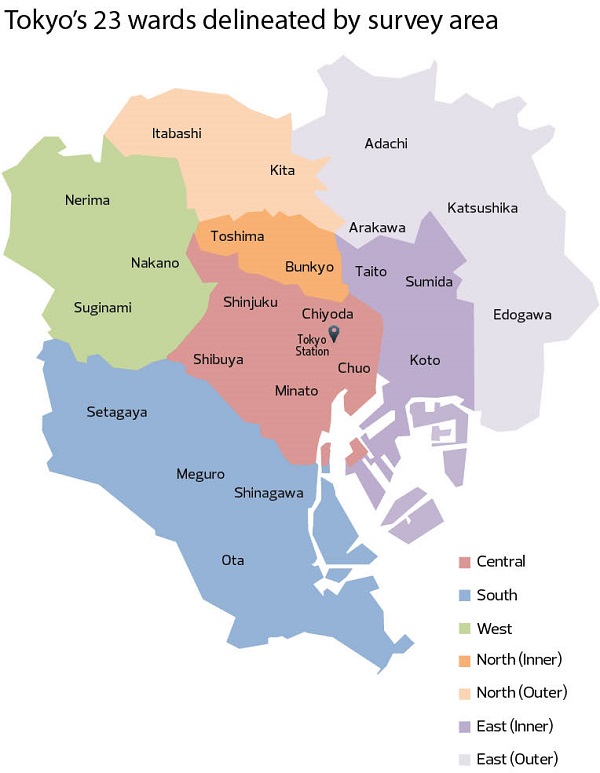 The report says, of the central five wards, Minato has the highest premium of over 20% between 2010 and 2015 year to date. This was followed by Shibuya.
The rent level of luxury residences started to decline after the collapse of Lehman Brothers in mid-September 2008.
According to Savills, in March 2013, the average rent for luxury residences stood at ¥4,019 per sq m — 23% below the 2007 average high. Since then, the contract rent of the central five wards has risen, until mid to late 2014, to about ¥4,700 per sq m.
"Although the contract rents of luxury residences in the central five wards have recovered from the low levels of early 2013, the average rent is still 10% to 20% below the 2007 highs, suggesting that there is some potential for rents to increase," says Savills.
As for the occupancy rates of luxury residences, it fell to below 90% for more than a year after the Lehman collapse. "However, occupancy rates gradually improved from then, and those for Minato and Shibuya were 92.3% and 94.2% respectively in 1H2015," says Savills.
Future prospect and risks
After two consecutive quarters of economic declines, Japan fell back into a recession. The country's economy shrank by an annualised 0.8% between July and September.
Mizuno is unfazed, saying, "I can say with confidence that although certain statistics, such as GDP growth and population, may raise questions about the future of Japan, Tokyo is a completely different story.
"Corporate earnings, population and property values are all showing strong, positive growth and that is why many international capital is chasing Tokyo's real estate. Demand for property is larger than supply, which is a big reason why yields have been compressing."
He adds that more global institutional investors are looking to invest in Japan, so there will be more capital flow into the country, which should have a positive impact on the property market.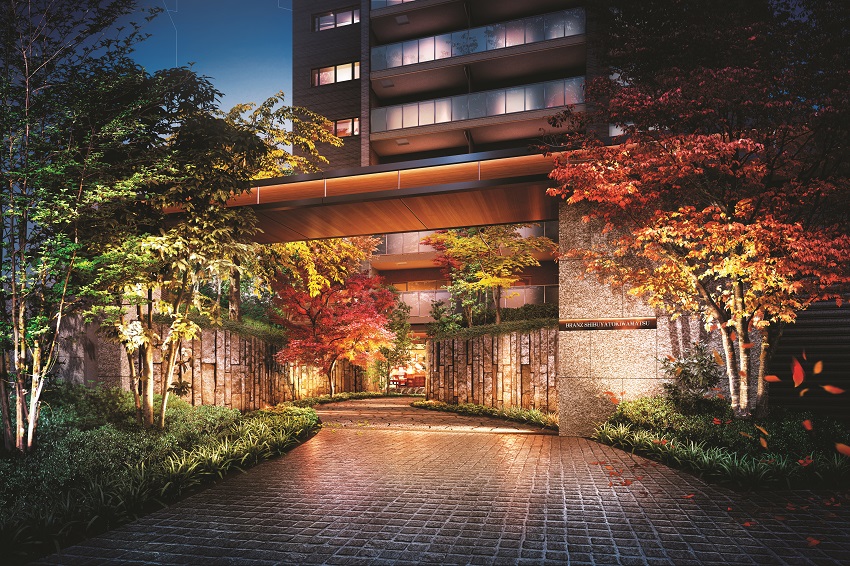 According to JLL, Asian institutional investors that have made recent investments include the Government of Singapore Investment Corp and China Investment Corp. The former acquired a Grade A office/retail/hotel building called Pacific Century Place Marunouchi in Tokyo in late 2014. While the price was not disclosed, the media suggested that it was about US$1,415 million. The latter acquired a commercial property, Meguro Gajoen in Tokyo, from Mori Trust for US$1,167 million in January 2015.
There are, of course, risks.
"The interest rate in Japan is at a historical low now. Depending on the US Federal Reserve's change of its monetary policy, it may impact Japan and Japanese interest rates may increase, which can have a negative impact on the property market," says Mizuno.
Nonetheless, he believes that the growing population in Tokyo, the increase in salary in large companies — which are mostly located in the city — and the still record low interest rates will support domestic demand in Tokyo's property market.
Do not ask your soul mate about the value of your home. Click here at The Edge Reference Price to find out.
This article first appeared in City & Country, a pullout of The Edge Malaysia Weekly, on Nov 30, 2015. Subscribe here for your personal copy.