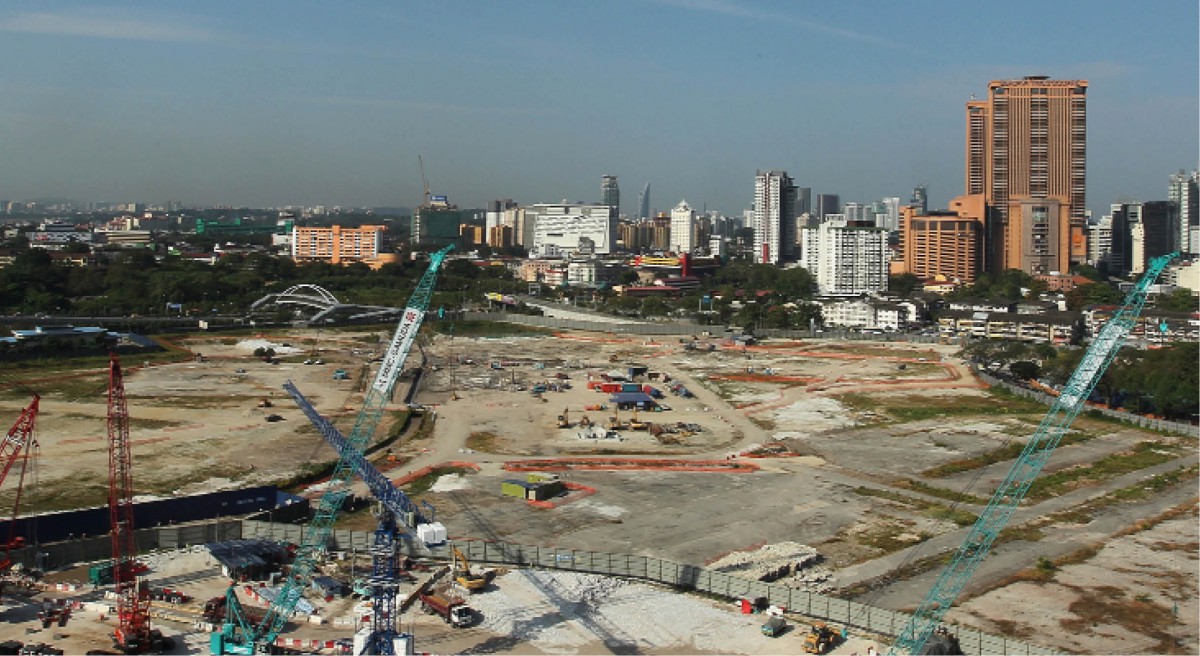 GEORGE TOWN (Oct 20): 1MDB Real Estate Sdn Bhd (1MDBRE) yesterday awarded WCT Holdings Bhd a RM754.8 million contract to build infrastructure and roadway works for the Tun Razak Exchange (TRX).

Meanwhile, the construction group's indirect wholly-owned unit WCT Precious Development Sdn Bhd also entered into a conditional sale and purchase agreement with 1MDBRE's wholly-owned unit KLIFD Sdn Bhd to buy a 0.7ha freehold development land, forming part of the TRX, for RM223 million or about RM3,100 per sq ft (psf).

The land purchase consideration will be payable by WCT Precious by way of setting off against the corresponding milestone payment of the contract sum payable by 1MDBRE to WCT Bhd, a unit of WCT Holdings, under the infrastructure contract, said WCT Holdings in an announcement to Bursa Malaysia.

"Barring unforeseen circumstances, the land purchase is expected to be completed by [the] fourth quarter of 2017. The land purchase will not have any material impact on the gearing of the WCT group," WCT Holdings said.

WCT Holdings revealed that the proposed development comprises a tower block of high-end serviced apartments, with complimentary retail components at an estimated gross development value of RM1.1 billion.

WCT Holdings said the land is acquired as part of its strategy to seek continuous business opportunities in developments in prime locations with strong growth and earning potential.

"The land is strategically located within [the] TRX. With its excellent location and its planned world-class infrastructure, together with excellent accessibility and connectivity, WCT is confident that the proposed development will be well received by the prospective investors and purchasers," said WCT Holdings managing director Taing Kim Hwa.

WCT Holdings is the third to announce land purchase in the TRX, which is located along Jalan Tun Razak, so far this year. Lembaga Tabung Haji (Tabung Haji) bought a 0.64ha tract for RM188 million cash, or RM2,773 psf.

Tabung Haji is still in the midst of looking for buyers to dispose of the land after the purchase drew criticism, including from the fund's members. Prime Minister Datuk Seri Najid Razak has also advised Tabung Haji to sell the land.

Affin Holdings Bhd's banking unit, Affin Bank Bhd, paid a steep price for a 0.5ha land in the TRX at RM255 million, or RM4,699.07 psf — a record land transaction price in the Kuala Lumpur city centre. The banking group, which is controlled by Lembaga Tabung Angkatan Tentera, is given a plot ratio of 15.2 times for the tract, to which it expects to relocate its headquarters.

1MDB paid only a total of RM194 million, or RM64 psf, to buy 70 acres of land in the TRX from the government in 2010, with plans to develop it into a financial hub.

In a separate statement, 1MDBRE said WCT Holdings won the bid among 11 companies through a tender process, which was executed through a multistage evaluation process.

"The infrastructure contract package makes up a significant part of [the] TRX's comprehensive infrastructure programme that will turn the financial district into the best connected address in Kuala Lumpur."

The two-year contract will cover underground road structures, installation of direct buried utilities, at-grade and elevated roadways, as well as associated earthworks, and mechanical and electrical works. This follows an earlier award of an earthwork contract package in 2013, it said.
WCT Holdings' share price was up five sen to RM1.42 yesterday, with a market capitalisation of RM1.64 billion.

This article first appeared in The Edge Financial Daily, Oct 20, 2015. Subscribe to The Edge Financial Daily here.