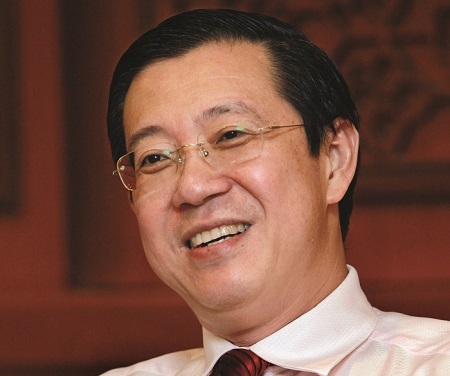 KUALA LUMPUR (May 5): Attorney-General (AG) Tan Sri Mohamed Apandi Ali has denied reports that the AG's Chambers had closed the case of an allegedly false declaration on the purchase of a bungalow by Penang Chief Minister Lim Guan Eng (pictured).
Referring to reports in two English dailies, Mohamed Apandi refuted the news that he had closed his office's investigation into a statutory declaration (SD) by the previous owner of the bungalow, Phang Li Koon, in a two-paragraph statement yesterday.
In George Town, Bernama reported yesterday the AG's Chambers had closed the case, quoting Penang Police Chief Datuk Abdul Ghafar Rajab.
The police chief told reporters yesterday the AG had decided a few days ago that there was "no further action" in the case into the SD made by Phang, who sold what is claimed to be an undervalued bungalow to Guan Eng.
He said the decision was made after the AG scrutinised the outcome of the investigation conducted by the Penang and Bukit Aman police.
"The prosecutor has decided that there is NFA (no further action) in the case ... so the case is closed. The decision was made two or three days ago," he told reporters after attending the monthly assembly at the Penang police headquarters yesterday.
The police opened an investigation into Phang after several quarters lodged police reports claiming inaccurate information in Phang's SD. Phang was called to give a statement at the north-east district police headquarters.
The purchase of the bungalow in Jalan Pinhorn in Penang by Guan Eng for RM2.8 million became a controversy after Tasek Gelugor member of parliament Datuk Shabudin Yahaya disclosed in the Dewan Rakyat that the price was below market value.
Shabudin had reportedly claimed that the value of the bungalow was in the range of RM6 million to RM6.5 million.
It was also claimed that the purchase of the bungalow was connected to the sale of a piece of land in Taman Manggis, Penang, that had been reserved for a housing project for the poor.
Phang made the SD on March 22, stating that she had not surveyed the market when she decided to sell the house to Guan Eng as she did not think it was necessary.
She also said she had no business relationship with the state government.
Interested in property investments in George Town after reading this article? Click here to check out the properties there.
This article first appeared in The Edge Financial Daily, on May 5, 2016. Subscribe to The Edge Financial Daily here.