WITH his boyish looks and impish sense of humour, Datuk Douglas Cheng could sell ice to an Eskimo. Likeable to a fault and an entertaining host, the man is a delight to be with. Even without having completely explored the Tun Razak Entertainment Centre (TREC), of which he is co-founder and chairman, I am totally sold on the idea of the purpose-built, all-encompassing and secure location for KLites and tourists alike to sample the city's nightlife. TREC opened last year and, with the traditional "clubbing" zones of Jalan P Ramlee and Changkat Bukit Bintang looking a little tired after so many years, the timing was perfect.
While Cheng is all charm, TREC's other co-founder and managing director Cher Ng wins you over with his quiet confidence and impressive pedigree in the business. A pioneering DJ of Zouk in Singapore, Ng was the one who made the brave decision to introduce the franchise to Kuala Lumpur in 2004. He was only 30 at the time, and Zouk was a massive project that would turn out to be a focal point of the local nightlife scene, attracting DJs of international repute.
It was when the lease for Zouk's location in Jalan Ampang expired that the idea for TREC came to be — according to Cheng, "we sort of decided it in the bathroom". Ng grins and offers a better explanation. "We were friends, courtesy of our Zouk days, and I was talking about finding a new home for Zouk. We were scouting around KL and I stumbled upon this great location. But I felt that four acres was too big for one club. I had been doing business with Douglas already, so I went back to him and we discussed the idea of a whole ecosystem — bars, restaurants and Zouk."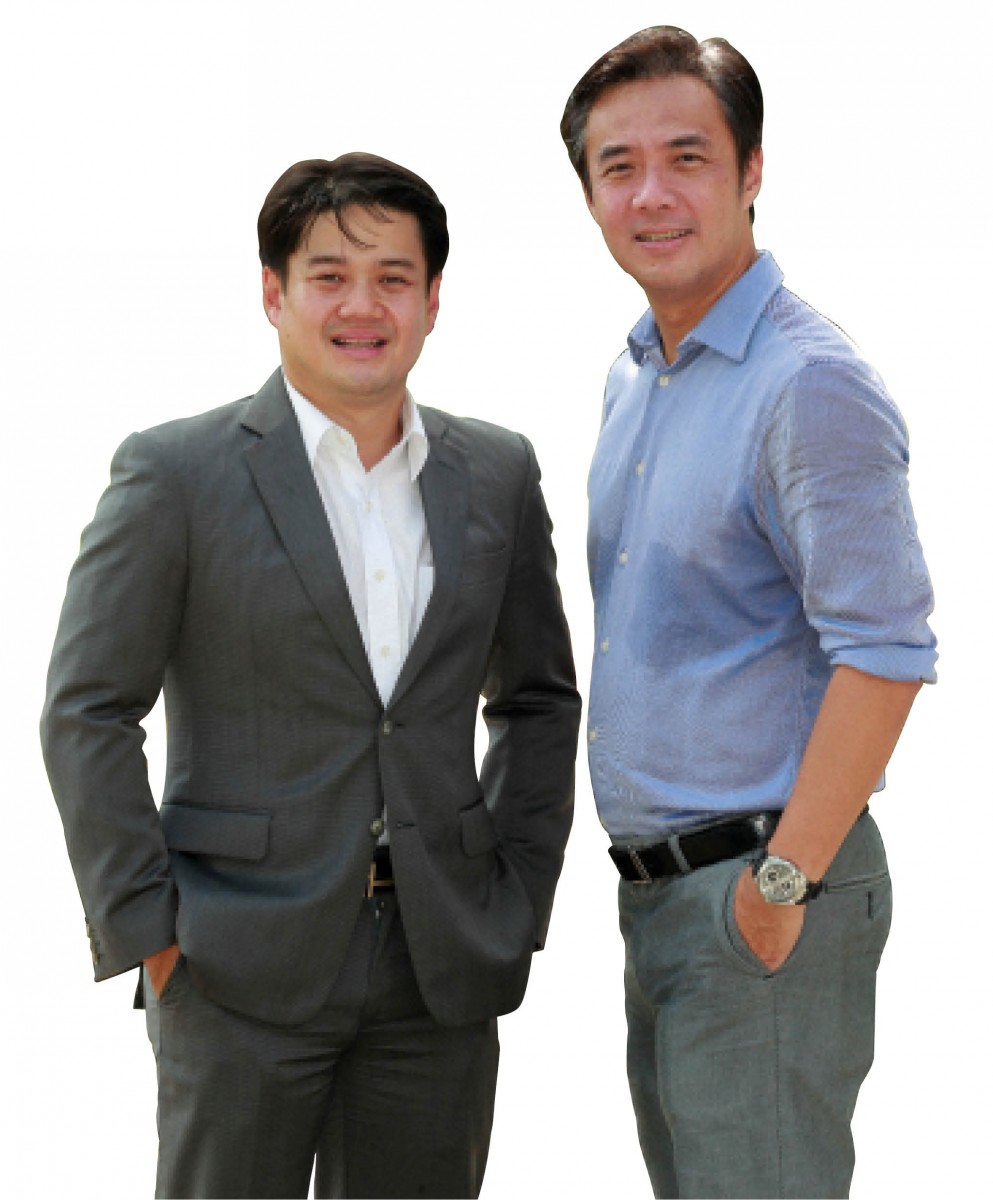 Ng and Cheng put their heads together and came up with an interesting project that would do justice to the location, as well as serve the needs of KL's increasingly young and vibrant crowd in search of a safe place to party. The project, they envisioned, would include a wide range of eateries — so you could bar and restaurant-hop in a safe and controlled environment — and would also cater for a diverse customer base. "It was conceived as a one-stop entertainment centre in KL, very much like Lan Kwai Fong in Hong Kong or Clarke Quay in Singapore," Ng says. "It's safe, regulated, clean and controlled by a single landlord."
The four-acre parcel initially identified, owned by the Royal Selangor Golf Club (RSGC), was right next to another three acres owned by Berjaya Assets. Tan Sri Vincent Tan is a family friend of Cheng's and the latter had grown up with Datuk Seri Robin Tan, Vincent's heir and eldest son and chairman/CEO of Berjaya Corp, so TREC became a tripartite project between Cheng, Ng and Berjaya.
TREC's first phase was launched in August last year with the opening of the 11-room Zouk KL, followed by Electric Boulevard in December. The boulevard features more than 20 food and beverage venues, comprising Malaysia's finest brands. Early this year, Cycle & Carriage launched the first-of-its-kind Mercedes-Benz City Store, which includes a private iShowroom lounge, an exclusive bar and lounge as well as an interactive signage.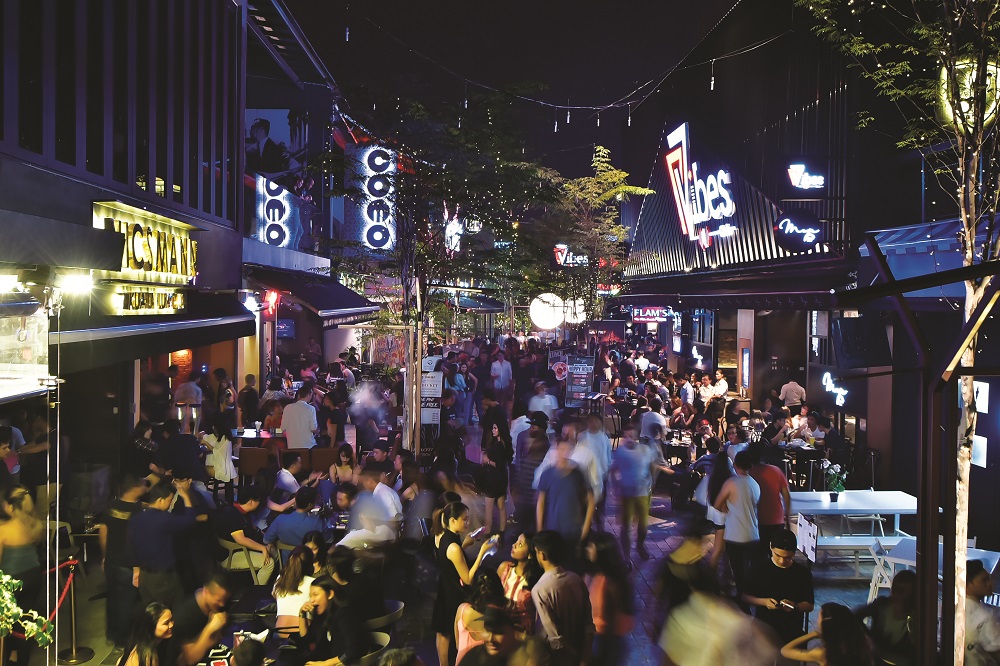 This May saw the opening of Byblos Café & Lounge and established Singapore brand Le Noir at Phase 2, known as The Hive. To add to its lifestyle offerings, TREC also conceived KL's first music-centric flea market, A Sunday Affair, which drew some 2,000 fun-seekers. This paved the way for the debut of THISCOVER Weekend, which added in the arts.
Endorsed by the Ministry of Tourism and Culture as a Designated Entertainment Zone under the NKEA EPP 8 programme, TREC is part of KL's Tourism Master Plan 2015-2025. The estate is also the first entertainment and F&B enclave in KL to be granted a licence to operate up to 5am.
One year and RM80 million later, TREC is, by all measures, a success story. Its anchor tenant Zouk continues to attract global attention and the other F&B outlets have also begun to garner a steady following beyond just the weekend. In total, TREC has five zones and each has a distinct character, offering an exciting variety of eateries, clubs, bars and pubs, cocktail bars, live music venues and a comedy club. The list of eateries are a combination of Cheng's and Ng's personal favourites, as well as restaurants whose owners had approached them.
Some of the new eateries that have KL abuzz is Wine Connection @ TREC, Reggae Bar KL, Crave Oysters & Seafood House and the fascinatingly named Crime Cocktail Bar. Upcoming outlets include Japanese eatery Ms Mo, K Bar karaoke and lounge, Retro Tapas Bar and DZH Sauceboat Restaurant.
"It's hard to believe, sometimes, that TREC is turning one," Ng muses, draining his afternoon beer. Cheng had insisted that some liquid lubrication would make Ng more relaxed and talkative, and he was right.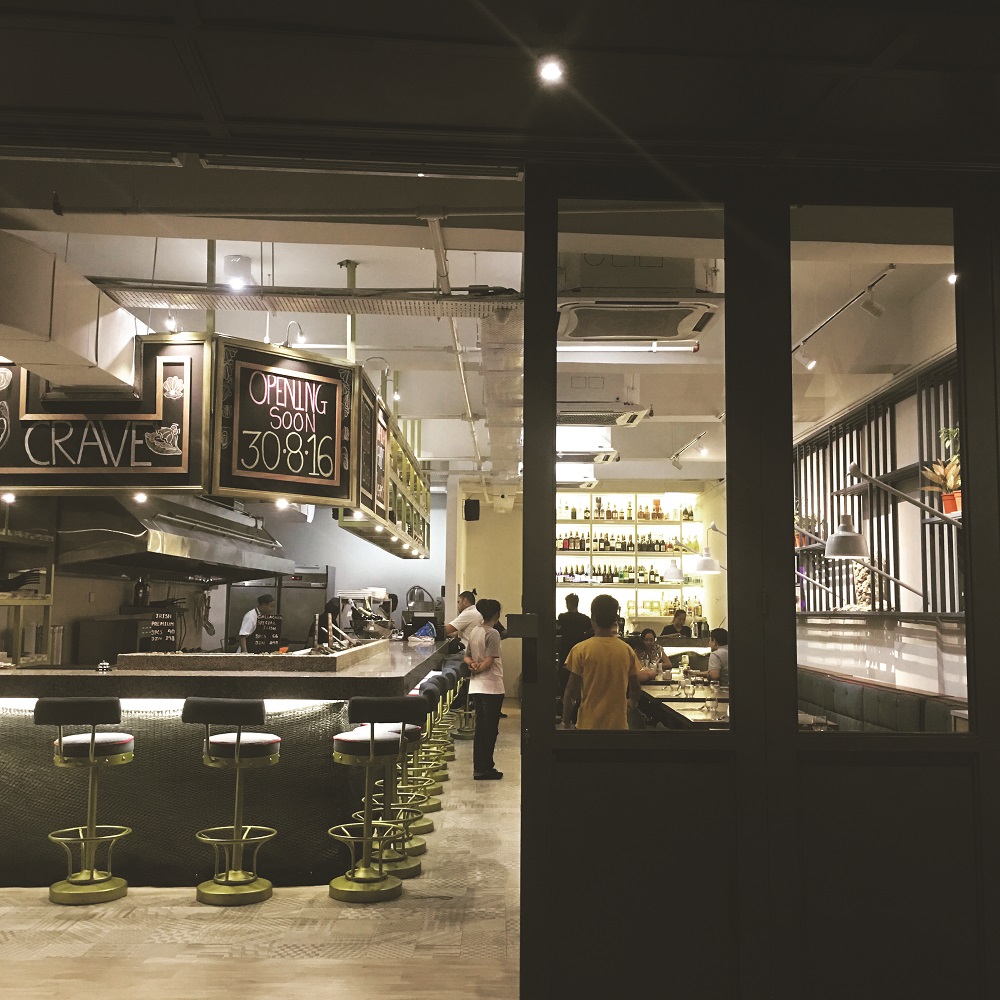 The duality of their personalities is compelling. While Cheng is fresh-faced with flushed cheeks, an easy-going charm and a lock of hair that flops over his forehead, Ng is sophisticated and has a reserved elegance with a smattering of white hair at his temples. They make good-natured jibes at each other's expense throughout the interview and photography session, and it is both endearing and thoroughly entertaining. It is quite plain to see that they are genuine mates, while also being business partners. "We split the work quite fairly," Ng says. "I take care of operations, finance, marketing — I'm very hands-on, actually, and I'm here pretty much all the time. Douglas is the decision-maker and takes care of the regulatory issues, shall we say."
Cheng adds, "This has been a fun project for both of us, and one that we have really enjoyed doing. This is probably one of the most fulfilling businesses I have been involved in, although the process of construction during an economic downturn wasn't at all easy."
Both men are parents — Ng is a father of one while Cheng has three — and balancing this with running an entertainment centre where you are often required to be present at night has not been an easy task, but they are proud to say they have managed to make it work. Indeed, TREC is another baby of theirs too. The facility that exists today is something that they worked hard on, one painstaking detail at a time. This includes the design, retail mix and concept of a safe and secure location to house some of the city's best dining, entertainment and commercial establishments. Once you are in TREC, it can be easy to forget you are in the busiest part of the city. The property overlooks the lush green golf course of RSGC, and the cacophony of traffic from Jalan Tun Razak is somehow tempered.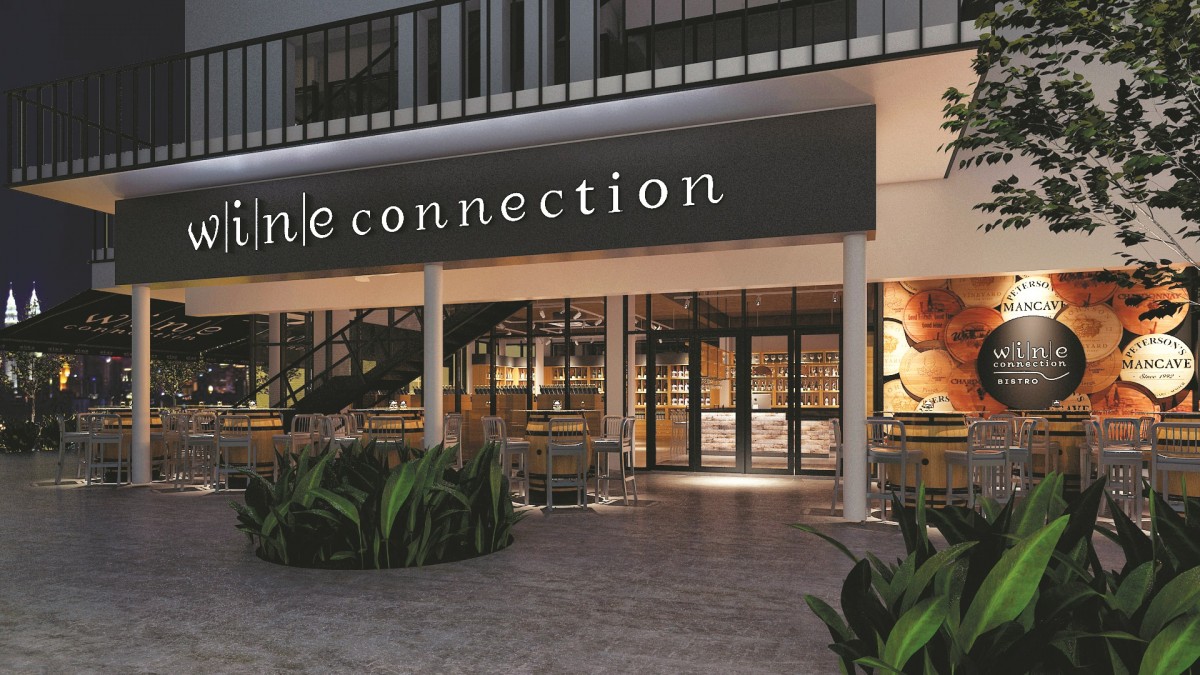 "Cher had a very clear vision of what he wanted for TREC," Cheng says, paying tribute to his partner. "In that way, the architects had, what I'd say, an easy job. I was also quite clear, money-wise, on what we could do. We are both very hands-on around here, which is something I practise in all the businesses I am involved in."
I meet Cheng and Ng just shy of lunchtime on a sunny Friday, and TREC is very quiet save for some people who are touring the space to gauge its potential for corporate events. They admit that not many people realise that some of the outlets there are in fact open for lunch. "With the first phase, the emphasis was on outlets that are part of the nightlife scene — this could be why," Ng explains. "The second phase is more focused on eateries, where the emphasis is actually on the food, and as this phase is also more family-friendly, we expect a larger crowd outside of weekend evenings."
As the year-end festive season kicks in, Cheng and Ng anticipate a large crowd. The team has planned a variety of events to cater for both locals and tourists who are in KL on holiday. An auto carnival, Vroom, will take place on Dec 10 and 11. The next edition of the music-centric flea market, A Sunday Affair, will take place on Dec 18, while TREC's first anniversary celebrations will be held on Jan 19.
It has not been a particularly easy first year as Ng and Cheng have had to sell an idea that had never been done before — the road less trodden has not ever been stress-free. That being said, the combination of their eye for detail and meticulous planning has paid off, and TREC is doing well. "It has met our expectations," Ng says in carefully considered tones. "We are also seeing an increasing amount of interest, so that has been very encouraging. There has been a lot of tweaking along the way, based on market conditions and the changing tastes of consumers. A lot of decisions we have had to make on the go."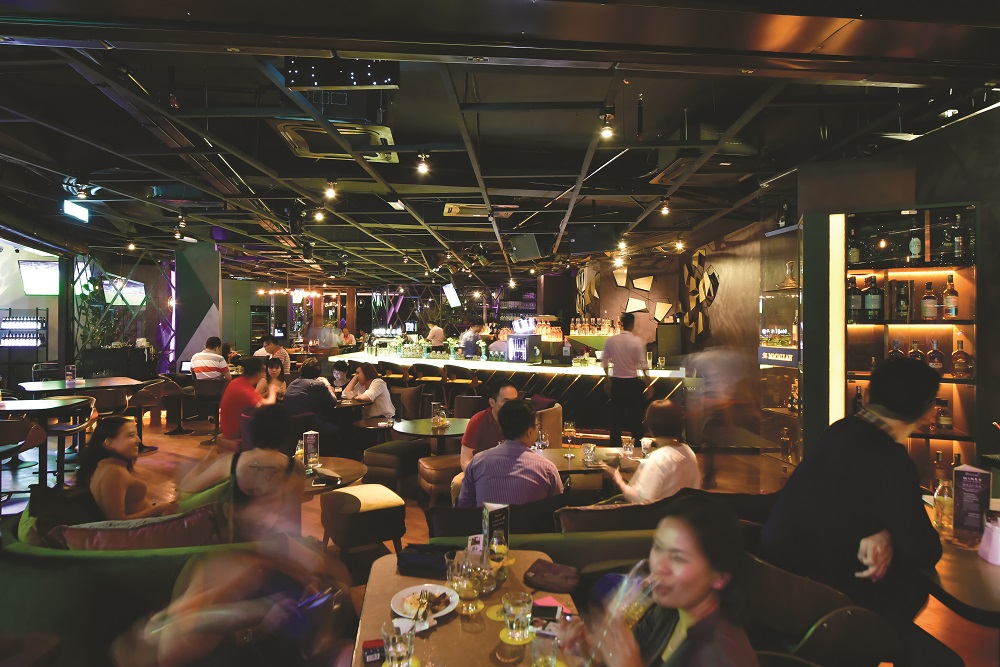 Cheng says, "This isn't something that can be successful overnight. It will take time, but we have signed a lease for 35 years, so we're in it for the long term anyway. It will take time for people to know about this place and the full suite of what we have to offer."
Today, Ng and Cheng see a second generation of KLites coming to visit TREC — the children of the people who once partied hard at Zouk themselves. "That was really sobering, okay. Friends of ours tell us to help keep an eye on their kids who come here, and of course, these kids come up to say hi and call me 'uncle'. It's terrible," Ng says with a good-natured laugh.
Our beers have run out and Cheng must leave for another meeting — as Phase 2 is gearing up to open by the end of the first quarter of next year, it is getting very busy. There is also the December rush to prepare for, and both men extract a promise from me that I will attend some of the events. It is very hard to turn them down, and I soon find myself making all sorts of assurances that I will come and see them at TREC soon.
We all should. It is a great facility, and one that is safe, secure and a whole lot of fun. See you there.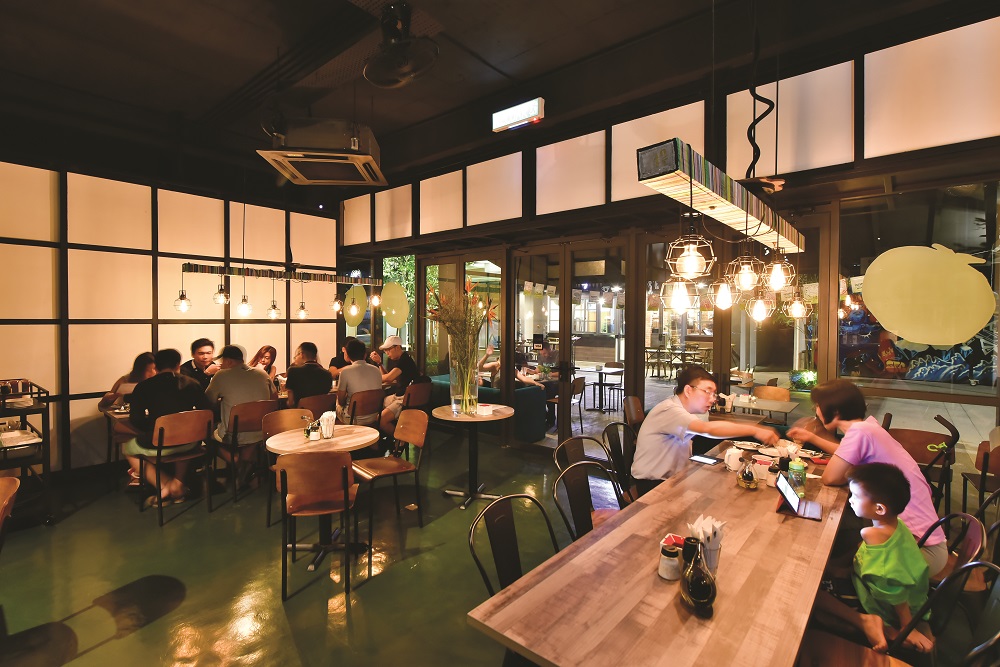 This article first appeared in Options, a pullout of The Edge Malaysia Weekly, on Dec 5, 2016. Subscribe here for your personal copy.