KUALA LUMPUR (Jan 9): Malaysian real estate investment trusts (REITs) have had a stable ride over the past year as they are viewed as a preferred safe haven amid the current market volatility. Today, many of them are trading above their initial public offering prices.
"The good news is [that] we're growing, but we're not growing quickly enough," Amanah Raya Bhd group managing director Adenan Md Yusof told The Edge Financial Daily in an interview.
He believes the biggest problem is their lack of liquidity.
"Our REIT market needs to achieve more liquidity, thereby allowing an investor to enter and exit the market with ease," said Adenan.
"The only way to improve the market liquidity is to make [REITs] bigger. Size is really important in the [REIT market]; you need to provide liquidity [in order to encourage] foreign investors [or funds like] the Employees Provident Fund to invest," he said.
"Investors want to have the ability to enter and exit their investments in REITs easily. If they cannot, they won't want to invest in them," he added.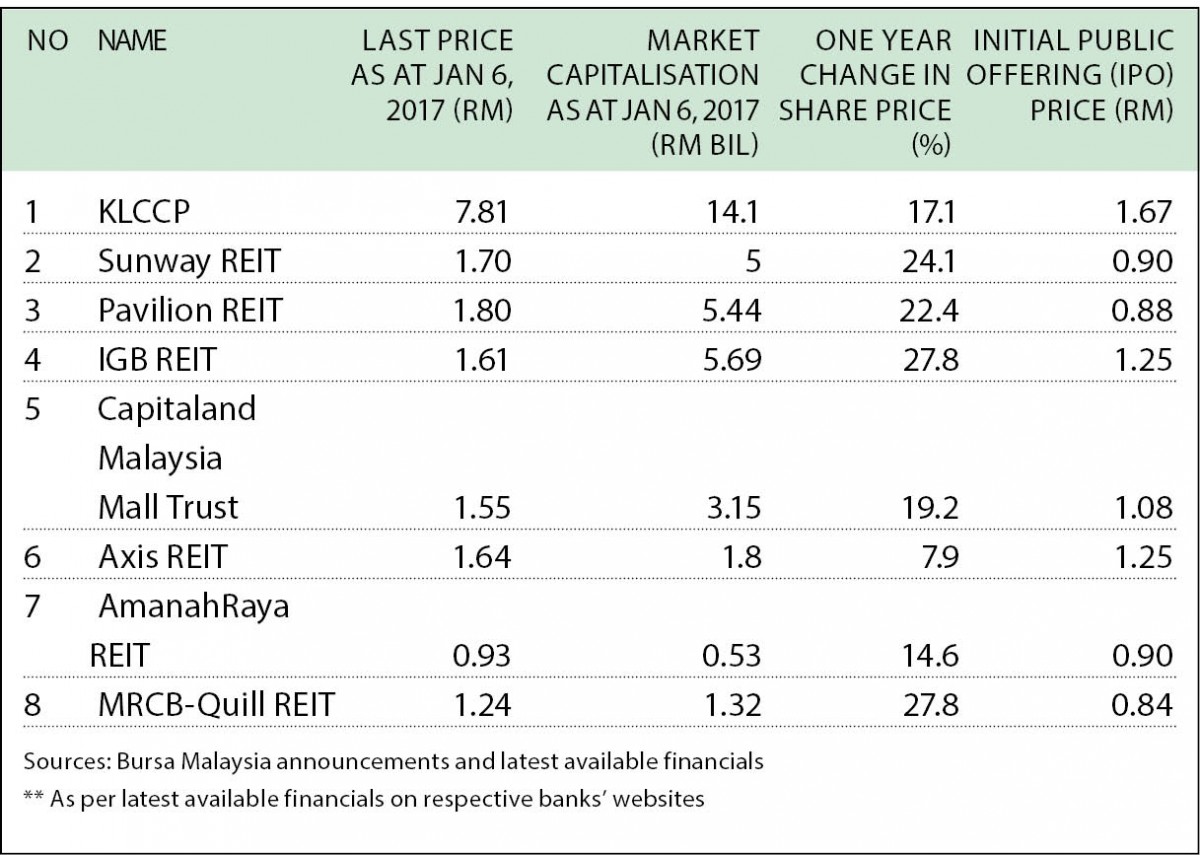 On his part, Adenan intends to double the fund size of AmanahRaya Real Estate Investment Trust (ARREIT) in three to five years. The trust is managed by AmanahRaya-REIT Managers Sdn Bhd (ARRM), a wholly-owned subsidiary of Amanah Raya.
According to Adenan, ARREIT is currently a small REIT by asset size, approximately RM1.1 billion, but he aims to change that.
"Right now, we are still very small. In terms of asset size, we are at the bottom [end of the market]," he said.
"But we are serious about expanding ARREIT. We want it to be a sizeable REIT. We want the big funds to recognise us and invest in ARREIT," he added.
Adenan said ARREIT hopes to provide better returns for its unitholders. ARREIT currently commands an average of 7% gross yield.
"We want to give a better yield when it comes to capital appreciation," he added.
Last month, Amanah Raya announced that Japanese real estate asset manager Kenedix Inc will buy 15% of ARREIT for RM86 million. Kenedix will also buy 49% of ARRM for RM5.1 million.
Adenan said Amanah Raya chose to partner with Kenedix because of the latter's extensive experience in asset management, which managed about ¥1.6 trillion worth of Japanese real estate as of December 2015, according to its website.
"We want to leverage [Kenedix's] experience and to grow [ARREIT]. [Kenedix is] not just any company, but a company with strong presence in Japan and it has a [good] reputation," he added.
Adenan also said Amanah Raya is looking to increase ARREIT's portfolio through purchases of new assets this year. The assets could be a shopping mall, an office building or industrial buildings.
As at Dec 31, 2015, the portfolio of ARREIT consisted of 13 properties.
"We have to take into consideration the situation of the [property] market now. The most important thing when it comes to considering an acquisition is [that it] has to be an accretive acquisition in the long run in order to give us better returns," he added.
While being aware of the oversupply of office space, Adenan said ARREIT will continue to focus on accretive acquisitions, prioritising the quality and location of any property when considering an acquisition.
"We know the market is softening. That is the reason why we are negotiating hard with the owners. We want them to understand that when we purchase, we have to purchase at a value that allows the improvement of our returns," he said.
Last Friday, ARREIT units closed down 0.5 sen or 0.54% at 92.5 sen, with a market capitalisation of RM530.23 million. The REIT has risen 6.3% over the past year.
This article first appeared in The Edge Financial Daily, on Jan 9, 2017. Subscribe to The Edge Financial Daily here.