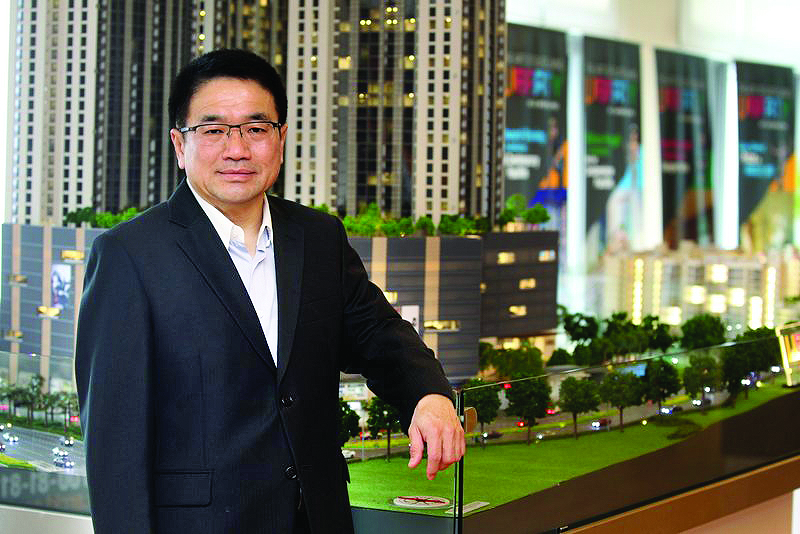 EIGHT years ago, when turnaround specialist Datuk Tiong Kwing Hee was headhunted to undertake the restructuring of property developer EcoFirst Consolidated Bhd, he knew it would be an uphill battle.
Abandoned projects and a RM200 million debt were among the legacy issues he had to deal with when he took the helm in 2009. Saddled with huge accumulated losses, EcoFirst was servicing interest payments of some RM16 million a year on an annual turnover of just RM5 million to RM6 million.
After a series of corporate exercises, the company finally returned to profitability in the financial year ended May 31, 2011 (FY2011), and is now in better shape with positive cash flow. It also moved its headquarters from South City Plaza in Seri Kembangan to Kuala Lumpur Sentral.
Today, the worst may be over but Tiong is unhappy about how the investing public perceives EcoFirst, which was known as Kumpulan Emas Bhd until its name change in 2006.
"Investors still see us as a monster. This is an extra burden that I am carrying. I can fight against the bankers' perception, but I cannot fight against the market's perception," an upset Tiong tells The Edge.
Tiong, 58, joined EcoFirst as an alternate director in September 2008 and was appointed executive director and CEO in January the following year. He has experience in corporate finance, financial services, manufacturing, plantations, property, construction, education, leisure, entertainment and mineral resources. He is also a substantial shareholder of the company with a 17.6% stake.
"It's very frustrating because after all these years, the market still doesn't respect the hard work that I have put into EcoFirst. I think this is unfair to the shareholders and we have to address the perception issue," he says.
Tiong acknowledges that the legacy issues faced by EcoFirst were mainly inherited from Kumpulan Emas, an ailing, debt-laden company that was taken over by the Teoh brothers in the 1990s. Back then, many suppliers, contractors and bankers were reluctant to conduct business with Kumpulan Emas because of its reputation as a poor paymaster.
To date, Datuk Patrick Teoh Seng Foo, Datuk Kenneth Teoh Seng Kian and Teoh Seng Aun still collectively hold about 25% equity interest in EcoFirst. Interestingly, the Teoh brothers and Tiong are also common shareholders of Meda Inc Bhd, a locally listed hotel operator and property firm.
Many may have forgotten that EcoFirst was a substantial shareholder of SEG International Bhd, with a 31.28% stake, in 2001, before it exited the education group in 2010. SEGi was founded by Tan Sri Clement Hii Chii Kok, who was the managing director of EcoFirst from 2006 to 2009 with a substantial stake, before he passed the baton to Tiong.
It is worth noting that Patrick remains the president-cum-executive director of EcoFirst, while Kenneth is the alternate director to him.
Calling them "a bunch of nice people", Tiong refuses to put the blame on the Teoh brothers for the failure of Kumpulan Emas, but he admits that EcoFirst is still suffering from the negative perception until today.
"EcoFirst used to be an insolvent company. If we are doing badly, something bad will happen to our share price. But the thing is, people are still not interested [to invest in our stock] even though we are doing better now," he complains.
Tiong highlights that EcoFirst has seen a stronger financial performance as well as a solid take-up rate for its maiden development project in Ipoh, Perak, which has a gross development value (GDV) of more than RM300 million. Despite these factors, most investors are still shunning the company, he remarks.
The Ipoh project, dubbed Upper East @ Tiger Lane, comprises 529 exclusive luxury apartments housed in five 12-storey blocks. All units have been sold and delivered.
In FY2016, EcoFirst saw its net profit more than double to RM16.2 million, up from RM6.1 million the year before. The group's revenue also rose 49% year on year to RM121.2 million, of which 80% was contributed by the Ipoh project.
Despite that, the company's share price performance has hardly been impressive. Over the last 12 months, the counter has risen by only 2.5 sen or 10% to 27.5 sen. With a current market capitalisation of RM220.9 million, its targeted market capitalisation of RM1 billion in the next three years looks a long way off.
Tiong, however, is striving to solve the perception problem. His message is clear — he is running EcoFirst, not the Teoh brothers.
"Investors should note that I am the one and only driver here — I call the shots, I make all the decisions. When you deal with me, you are also dealing with EcoFirst," he stresses.
Tiong points out that some banks, which had declined to lend money to the company in the past, are now starting to give it a chance.
In early December last year, EcoFirst secured financing facilities worth RM189.95 million from Malaysia Building Society Bhd (MBSB) to acquire land and develop its new township project known as Ampang Ukay.
"We assured MBSB that as long as I'm with EcoFirst, all the loans will be paid off. That is the confidence that the institution has in me," says Tiong.
EcoFirst's 10-phase Ampang Ukay project, which will be known as Kuala Lumpur's "Little Hong Kong", has a total GDV of RM5 billion. The 87-acre prime tract in Ulu Kelang has been earmarked for a major commercial and residential development to be built over the next 10 to 12 years.
Next, EcoFirst is planning its third prime development project through a joint venture with a local property firm, says Tiong, but he declines to reveal the details.
Citing sources, The Edge Financial Daily reported on Dec 20 that IGB Corp Bhd is set to team up with EcoFirst to undertake a RM400 million high-end condominium project on a four-acre parcel in Jalan Batai, Damansara Heights, over the next three years.
This article first appeared in The Edge Malaysia on Jan 9, 2017. Subscribe here for your personal copy.