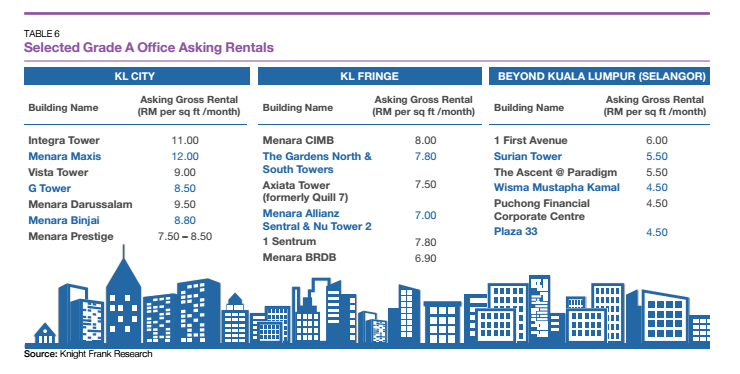 PETALING JAYA (Jan 24): The outlook for the Kuala Lumpur and Selangor office markets remain cloudy with no catalyst to boost office demand in the near term, according to real estate firm Knight Frank Malaysia.
In its "Knight Frank Malaysia Real Estate Highlights 2H2016" report, the high supply pipeline amid softer market demand is expected to exert downward pressure on the sector.
"Both rental and occupancy levels are forecasted to decline in the coming review period," said the report.
Knight Frank added that the ongoing restructuring and consolidation by the oil and gas companies have led to the availability of more fitted office space for sub-let and this heightens competition in the sector.
"With no new completion in 2H2016, the cumulative supply of purpose built office space for KL City and Selangor remained stable at 51 million sq ft and 19.5 million sq ft respectively, while in KL fringe, the recent completion of Menara Hong Leong in Damansara City and office space in KL Eco City, totalling about 780,000 sq ft, brought its cumulative supply to about 24.6 million sq ft.
"As of 2H2016, the cumulative office stock for KL and Selangor stood at about 95.1 million sq ft," Knight Frank stated in the report, adding that another 2.5 million sq ft of office space is expected to come on-stream by 1H2017.
Overall occupancy and rental rates of office space in KL and Selangor have experienced marginal declines in 2H2016.
Average rental rates in KL City and KL fringe have dipped to RM6.08 psf and RM5.70 psf respectively, while in Selangor, the rental rates have declined to RM4.13 psf.
"Well located Grade A office space in Kuala Lumpur, however, continued to command higher asking rents, ranging from RM7.00 psf to RM12.50 psf per month," said Knight Frank.
Moving forward, buildings located within Information Technology Outsourcing and Multimedia Super Corridor remain good performing stock.
Similarly, decentralised office locations along the route of newly operational Mass Rapid Transit phase 1 are expected to benefit from improved accessibility and connectivity.
Retail sector
Meanwhile, Knight Frank said it expected retail sales growth to remain weak as consumers grapple with rising living cost and lower disposable income amidst a weak job market and economic uncertainties.
"The retail sales growth for 2016 has been revised downwards from 3.5% to 3.0% as Malaysians continue to cut back on spending.
"The retail sales growth rate of 0.5% for 1H2017 is, however, expected to pick up by the end of the year supported by the 1Malaysia Year-End Sale, one of the country's thrice yearly nationwide sales, that coincides with school holidays and festive seasons," said Knight Frank.
The Klang Valley retail landscape is facing strong headwinds and the impending completion of some 2.51 million sq ft of space by 1H2017 will increase competition in an already crowded market.
However, Knight Frank noted that prime and established shopping centres such as Suria KLCC, Pavilion Kuala Lumpur, Mid Valley Megamall, The Gardens Mall, Sunway Pyramid and 1Utama Shopping Centre continued to record above 95% occupancy.
Rental and occupancy levels, particularly for less established shopping malls, will come under pressure.
"Mall operators and retailers will have to step up their marketing efforts and re-strategise to continue to attract customers," it added.
2H2016 saw the completion of four new shopping centres with a combined net-lettable area of about 2.02 million sq ft, bringing the cumulative supply of retail space in the Klang Valley to about 55.49 million sq ft.
"The bulk of completion (1.64 million sq ft or 81%) is located in Kuala Lumpur whilst the only new completion in Selangor, with 0.38 million sq ft, accounted for the remaining 19% of new space," said the report.
1H2017 is expected to see the completion of four new shopping malls in Klang Valley — MyTown Shopping Centre, Melawati Mall, Pacific Star Shopping Centre and Selayang Star City Mall, offering a combined retail space of about 2.51 million sq ft.