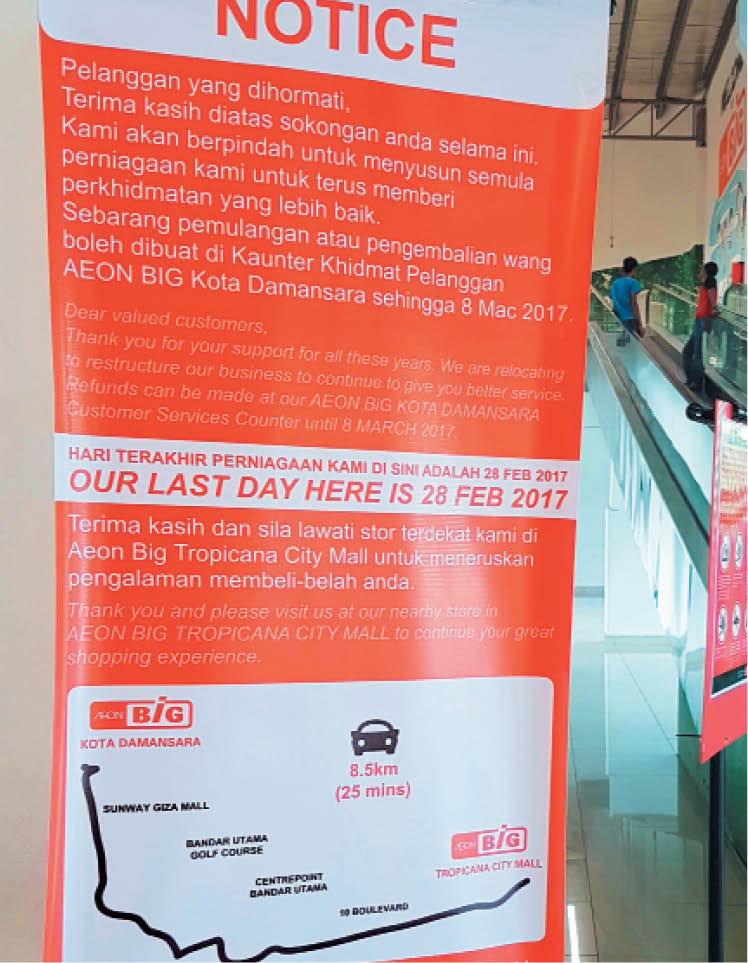 MORE than four years after Japanese retailer AEON Co Ltd took over France-based Carrefour's loss-making business in Malaysia, it is still struggling to improve its bottom line. Coming under increasing pressure, the retailer plans to close three AEON BiG stores in the Klang Valley.
According to sources, AEON BiG Kota Damansara in Selangor and superstores AEON BiG River City and AEON BiG Bangsar South in Kuala Lumpur will put up the shutters in the next 30 days. This will reduce AEON Co's total store count in the country to 22 from 26 — 22 hypermarkets and four superstores — when the company acquired Carrefour's operations here on Nov 1, 2012.
"The retailer is consolidating its business through store closures," a source tells The Edge, noting that the latest move comes after the appointment of Masayoshi Masuda as AEON BiG (M) Sdn Bhd's new managing director on Nov 14 last year.
The source adds that the three AEON BiG stores have already placed notices at their outlets about their closure. A check by
The Edge reveals that the last day of business for the River City and Kota Damansara stores is Feb 28 while for the Bangsar South outlet, it is March 15. The notices state: "We are relocating to restructure our business to continue to give you better service."
It is understood that AEON BiG's plan last year to go for a listing has also been derailed.
The company did not respond to questions sent by The Edge.
The retail chain is 92.88%-owned by AEON Co and 7.12% by AEON South East Asia Sdn Bhd. AEON Co also owns 51.68% of AEON Co (M) Bhd.
According to a source, a combination of factors, including the introduction of the Goods and Services Tax (GST), depressed consumer spending, an increase in the cost of operations and stiff competition, has impacted AEON BiG's performance. "Consumers are spending cautiously and only buying the necessities," the source says, adding that hypermarkets generally target the low to middle-income group.
Based on the latest financial numbers available at the Companies Commission of Malaysia, AEON BiG incurred a net loss of RM65.74 million on revenue of RM1.66 billion in its financial year ended Dec 31, 2015 (FY2015). The Edge understands that the retailer slipped deeper into the red in FY2016.
As at Dec 31, 2015, AEON BiG's accumulated losses stood at RM271.97 million while total liabilities amounted to RM1.13 billion, some RM794.1 million of which were current.
AEON BiG is not the only casualty of the current weak economic conditions. AEON Co (M), AEON Co's other Malaysian retail venture, has also yet to recover from the imposition of GST in April 2015. For the nine months ended Sept 30, 2016 (9MFY2016), the company — which operates department stores-cum-supermarkets — saw revenue improve 5.48% year on year to RM3.02 billion following new store openings. But net profit declined 44.05% to RM53.2 million largely due to higher operational costs. It posted an operating loss of RM14.1 million in 3QFY2016.
Indeed, the gloomy outlook for Malaysia's economy has also taken a toll on long-established local retailer Mydin Mohamed Holdings Bhd, which posted its first loss in 57 years in its financial year ended March 31, 2016.
According to RAM Rating Services Bhd's recent statement on Mydin's RM350 million Danajamin-guaranteed IMTN programme (2011/2024), the retailer posted a pre-tax loss of RM170.67 million in FY2016 compared with a pre-tax profit of RM29.37 million in FY2015. Mydin managing director Datuk Wira Ameer Ali Mydin attributed the loss to the weakening of the ringgit against the US dollar and the extension of the Price Control and Anti-Profiteering Act 2011.
But according to RAM, the loss was also due to a lagged response to the mispricing of products at the group's mini markets and convenience stores. "These factors, along with rising costs and poorer sales amid the sombre consumer sentiment, wiped out Mydin Holdings' margins, leading to losses across most of its operating segments," it says, adding that at end-November 2016, Mydin had 298 stores.
When contacted, Ameer tells The Edge that Mydin is not closing any of its stores now.
To recap, AEON Co bought the Carrefour chain in Malaysia for €147 million or an enterprise value (value of debt in the business minus cash in the business) of €250 million.
Subsequently, many of the Carrefour stores underwent major renovations. Until the end of 2014, AEON Co continued to operate the 26 stores and even opened a couple of new ones that had already been planned by Carrefour. The first store to close was the one in USJ19, Subang Jaya, Selangor. Seven months later in 2015, the store in Pandan Axis in Ampang, Kuala Lumpur, ceased operations. Last year, AEON Co took a more drastic step, closing three ex-Carrefour stores, one each in Johor Baru, Johor; Rahang, Negri Sembilan; and First Avenue, Penang.
But since the takeover, AEON BiG has opened four new stores — in Kluang, Johor; Alor Setar, Kedah; Jalan Ipoh, Kuala Lumpur; and Farlim, Perak.
As a new foreign player, AEON BiG was required by a local ruling to divest a 30% stake to a bumiputera partner or firm in three years from its time of entry. The deadline was November 2015 but AEON BiG failed to meet it and was given a one-year extension to comply with the ruling.
It failed again, and in an email to The Edge last November, executive director A Rashid Adam said the retailer had been given yet another extension until November this year.
In Malaysia, foreign hypermarket operators are governed by the Ministry of Domestic Trade, Cooperatives and Consumerism, whose guidelines are strict. Only the ministry is allowed to hand out operating licences for new stores.
Another source tells The Edge that unlike in the previous years when retailers were allowed to expand even though they did not have a local partner, this time the rules may have changed. Thus, AEON BiG will have to work with its existing stores, minus new openings, to post profits in order to make itself attractive to investors.
One way of complying with the ruling is to list the shares of the company. "AEON BiG is still looking at a listing ... maybe in two years' time," the source adds.
It is worth noting that after its takeover of the Carrefour business here, AEON BiG turned a profit in FY2014 under the then managing director Nagahisa Oyama. It made RM5.13 million on revenue of RM1.68 billion.
As for the stores that will be closed, the Kota Damansara hypermarket has 25,000 sq m of retail space while the superstores in Bangsar South and River City have 1,700 sq m and 2,800 sq m respectively. On a positive note, the Japanese retailer does not retrench any of its employees but redeploys them.
This article first appeared in The Edge Malaysia on Feb 13, 2017.
For more stories, download TheEdgeproperty.com pullout here for free.