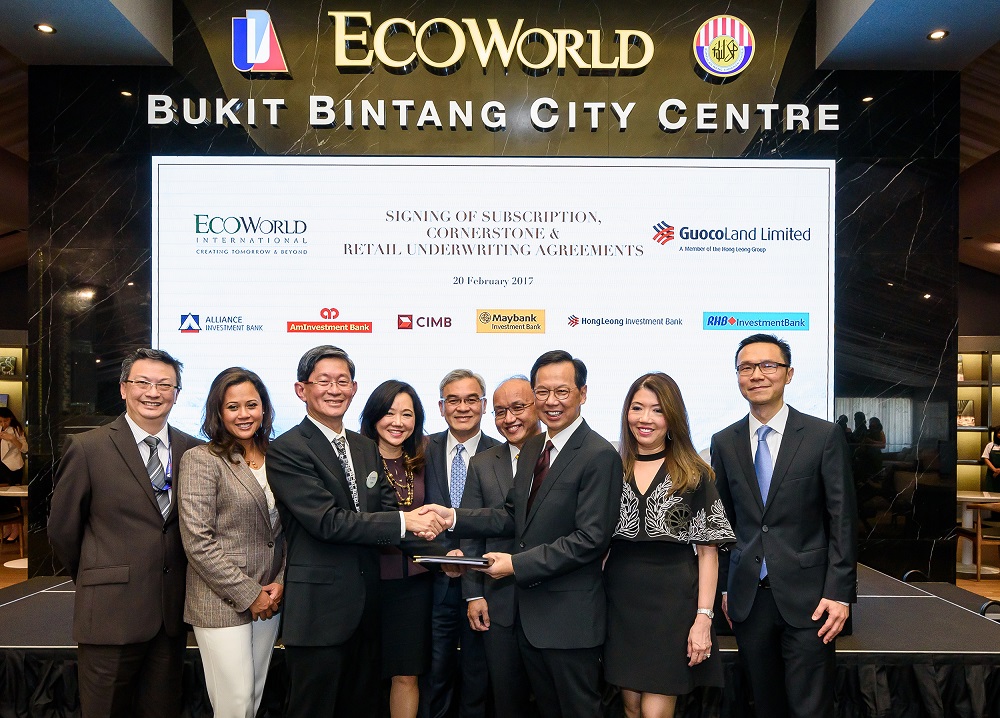 KUALA LUMPUR (Feb 20): Eco World International Bhd (EWI), which is seeking a listing on Bursa Malaysia's Main Market, has signed three key agreements with GuocoLand Ltd (GuocoLand), the Employees Provident Fund (EPF), Permodalan Nasional Bhd (PNB) and six banks for its initial public offering (IPO) exercise.
The first agreement is a share subscription agreement with GuocoLand, in which GuocoLand will take up a 27% stake in EWI's enlarged issued and paid-up capital, EWI president and CEO Datuk Teow Leong Seng told reporters at the signing ceremony today.
The agreement marks the entry of GuocoLand, a member of Hong Leong Group as one of three strategic investors, together with Eco World Group Development Bhd (EcoWorld) and EcoWorld chairman Tan Sri Liew Kee Sin, added Teow.
A retail underwriting agreement was also signed with CIMB Investment Bank Bhd (CIMB), Maybank Investment Bank Bhd (Maybank), and Hong Leong Investment Bank Bhd as joint managing underwriters and joint writers; and with Alliance Investment Bank Bhd, AmInvestment Bank Bhd and RHB Investment Bank Bhd as joint underwriters.
"Pursuant to the agreement, the six banks will underwrite EWI's entire retail offering comprising 408 million IPO shares, representing 17% of its enlarged issued and paid-up share capital," he said.
Meanwhile, EWI has entered into a master cornerstone placement agreement with the IPO's joint global coordinators namely CIMB and Maybank as well as EPF and PNB as cornerstone investors.
The cornerstone investors have agreed to subscribe an aggregate of 140.4 million IPO shares or more than 30% of the IPO shares allocated as part of the institutional offering, comprising 449.459 million IPO shares and representing 18.7% of its enlarged issued and paid-up share capital.
The signing of the three agreements will be followed with the issuance by EWI of its prospectus in respect of the IPO, which is expected in next month.
"Now that we have inked the three key agreements, which together with EcoWorld's subscription agreement cover of around 85.6% of the 2.153 billion new IPO shares, we can confidently say that the IPO is off to a very good start," said Teow, adding that the company looks forward to a successful conclusion of the IPO within the next two months.
Teow said EWI will continue to look for more cornerstone investors in the region to take up the remaining institutional offering, especially Malaysian funds.
He added that EWI will continue to focus on the UK and Australia market post-listing as he believed the two markets are "big enough for the company to be there for quite awhile".
"We actually achieved stronger sales in the UK after Brexit and we continue to be optimistic about the outlook for the London property market," he said.
EWI is developing four projects in the UK and Sydney, which have a total estimated gross development value (GDV) of RM12.96 billion.
The three projects being undertaken by EWI in London are Embassy Gardens in Nine Elms, London City Island in Leamouth Peninsula and Wardian London in Canary Wharf, whereas the project in Sydney is called West Village in Parramatta.
"The average take-up rate for the three projects in London and the project in Sydney is about 64%, we expect to take another year to finish selling the remaining units," he added.
Teow noted that EWI will be announcing its sales target in the prospectus and the company is confident it will do better than the last financial year ended Oct 31, 2016.