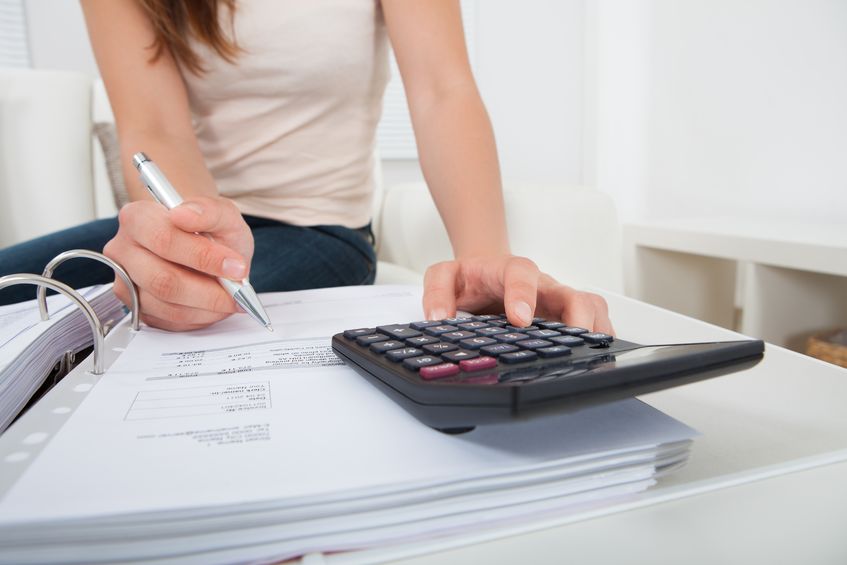 GOVERNMENT officials, policymakers, economists, bankers and experts gathered here for the Second Annual Asean Consumer and Household Debt Conference on Feb 22 and 23. The two-day event aimed to provide insight into the implications of household debt and the challenges faced by the policymakers.
"Over the years, household financial liabilities as a share of personal disposable income has gone up in Asia," said Akrur Barua, an economist at Deloitte Services LP, setting the tone for the conference.
According to Barua, a number of factors have led to the rise in household debt in Asia. Rising incomes in Asia have resulted in higher consumer demand for products and services. Along with income growth, there is an increase in access to credit across Asian economies. Post-2008, policymakers also offered fiscal and monetary incentives to entice consumers to spend more. In addition, rising demand and a flow of liquidity led to a surge in asset prices, especially in the housing sector. With demand for housing remaining strong and house prices rising, the result has been a rapid increase in the value of housing loans or mortgages.
"Cyclical credit outpaced cyclical growth from 2011 to 2015 in many Southeast Asian countries", noted Vincent Conti, Asia-Pacific economist at Standard & Poor's Ratings Services Singapore.
According to Barua, the household debt burden in many Asian economies is now even higher than the US figure prior to 2009, before the global financial crisis (see Chart 1). In fact, Thailand, Malaysia, South Korea and Taiwan have crossed the 80% mark in household debt-to-GDP ratio.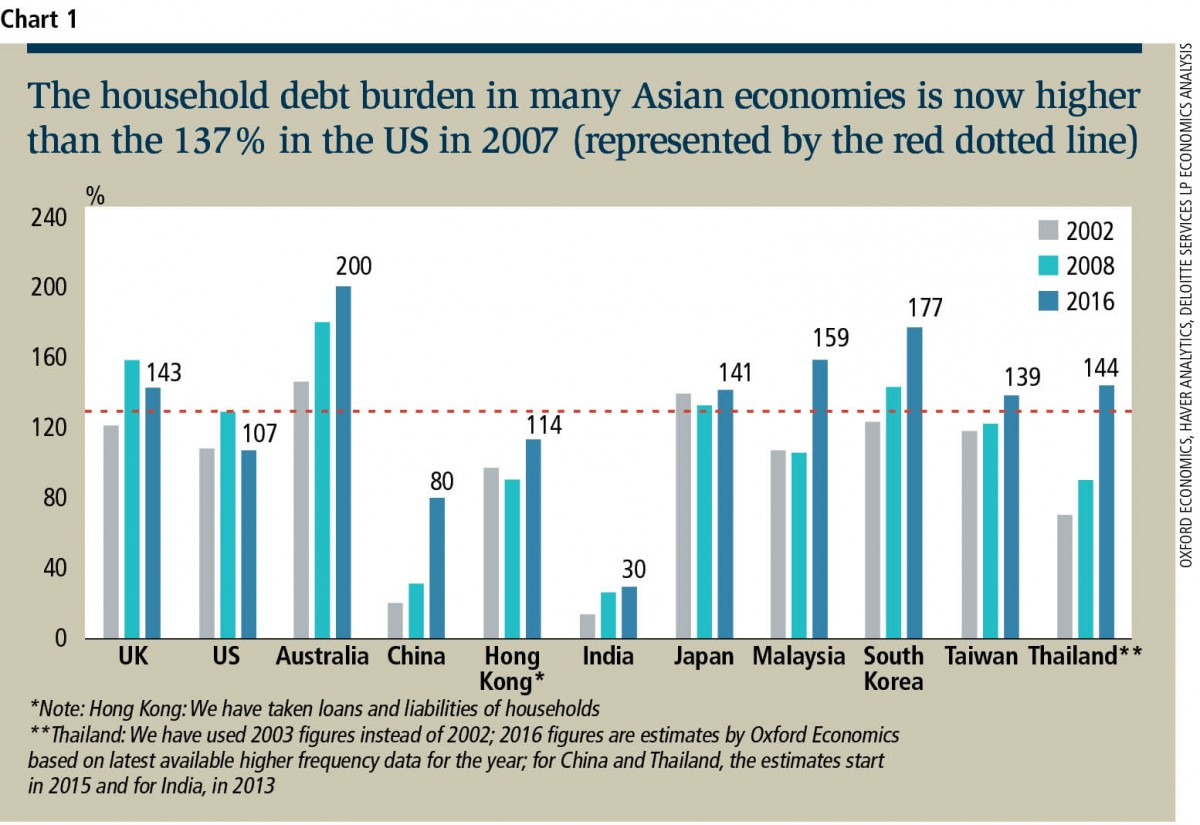 Malaysia has a household debt to GDP of 88.7%. Total household debt stood at RM1.1 trillion ($348 billion) as at September 2016, according to Dr Nirwan Noh, head, monetary and prices section fiscal and economics division, Ministry of Finance, Malaysia.
Barua warned of the risks of rising household debt with the housing cycle on the upswing. Across Asia, house prices have been escalating as demand for housing rises amid strong income growth. Real estate makes up about 86% of household wealth in India and Indonesia, and 50% in China, compared with 30% to 38% in the US.
As house prices remain elevated across many economies in Asia, the debt burden on first-time homebuyers has also increased. This has implications on household net worth and may affect long-term growth of the housing sector.
Reining in the risks
According to Nirwan of Malaysia's Ministry of Finance, with residential property purchases contributing half of the indebtedness among households as at end-September 2016, Malaysia has embarked on several initiatives to control household indebtedness. One of them is the restructuring of the Real Property Gains Tax for individuals to curb speculative activities.
The loan-to-value (LTV) ratio is capped at 70% for the third and subsequent housing loan for individuals and at 60% for non-individuals. Malaysia has also increased the supply of affordable housing through various government initiatives such as PR1MA. Some 175,000 houses will be sold at 20% below market price under PR1MA, with a total of 10,000 units expected to be completed in 2017.
"Towards 2016, banks [in Southeast Asia] started becoming more cautious and started tightening credit to households, which is good in terms of managing the risks. But household debt remains elevated," said Standard & Poor's Conti.
Reza Siregar, a senior economist at IMF Singapore Regional Training Institute, pointed out that private consumption was a key driver of growth in Asean during the global financial crisis. The increase in private consumption contributed about 50% of real GDP growth in recent years in Indonesia, Malaysia and the Philippines. He expects the growth of private consumption and government spending to remain a key driver of real GDP growth for the Asean economies this year.
The risk is that "significant household debt will undermine the impact of income growth on private consumption", says Siregar. According to Deloitte's Barua, policymakers are facing difficulty in reducing high household debt amid slow growth, high inflation, and currency risks.
Singapore's situation
"After the global financial crisis, we had very cheap loans for many years, and that drove up the household debt level. However, the LTV ratio for housing still looks good at 27%, with assets at $855 billion and liabilities at $230 billion", said Ku Swee Yong, CEO of International Property Advisor.
"The average net worth per household is $1.26 million and the household balance sheet looks healthy, with household net worth at $16 trillion and liabilities at $307 billion. But the household balance sheet excludes assets and liabilities for properties held under companies," Ku noted (see Table 1).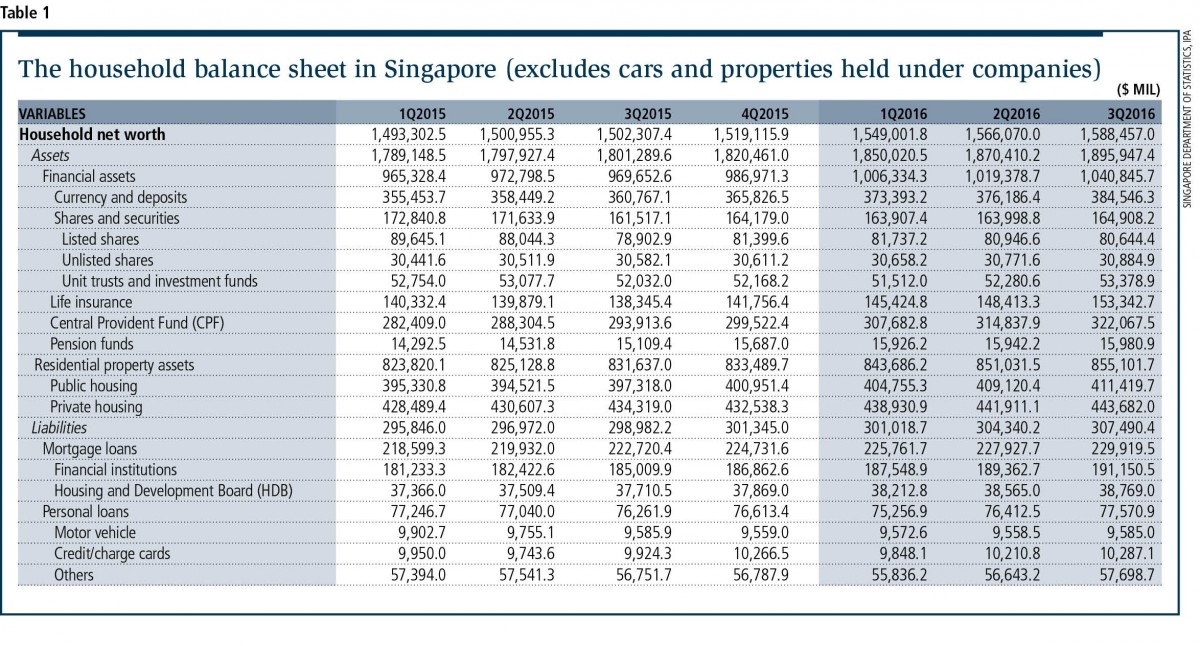 He pointed out that households may have registered companies to invest in properties, and loans made to these companies are considered commercial loans that are not tracked by the household balance sheet. Assuming 30% of the strata units sold by developers since 2011 were bought by companies formed by "household investors", there could be property loans totalling $3.2 billion that are not tracked by the household balance sheet (see Table 2).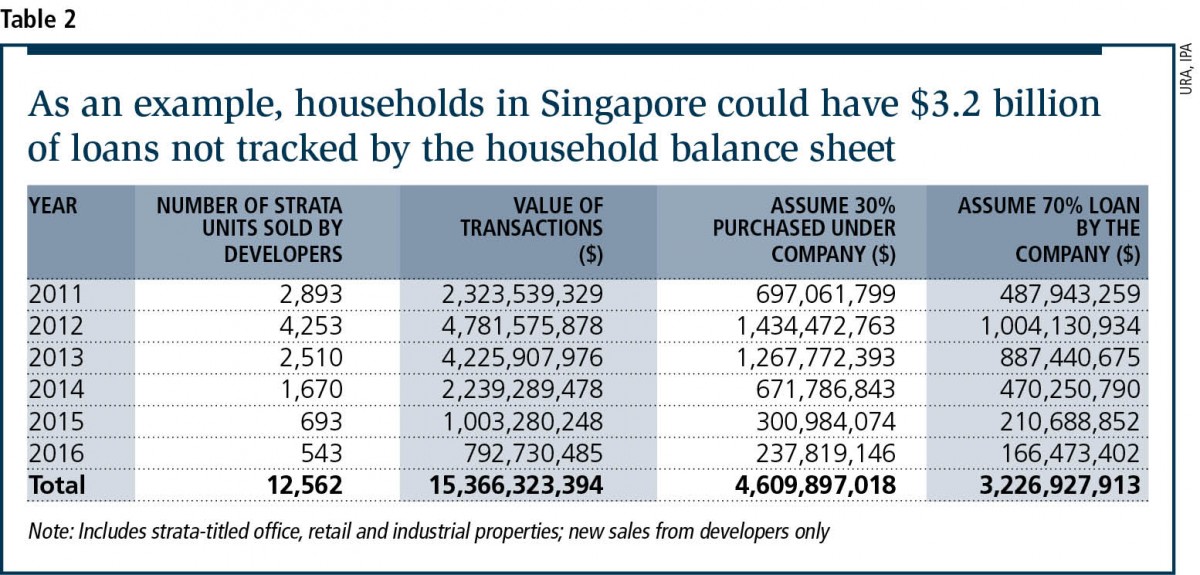 Ku also highlights the rise in cash-flow burden for landlords whose investment properties remain vacant for a long period of time. In the meantime, they have to continue making mortgage repayments. For instance, the occupancy rate of private multiple-user factory space completed in 2014 was 90.8% in 4Q2016. "In other words, after about two years of repaying the mortgage, 9% of investors are still not collecting rental income."
Ku opined that the many months of negative y-o-y growth in the retail sales index from 2014 to 2016 is a sign that consumers are tightening their belts in response to a tight cash flow situation that is not adequately reflected in the household balance sheet (see Chart 2).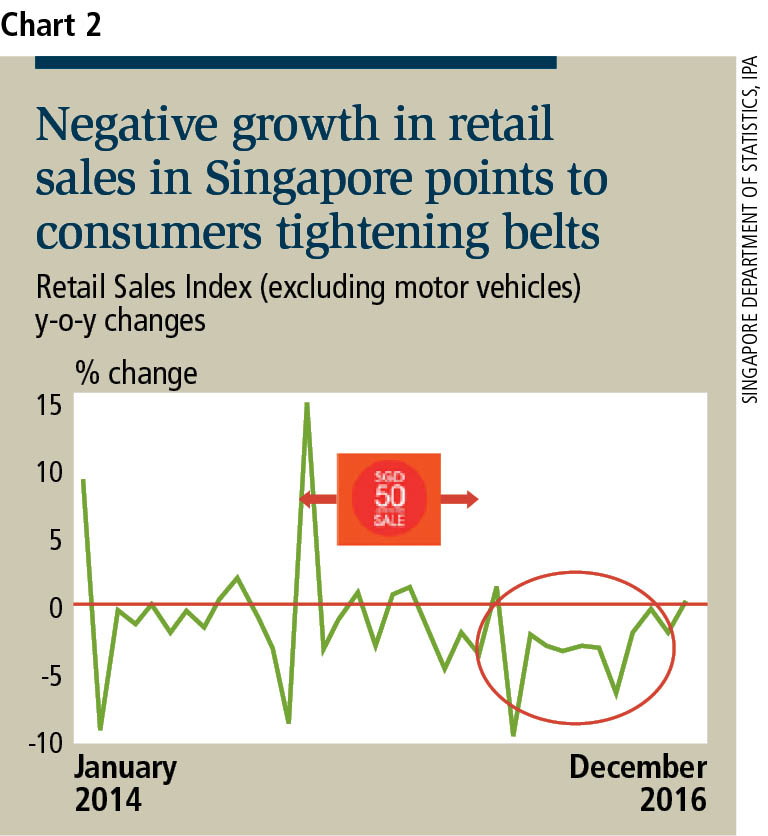 This article first appeared in The Edge Property Singapore, a pullout of The Edge Singapore, on March 6, 2017.
For more stories, download TheEdgeproperty.com pullout here for free.