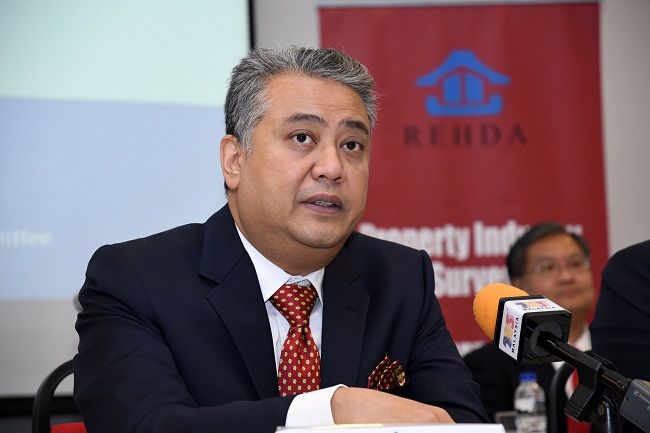 KELANA JAYA (April 19): Homebuyers need to be more realistic when it comes to choosing a preferred location for their potential homes, said the Real Estate Housing Developers' Association Malaysia (Rehda).
"Wanting to own a home in Kuala Lumpur city centre for less than RM500,000, that is not very realistic. That's why we also urge the media, the National House Buyers Association (HBA) and the government to help educate our buyers," said Rehda president Datuk Seri FD Iskandar Mohamed Mansor in a media briefing on Rehda's Property Industry Survey 2H2016 and Market Outlook 1H2017 this morning.
In Rehda's inaugural house buyers' survey that was carried out during the organisation's Mapex Property Showcase 2016 held on April 14 to 16, Kuala Lumpur city centre tops the most preferred locations list for homebuyers, followed by Petaling Jaya-Damansara; Cheras and Bangsar; Puchong and Shah Alam; and Cyberjaya.
Citing the homebuyers' survey results, FD Iskandar noted that 82% of the 1,655 respondents were looking to buy a home in the next six to 12 months.
"Their first property type choice was apartment or condominium, followed by terraced homes, semi-detached, serviced apartment, bungalow and commercial shop lots.
"The majority (over 80%) of respondents said their main purpose of purchasing a property was for self-dwelling and buying for family," he said.
He also added that 38% of respondents were potential first-time homebuyers, 30% repeat buyers, 23% investors, 6% expatriates and 3% were tenants.
The survey also showed that almost half of the respondents (43%) have a monthly household income of less than RM5,000 while 29% have a monthly household income of between RM5,000 and RM10,000.
About 73% were willing to fork out between RM300,000 and RM750,000 to buy their first home and 67% prefer to dwell in units with built-ups of between 800 sq ft and 1,500 sq ft.
FD Iskandar also highlighted that accessibility trumps all other home features and facilities when it comes to buying a home.
"Our respondents said the Light Rail Transit or Mass Rapid Transit (44%) and distance to a transportation hub (30%) are important considerations when it comes to buying a home.
"This is why we urged the government to allocate 40% to 50% of lands near to a transportation hub to build affordable homes because people who are looking to live in these homes are the ones who will use the public transportation [the most].
"In KL, we have KTM, LRT, MRT and monorail. But if you keep on selling lands near them for top prices, [developers] cannot build affordable homes. It's great to build transportation hubs. But we also must be certain that the right target market stays near to these transportation hubs," he said.
On home ownership assistance, he said 34% of the respondents hope that there will be easier access to housing schemes. About 28% also hoped to have lower interest rates on housing loan.
"The government has to help people own homes by giving out more loans because people want to own their own homes and property is a good investment. Very rare that a property's value will go down," FD Iskandar noted.