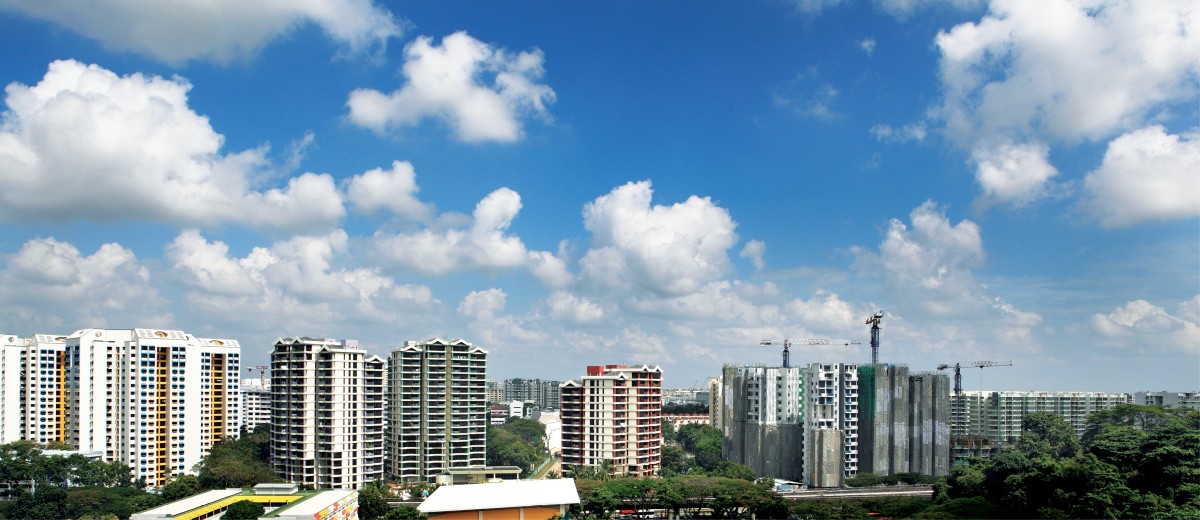 Rental declines for apartments and condominiums appear to be slowing in several market segments. Islandwide vacancy rates, meanwhile, stood at 9.1% in 1Q2017 and 2Q2017, an improvement from the recent high of 10.4% in 2Q2016. In the Core Central Region, also known as the high-end segment, the URA rental index inched up 0.1% q-o-q in 2Q2017, according to the latest statistics published on July 28. Rental declines in CCR have moderated since 4Q2016, hovering below 1% per quarter.
The URA rental index in the Rest of Central Region, or the city fringe, slipped 0.4% q-o-q, after a 1.2% decline in 1Q. Analysis by EdgeProp shows one-bedroom rents in RCR holding firm at $2,001 per month on average in 1Q and 2Q. Meanwhile, rental declines for two-bedroom units decelerated from 2.5% in 1Q to 0.9% in 2Q (see table). The analysis tracks apartment and condo units of similar sizes where there are at least three rental contracts per quarter.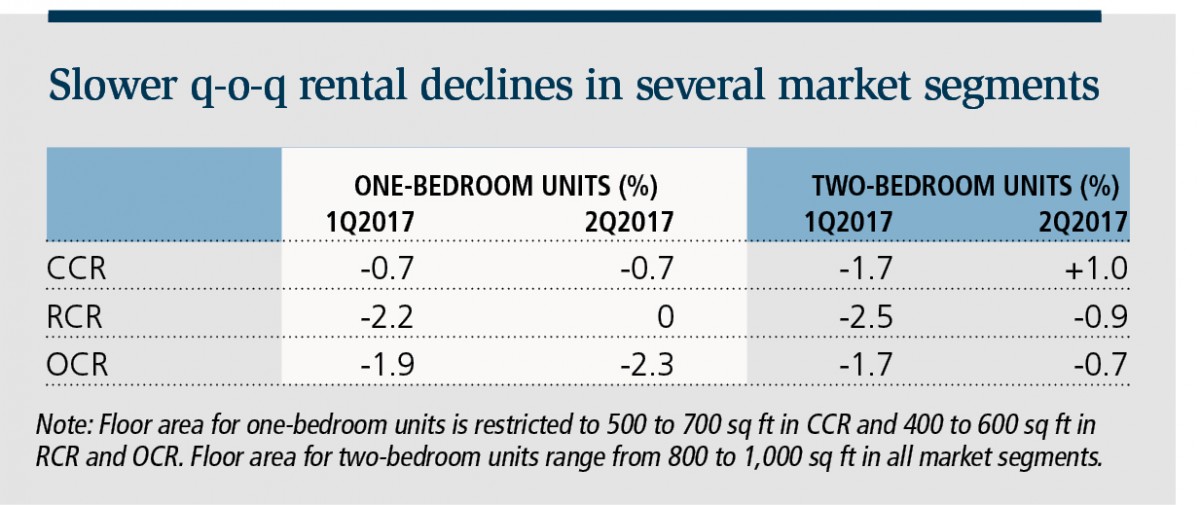 Bucking the trend were one-bedroom units in Outside Central Region, or the suburbs, where rents for properties tracked by EdgeProp dipped 2.3% in 2Q2017, higher than the 1.9% decline seen in the preceding quarter. The URA rental index in OCR fell 0.6% in 2Q, following a 0.4% increase in 1Q. Rental weakness was also seen in projects that faced new competition in their vicinity. The bulk of the new supply in OCR was in Bedok, Sengkang, Clementi, Pasir Ris and Jurong, with a total of of 6,690 units coming on stream over the past one year.
Two-bedroom rents at H2O Residences fell 4% q-o-q, or 10% y-o-y, in 2Q, as there has been an influx of new projects in Sengkang since 2016. The projects include Jewel @ Buangkok (616 units), La Fiesta (810 units), Riversails (920 units), Riverbank @ Fernvale (555 units) and Rivertrees Residences (495 units).
Separately, two-bedroom rents at Casa Merah and Optima @ Tanah Merah were down 5% and 6% q-o-q respectively in 2Q. Recently completed projects in their vicinity include eCO (748 units), The Glades (726 units) and Urban Vista (582 units).
Following the completion of J Gateway in Jurong East (738 units) and Lakeville in Jurong West (696 units), rents at The Centris dipped 3% q-o-q in 2Q for 900-to-1,000 sq ft units and 1,000-to-1,100 sq ft units. Integrated projects such as The Centris are typically known for their rental resiliency. Located next to the Boon Lay MRT station, The Centris comprises Jurong Point and 610 apartments. Jurong Point is one of the largest malls in Singapore, with a total net lettable area of about 761,000 sq ft. So far, J Gateway and Lakeville have attracted 337 and 74 rental contracts, respectively. Rental volume at The Centris, meanwhile, fell from 59 in 2Q2016 to 35 in 2Q2017.
Projects with outstanding location attributes generally continue to outperform the market. In RCR, monthly rents for two-bedroom units at Twin Regency, located some 200m from the Tiong Bahru MRT station and Tiong Bahru Plaza shopping mall, rose 4% y-o-y, from S$4,200 (RM13,224) in 2Q2016 to S$4,375 on average in 2Q2017. The URA rental index for apartments and condos in RCR, in comparison, was down 2.2% over the same period.
Monthly rents for three-bedroom units at Meraprime also climbed 3% y-o-y, from S$5,338 in 2Q2016 to S$5,479 in 2Q2017. Monthly rents for three-bedroom units at Central Green Condominium, a 22-year-old project, held firm at S$4,380 over the same period. The projects are located about 130m and 202m respectively from the Tiong Bahru MRT station. Rental resiliency serves as a proxy to estimate vacancy rates in a project in the absence of official statistics, to form a fuller picture of the market, along with rental yields.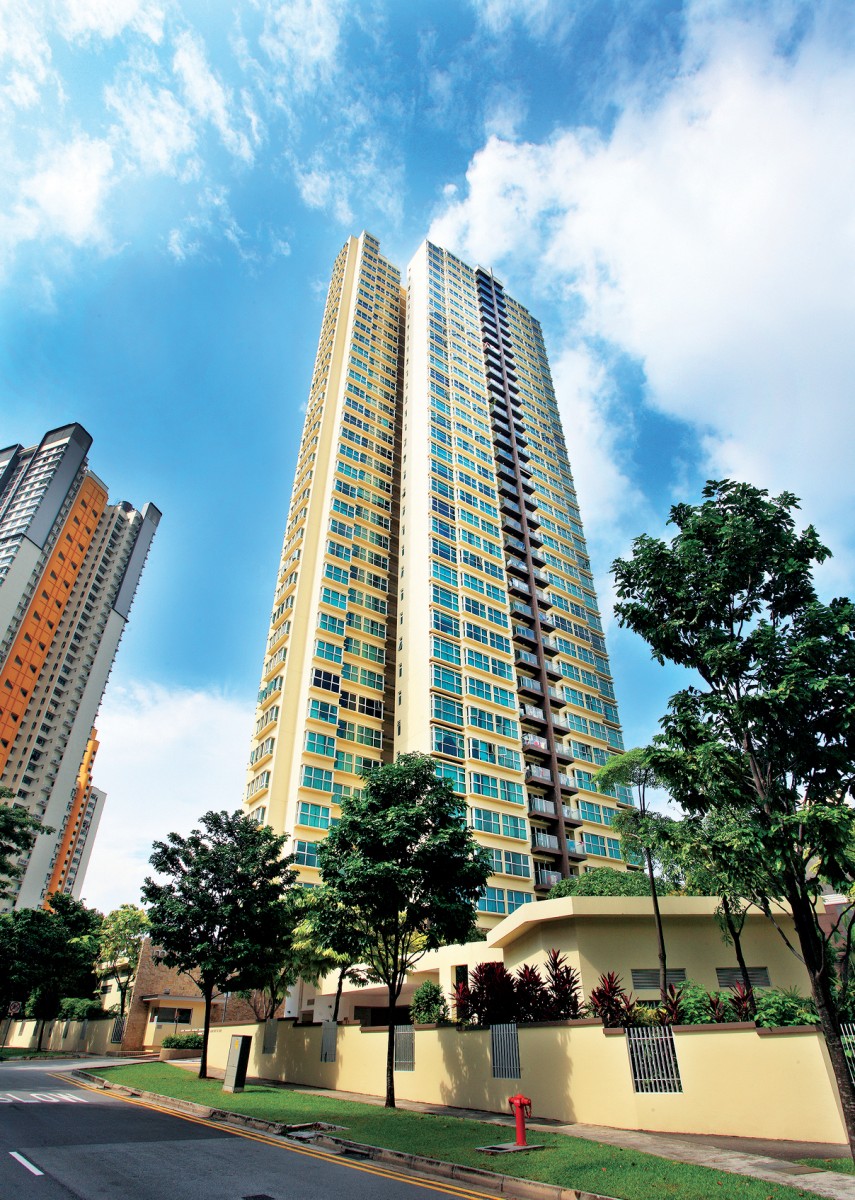 In OCR, monthly rents at Centro Residences were up 1% y-o-y in 2Q2017 for 800-to-900 sq ft units and 6% for 900-to-1,000 sq ft units. Centro Residences is located next to the Ang Mo Kio MRT station and AMK Hub shopping mall. The URA rental index for apartments and condos in OCR had dipped 4.6% in the same period. Meanwhile, two-bedroom rents at Bedok Residences fell only 2% y-o-y in 2Q despite the elevated supply in the neighbouring Tanah Merah area. One-bedroom rents, however, took a 6% hit in the same period.
The supply of apartments and condo units is expected to taper off, with 16,015 units slated to be completed this year, followed by 8,014 units in 2018 and 8,231 units in 2019, down from the historical record of 20,029 units in 2016. This paints a rosier picture for the rental market, which was buffeted by market headwinds, elevated supply and slower population growth.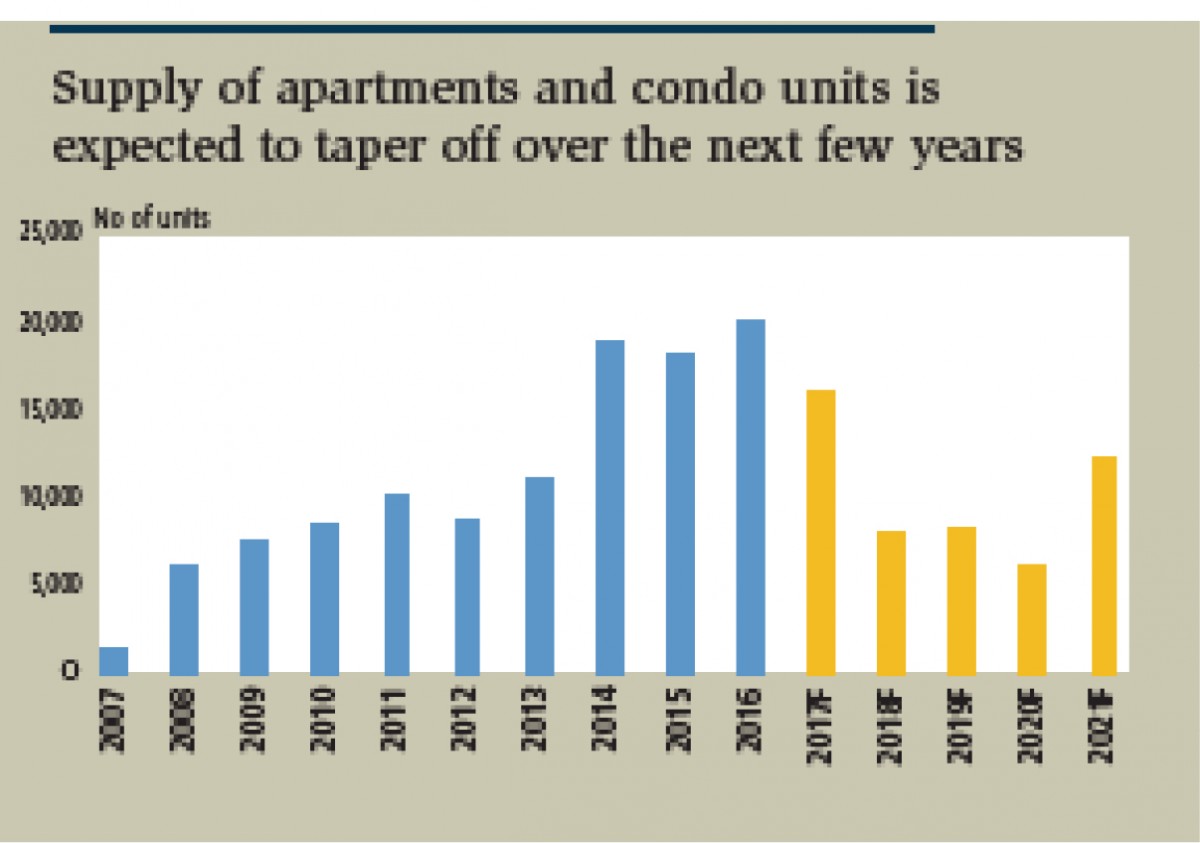 This article first appeared in The Edge Property Singapore, a pullout of The Edge Singapore, on Aug 7, 2017.
For more stories, download TheEdgeProperty.com pullout here for free.