Berjaya Hotels brings Tink Labs' Handy phone to Malaysia
Berjaya Hotels brings Tink Labs' Handy phone to Malaysia
Friday, 11 August 2017 13:31:24 PM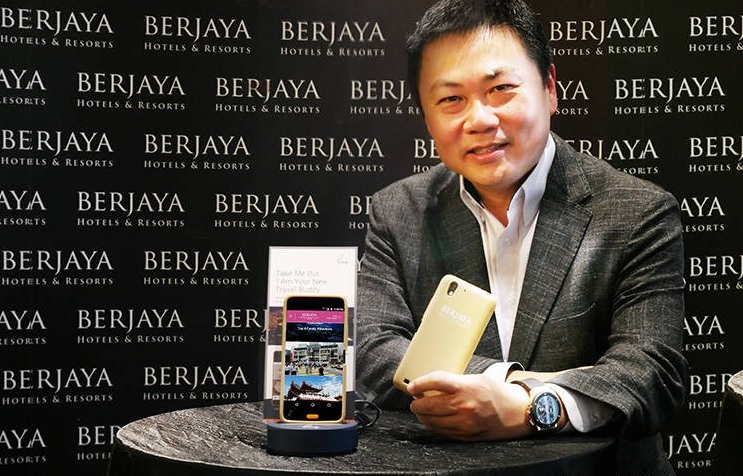 KUALA LUMPUR (Aug 11): Berjaya Hotels & Resorts Sdn Bhd (BHR) is partnering Hong Kong start-up Tink Labs Ltd to become the first hotel operator in Malaysia to feature the latter's flagship smartphone 'Handy' in all its hotel rooms.
BHR, the hospitality arm of the Berjaya Group, aims to have a Handy smartphone in its Berjaya Times Square Hotel Kuala Lumpur by end-August. BHR is a unit of Berjaya Land Bhd.
Among others, BHR guests would be able to use the complimentary smartphone to make unlimited local and international calls to the top five countries of origin for each BHR hotel. In addition to information about hotel services and promotions, guests would also have a speed dial function to contact the hotel in cases of emergency.
"Guests are now looking for value everywhere they go and with the Handy smartphone, we are going to give them more value because there is no need to buy a local SIM card in the currency [of the country] that they visit," said Hanley Chew, BHR chief executive officer, to theedgemarkets.com on the sidelines of the launch yesterday.
"So all these value will add on to the excitement of staying in a BHR hotel," Chew added.
The Handy smartphone introduction to BHR hotels comes as BHR is working to launch a new chain of niche hotels called The Living Room (TLR), the first of which is expected to open by end-2018.
In an exclusive interview last month, Chew told The Edge weekly that TLR hotels will feature various innovations on standard hospitality business practices. It is also expected to yield higher operating profit margins and a significantly lower payback period.
BHR officials at the launch today clarified that to safeguard guests' privacy, each Handy smartphone will automatically be wiped clean of any personal data when a guest's duration of stay ends regardless of whether the smartphone had been returned.
Officials further said that Tink Labs will bear the costs of putting in the smartphones in 14 BHR-branded hotels by end-2017. Overall, BHR has 20 hotels with over 3,300 BHR rooms in seven countries.
After a one-year trial period that begins from the time each BHR hotel began offering complimentary use of Handy smartphones to its guests, BHR would pay a small fee per phone.
When asked about the fee, Chew declined to specify an amount but said it was "negligible". Instead, Tink Labs will use the Handy smartphones to raise advertising revenue aimed at hotel guests.
Tink Labs was founded in 2012 and in September raised US$125 million in funding that valued it over US$500 million. Its Handy smartphone is tailored for the hospitality business with customisable features including unlimited internet access, local and international calls as well as preloaded city guides and exclusive deals for tourists.
In April, Bloomberg reported that Tink Labs was working to raise another US$40 million with a targeted valuation of US$1 billion. If successful, its 25-year-old founder and chief executive officer Terence Kwok would deliver Hong Kong's first 'unicorn' — meaning a start-up valued over a billion dollars.
According to Bloomberg, Tink Labs has put Handy smartphones in 120,000 hotel rooms run by major hospitality players such as Starwood and Accor and is aiming to hit one million rooms by 2018. — theedgemarkets.com
For more stories, download TheEdgeProperty.com pullout here for free.
Get More From EdgeProp.my