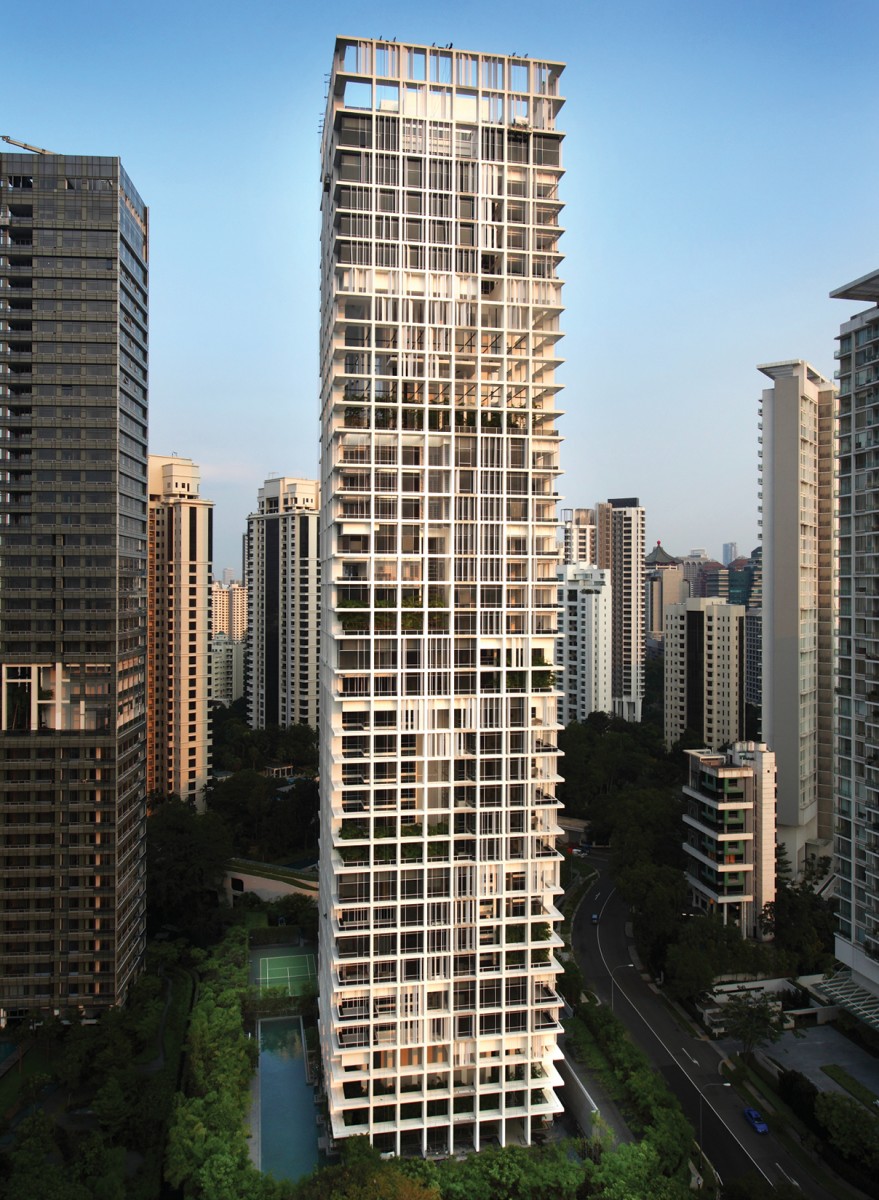 At Le Nouvel Ardmore, a 4,004 sq ft, four-bedroom unit on the seventh floor of the 33-storey luxury ­condo tower was sold for S$16 million (RM50.4 million), or S$4,000 psf, according to a caveat lodged on Aug 22.
This brings the total sales at Le Nouvel Ardmore to nine to date. The project in Ardmore Park was designed by renowned French architect and Pritzker Prize winner Jean Nouvel and developed by Wing Tai Holdings. Completed in 2014, the exclusive condo contains only 43 four-bedroom units with sizes from about 3,800 sq ft.
Le Nouvel Ardmore is famous for the sale of its duplex penthouse of 13,875 sq ft for S$51 million in April 2015. The buyer was said to be Sun Tongyu, one of the founders of Alibaba Group.
However, the record price of S$51 million has since been smashed by the recent purchase of a super penthouse at SC Global Development's ­ultra-luxurious Sculptura Ardmore for over S$60 million. The 34-unit Sculptura Ardmore stands out for its cantilevered swimming pools.
Word on the street is that the buyer of the 10,300 sq ft super penthouse at Sculptura Ardmore is Facebook co-founder and one Singapore's richest men, Eduardo Saverin. He married Singapore-based Indonesian Chinese Elaine Andriejanssen two years ago.
Apart from the super penthouse which comes with a 5,000 sq ft roof terrace, and therefore fetched a price of S$3,676 psf, most of the units sold at Le Nouvel Ardmore have been transacted at prices above S$4,000 psf.
"In Singapore, property is a reflection of the wealth of the country," says Cheng Wai Keung, chairman and managing director of Wing Tai Holdings, at the company's FY2017 results briefing on Aug 24. While the Singapore economy may appear to be subdued, it is still growing, he adds. "Given the regulatory environment, which is very stable, it's still a good place to invest in property."
It appears that many of the wealthy in Singapore and overseas agree with him. Besides Le Nouvel Ardmore, ­other luxury condos have also seen a pick-up in transactions.
For instance, at Gramercy Park, the latest transaction was for a 1,259 sq ft, two-bedroom unit on the 18th floor of one of the towers that was sold for S$4.17 million, based on a caveat lodged on July 31. It translated to S$3,310 psf, which is the highest in terms of price psf, for a unit at Gramercy Park to date. The 174-unit luxury condo located along Grange Road was developed by City Developments Ltd and completed just last year.
At Tomlinson Heights, ­located along Tomlinson Road, just off Orchard Boulevard, a Singaporean buyer swept in and purchased all four units on the 33rd floor for a total of S$30 million, according to caveats lodged on July 24. The 36-storey Tomlinson Heights contains just 70 units, and was developed by ­Hotel Properties Ltd. The project was completed in 2014.
Even at The Claymore on Claymore Road, just off Ardmore Park, a 3,348 sq ft unit fetched S$9.20 million (S$2,748 psf) on Aug 18. The unit is located on the 19th floor of one of the 20-storey towers. The freehold, twin-tower development contains just 146 units and was completed in 1985.
"It looks like the big-ticket purchases in the prime districts have returned," says Samuel Eyo, managing director of Singapore Christie's International Real Estate. "Even developers are starting to purchase freehold redevelopment land in the prime districts once again."
This was evident in the purchase of a freehold residential site along River Valley Road by Roxy-Pacific Holdings for a total of S$110 million in early August. On Aug 28, Sloane Court Hotel fronting Balmoral Road and an adjacent site fronting Ewe Boon Road were purchased by a joint venture between building and construction groups Tiong Seng Holdings and Ocean Sky International. The price tag for the two sites was S$80.5 million.
This article first appeared in The Edge Property Singapore, a pullout of The Edge Singapore, on Sept 4, 2017.
For more stories, download TheEdgeProperty.com pullout here for free.