KUALA LUMPUR (Sept 11): While much has been said about the advantages of using the Industrialised Building System (IBS) method for construction, adoption is still slow due to the various hurdles faced by stakeholders in applying the technology.
According to a survey by the Construction Industry Development Board (CIDB), private sector adoption is still low at around 15%, while government projects are seeing higher adoption at 70%.
"For government projects, there is a requirement for projects that exceed RM10 million to have a minimum IBS score of 70 which is already in place. Currently about 70% of government projects meet that requirement.
"For the private sector, our survey showed that IBS usage was only at 15% but that was three years ago. We are doing another study now to determine the current rate of IBS adoption in private sector developments," said CIDB chief executive officer Datuk Ahmad Asri Abdul Hamid.
The slow adoption is definitely not a supply issue, as CIDB said there are over 230 suppliers of IBS components in Malaysia, which are currently operating at only 50% to 60% capacity due to a lack of demand.
Several construction players and property developers have also set up their own facilities and have plans to further ramp up their production capacity despite the subdued demand.
Gamuda Bhd has the capacity to produce about 3,000 units per year with its current IBS facility in Sepang and plans to set up a second one in Banting by end-2018, which will boost its capacity to 8,000 units per year.
ML Global Bhd has partnered China's Sany Construction for a RM40 million IBS plant in Nilai with a capacity of 2,000 units per year.
Meanwhile, China's Country Garden Pacific View Sdn Bhd, the developer of the Forest City project, has an IBS facility in Johor with the capacity to produce up to one million square metres of built-up area.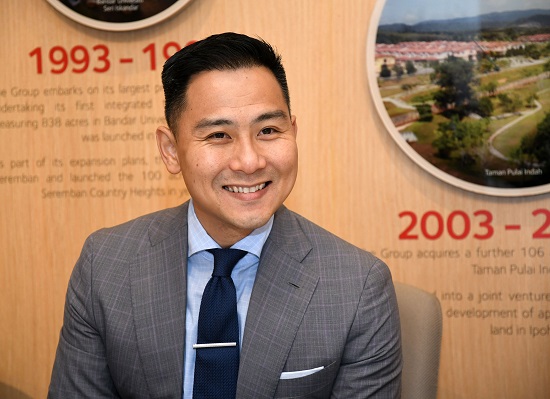 High initial costs
One of the main headwinds for the wide adoption of IBS is the cost factor. Currently, the usage of IBS in development projects costs more than the conventional method due to a lack of economies of scale.
Hua Yang Bhd chief executive officer Ho Wen Yan said the costs are higher in the initial phases of IBS usage but hopes that it will become lower with greater adoption.
The developer is actively using IBS, with up to 70% adoption rate for its projects in Ipoh and 20% to 30% adoption rate for its high-rise projects in the Klang Valley.
"In the initial phases of adoption, the costs are a bit higher. But as we become more familiar and adopt it in more of our projects, then the costs will average down.
"We are working towards that. I think it will become more manageable in the short term, but currently the cost is about 15% to 20% higher than the conventional construction method," said Ho.
The higher cost associated with the usage of IBS is partly due to logistics cost, as it can be expensive to transport huge components from the factory to the construction site.
IBS manufacturers also have a limited range due to the challenge in transporting huge components, making it expensive and unviable to transport components beyond a 200km radius.
Besides that, Master Builders Association Malaysia (MBAM) president Foo Chek Lee said contractors would also need to invest in the proper equipment that can lift these heavy components for assembly at the building site, which are quite costly.
"IBS needs heavy lifting equipment and what we use now is not sufficient to cater for that. The price of the equipment is also high at present and the government should seriously look into how they can lower the tax on these heavy equipment to encourage the local industry to take up IBS," said Foo.
No fully integrated suppliers
Besides the cost factor, another hurdle for the mass adoption of IBS is the fragmented supply of components in Malaysia.
For example, Hua Yang currently works with several different suppliers to source for components, as currently no single supplier can cater to the developer's needs.
"We can't find a full system to adopt yet and we get our components on a piecemeal basis, like certain systems for the structure and certain systems for mechanical and electrical components and so on," said Ho.
However, this issue may be addressed in a few years' time when Country Garden fully completes its IBS plant, which will see a total of six factories at the 417-acre (168.75ha) site in Johor to support the equivalent of six million square metres, potentially making it the largest IBS manufacturer in the world.
Gamuda's RM350 million IBS facility in Banting will manufacture a wider range of high quality IBS components, with the capacity to produce up to 5,000 units per year.
Amendments to regulations needed
Amendments to current building laws are also needed in order to achieve economies of scale, as different localities enforce different standards of measurements for the IBS components under the Uniform Building By-Laws (UBBL).
MBAM honorary adviser and past president Datuk Ng Kee Leen said this makes it a hassle as suppliers will have to manufacture different components based on the differing requirements.
"Every local council has its own UBBL, with different measurement standards. Since IBS has standard sized panels and components, the authorities will need to change the law to follow one standard.
"If everything follows the same standards of measurement, it will be easier and more economical to build. On the other hand, it will not be economical to manufacture IBS components if different localities enforce different standards," said Ng.
This is also part of the reason behind Singapore's successful adoption of IBS, as the island state's uniform standards make it easier for manufacturers to meet the requirements.
Despite the headwinds faced in mass adoption, stakeholders are hopeful that the government's move to make it mandatory by 2020 will push demand for IBS construction.
"When IBS is made mandatory, the demand will increase and the factories will supply more. I am sure we will see more factories opening up when the demand picks up.
"If we manage to make it mandatory by 2020, I'm sure the construction costs will be lower than the conventional method," said Ahmad Asri.
MBAM also hopes that the government pushes through with the mandatory requirement, but said more government projects are needed to encourage adoption, for greater economies of scale.
"If there are only one or two projects, it's not economical. If there is demand, there will be an increase in supply. I believe some other companies are also planning for IBS following the government's announcement of its decision on this," said Ng.
This article first appeared in The Edge Financial Daily, on Sept 11, 2017.
For more stories, download TheEdgeProperty.com pullout here for free.