PETALING JAYA (Sept 12): Out of the 20 markets tracked by global property consultancy Knight Frank, Kuala Lumpur and Bangkok have experienced rental decline for their prime office market in 2Q2017, according to Knight Frank's Asia-Pacific Prime Office Rental Index report.
"Kuala Lumpur has been experiencing rental decline for a year, coupled with creeping overall vacancy rates.
"However, we expect to see sustained demand in selected established and upcoming decentralised office locations served by the LRT and new MRT lines," said Knight Frank Malaysia executive director of corporate services Teh Young Khean.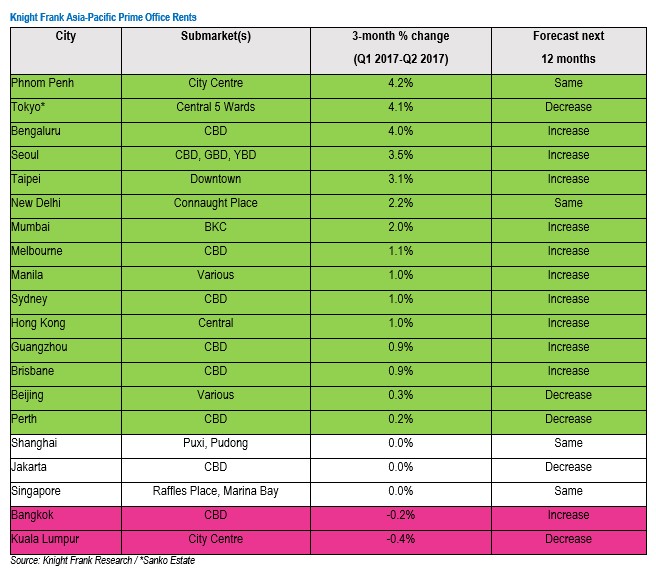 Meanwhile, Bangkok, which topped the chart last quarter, has experienced its first rental decline in close to three years, having slid marginally by 0.2% in the quarter.
"Given a limited supply, however, a rising trend may resume for the remaining of 2017," said Knight Frank.
Knight Frank's Asia-Pacific Prime Office Rental Index has increased 1.2% q-o-q and 0.6% y-o-y as at the end of 2Q2017, a result of rising rents in 15 of the markets over the quarter.
"The pickup in global trade and domestic demand has negated geo-political risks to a certain extent, thereby providing a strong foundation for the Asia-Pacific prime office markets," commented Knight Frank Asia-Pacific head of research Nicholas Holt.
Phnom Penh tops the chart for 2Q2017 with a 4.2% q-o-q increase, compared to a flat performance last quarter.
"The completion of Exchange Square not only set a new benchmark standard for Grade-A office, but its strong pre-commitment level also boosted prime rental levels in the Cambodian capital," said the report.
Over in Hong Kong, as prime rents continued to edge higher, cost-conscious tenants are expected to continue to relocate to other areas such as Wong Chuk Hang.
While a positive economic growth bodes well for the Tokyo office market, the looming supply influx for the next few years is set to turn the market in favour of tenants.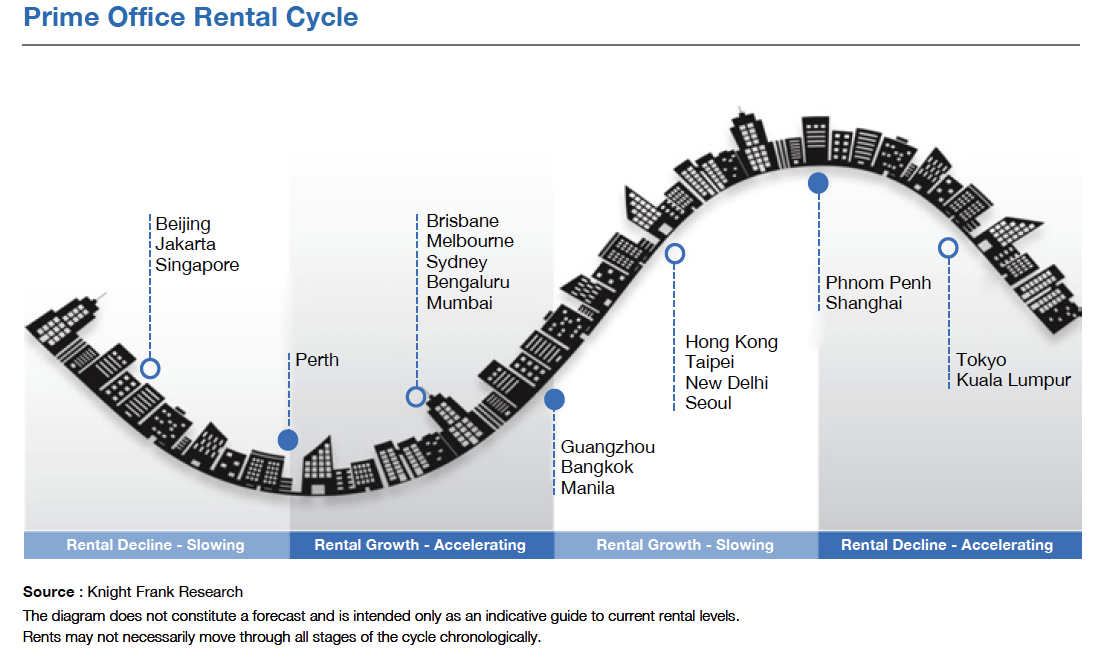 "Despite delivering around 92,000 sq m of new prime supply, Singapore's prime rents held steady in 2Q2017 after a two-year decline, owing to continued demand from sectors such as technology, co-working and professional services.
In Jakarta, rents remained unchanged but a downward trend is expected for the next 12 months due to a huge incoming supply," said Knight Frank.
All four cities in Down Under have performed strongly with rising rents and dropping vacancy rates for 2Q2017.
"Perth continued its rental recovery track, aided by minimal new stock while Sydney prolonged its rental growth for 18 consecutive months, albeit slowing to 1% compared to 1.4% in 1Q2017.
"In Melbourne central business district, a landlord-favourable market condition has led to a gradual drop in incentives over the past few quarters. With an improving market sentiment and tight supply, Brisbane office market is set to extend its acceleration for the next 12 months," said the report.