KUALA LUMPUR (Nov 1): Tycoon Tan Sri Lim Kang Hoo has suffered a setback with his plan to merge Iskandar Waterfront Holdings Sdn Bhd (IWH) with its 38.35%-owned associate Iskandar Waterfront City Bhd (IWCity), which would see the establishment of one of the largest listed property developers on Bursa Malaysia.
In a surprise announcement yesterday, IWCity said the company and IWH have mutually agreed to terminate the proposed merger.
This follows a decision by the owners of the lands that were supposed to be injected into the enlarged IWH — Sultan of Johor Sultan Ibrahim Sultan Iskandar and Kumpulan Prasarana Rakyat Johor Sdn Bhd (KPRJ) — to pull out of their participation in the restructuring exercise between the two companies.
"[Their pullout] will result in an unexpected substantial variation and reduction in the scale and scope of the proposed restructuring exercise," IWCity told Bursa Malaysia yesterday.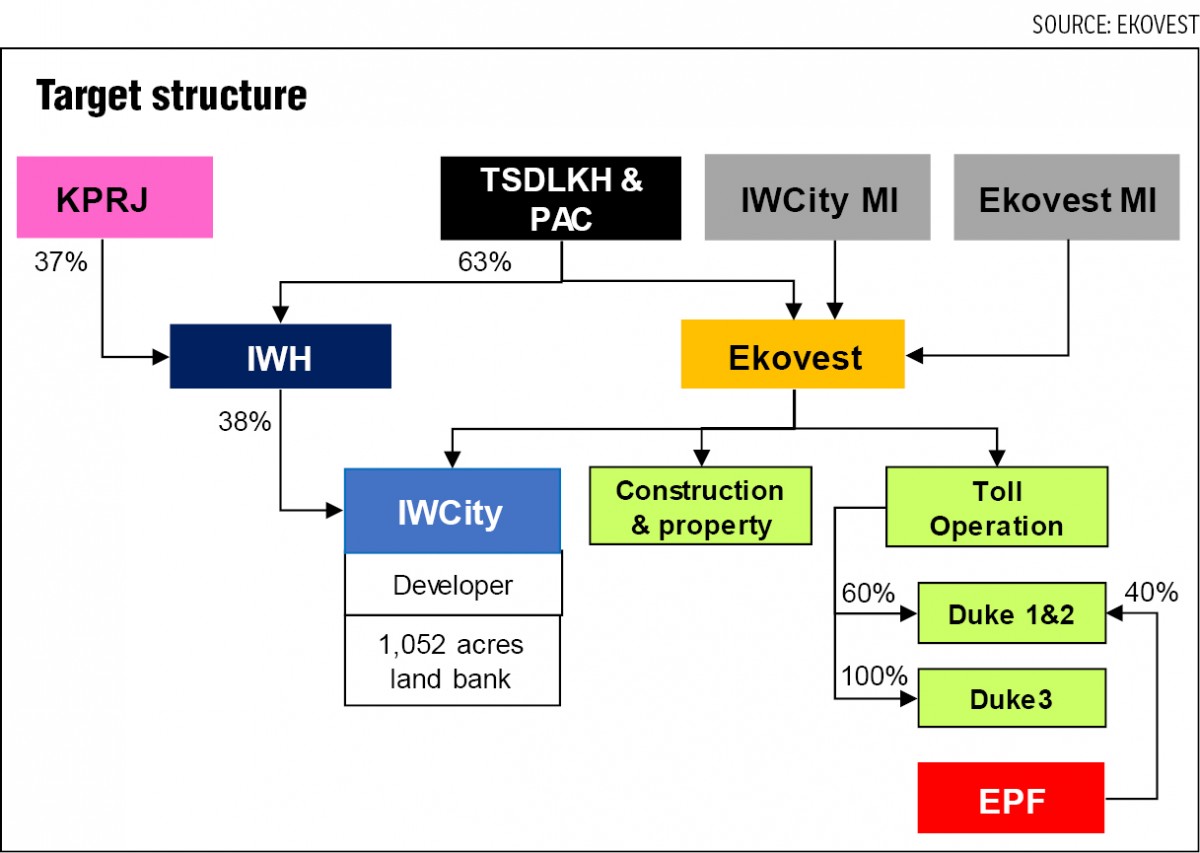 As such, IWCity said the implementation of the proposed merger scheme and the proposed restructuring exercise is no longer consistent with the anticipated benefits and intentions which were originally envisaged by IWH.
"The parties are [also] unlikely to be in a position to fulfil the conditions precedent contemplated in the merger agreement within the originally anticipated time frame for fulfilment/obtainment," it added.
However, the failed IWH-IWCity merger did not hold Lim back from exploring new opportunities. Lim, who is major shareholder and executive chairman of Ekovest Bhd, is now proposing Ekovest to buy the rest of the 62% shares not owned by IWH in IWCity through either a cash consideration of RM1.50 per share, valuing the company at RM1.25 billion, or a one-for-one share swap deal.
Lim and parties acting in concert currently own a controlling 63% stake in IWH, while KPRJ owns the remaining 37% stake. And Lim, through IWH, owns 38.35% of IWCity. He also owns a 32.38% stake in Ekovest.
It is understood that Lim intends to take IWCity private under the new proposal.
"Essentially, what the new proposal tries to achieve is to privatise IWCity. It is a good investment deal for Ekovest as the RM1.50 offer price represents a 60% discount over the open market value of IWCity. The issuance of new shares at a premium of 28% to Ekovest's current market price is also a good deal for Ekovest," a source familiar with the proposed deal told The Edge Financial Daily yesterday.
The source said IWCity has an indicative open market value of RM3.68 billion.
This implied that the 62% IWCity stake Ekovest is acquiring is worth some RM2.3 billion or RM4.44 per share, which means that the offer price of RM1.50 per share or RM777.84 million is a 66% discount to IWCity's indicative market value.
In May, IWH entered into a merger agreement with IWCity for a proposed one-for-one merger offer to take up the remaining 62% equity in the latter and assume the latter's listing status. The board of directors of IWCity had until yesterday to deliberate on the proposed merger offer by IWH, after two extensions.
In tandem with the proposed merger, IWH was to have embarked on a proposed restructuring exercise with Lim —who is director cum executive vice-chairman of IWH — via an internal rationalisation of minority stakes within the IWH Group and various Johor state entities including KPRJ to consolidate the land bank under IWH. This will see an injection of 3,593 acres (1,454ha) of land with an open market value of RM4.1 billion into IWH.
In a separate filing yesterday, Ekovest said it had last Friday received a proposal letter from Lim to acquire the 62% stake in IWCity, which currently has 1,052 acres of land bank mainly in Johor.
Lim is also proposing to the board of IWH, which owns a 38% stake in IWCity, not to accept the offer from Ekovest. All parties have until Nov 30 to deliberate on Lim's proposals.
Astramina Advisory Sdn Bhd has been appointed as the financial adviser for the proposed acquisition.
When contacted, the advisory firm's managing director Wong Muh Rong said her team had evaluated the pros and cons of the proposed deal thoroughly.
"Before proceeding, we got all the support of all [major] shareholders and directors for decisions made," she added.
Trading in both Ekovest and IWCity shares have been halted since Monday and will resume trading today. Ekovest's share price last closed at RM1.16 last Friday, valuing the group at RM2.48 billion, while IWCity's stock settled at RM1.40, bringing it a market capitalisation of RM1.17 billion.
This article first appeared in The Edge Financial Daily, on Nov 1, 2017.
For more stories, download EdgeProp.my pullout here for free.