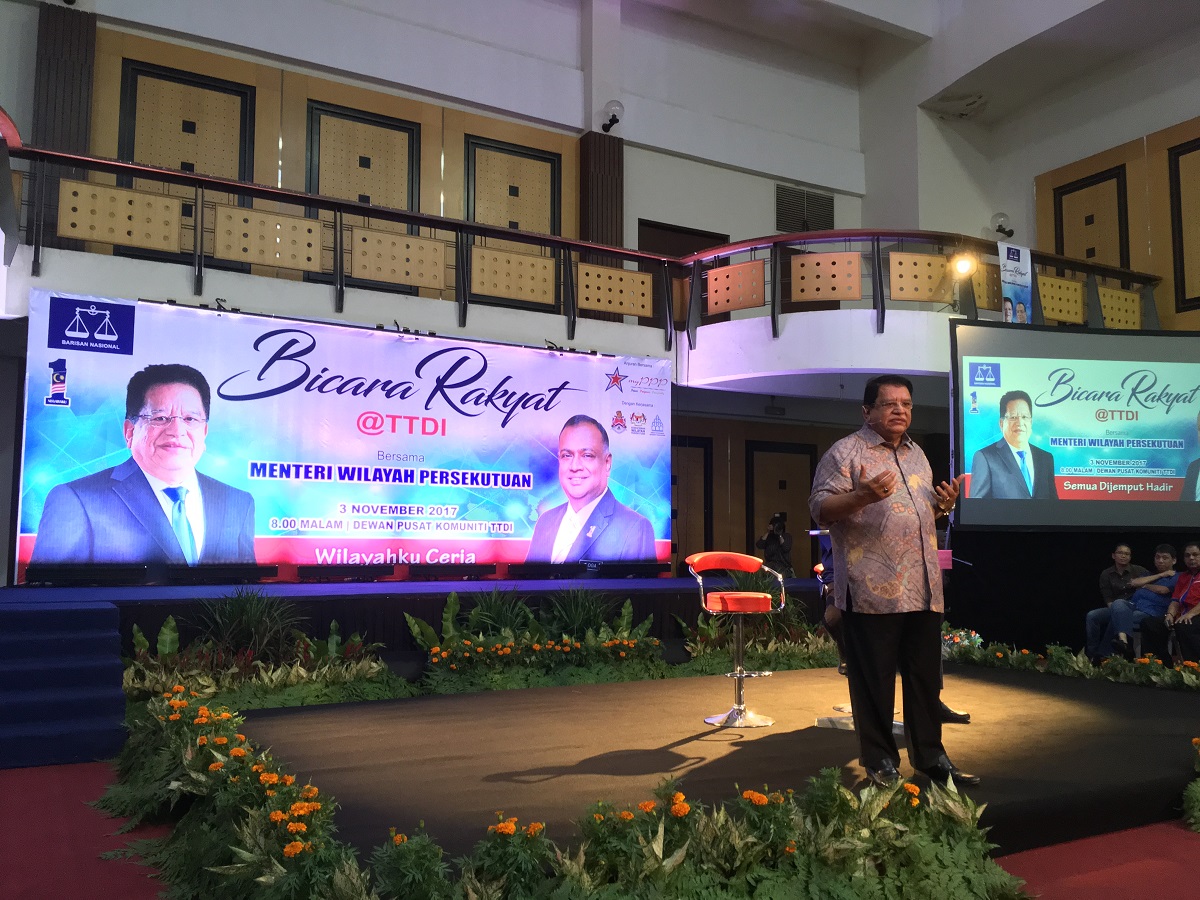 KUALA LUMPUR (Nov 3): In a heated public dialogue session at Taman Tun Dr Ismail (TTDI), Federal Territories (FT) Minister Datuk Seri Utama Tengku Adnan Tengku Mansor has insisted that the proposed mega development comprising blocks of high-rise homes is not encroaching Taman Rimba Kiara (TRK).
Citing a document dated Nov 19, 2012, Tengku Adnan said lot PT 9244 is alienated for the high-density development. "Times have changed and we need to look at how spaces can be developed to contain the growing population of KL.
"You all in TTDI have lived in a very nice space for the past 30 years but out there, there are many people that need housing," he said at the Bicara Rakyat @ TTDI dialogue held at the Community Centre of TTDI tonight accompanied by deputy FT Minister Datuk Dr Loga Bala Mohan.
Tengku Adnan's response was met by strong objections and booing from a crowd of over 300.
He was responding to questions posed by Save Taman Rimba Kiara Group lead strategist and coordinator Leon Koay who noted that in the original 1982 master plan of TTDI – formely known as Taman Kiara – TRK has been carved out as a public space.
Koay also reiterated that there is no public evidence as to how that plot of public land – PT 9244, along Jalan Tun Mohd Fuad next to TRK – was converted to private land.
"And I know that your focus is that you want to solve the housing of longhouse residents, we fully understand that. And we want to work with you to solve the problem. We have developed a solution to help you with it.
"The longhouse residents have lived here for over 30 years so we are more than willing to help them because they are our neighbours. This alternative plan that we are proposing is a low impact and low density one.
"We don't have to encroach the green footprint of the park. We just have to use the existing piece of 4.4-acre land where they are currently living. We believe this design can be a reference and solution for the longhouse residents to get their permanent housing and preserve the green footprint at the same time. The cost for this alternative housing plan is about RM14 million," he said.
According to Tengku Adnan, TRK will be there and that he will never take any park away in KL. "You wish for the city to move forward without any changes but there are many housing problems in KL. TRK will be there and I will meet Leon (Koay) to further discuss this issue," he said.
Meanwhile, TTDI Residents' Association (RA) chairman Abdul Hafiz Abu Bakar has further urged the FT minister to notify the TTDI residents on any proposed commercial or housing developments so that the RA can provide feedback or comments for the health of the township.
The proposed development involves the building of eight blocks of 42- and 52-storey high-end serviced apartments (1,766 units) and a 29-storey affordable housing block (350 units), thus increasing the population density in the area from 74 persons per acre to 979.
It also involves the construction of a six- to eight-lane highway. A total of 2,116 units of homes will be built.
Residents of TTDI were granted leave by the KL High Court to pursue a judicial review against Dewan Bandaraya Kuala Lumpur (DBKL) and the KL mayor on Aug 23.
The judicial review requests an order from the court to quash the condition planning permission and development order (DO) granted by DBKL to property developer Memang Perkasa Sdn Bhd, which Malton Bhd holds a 51% stake in, on Feb 28, 2017 and July 13, 2017, respectively.
During the dialogue session, various issues such as the redevelopment of the TTDI Wet Market and parking woes were also raised, to which Tengku Adnan said DBKL will look into solving them without going into details.
He also urged the public to reach out to him via Whatsapp at 012-308 3000 while Loga can be reached at 012-438 9115.