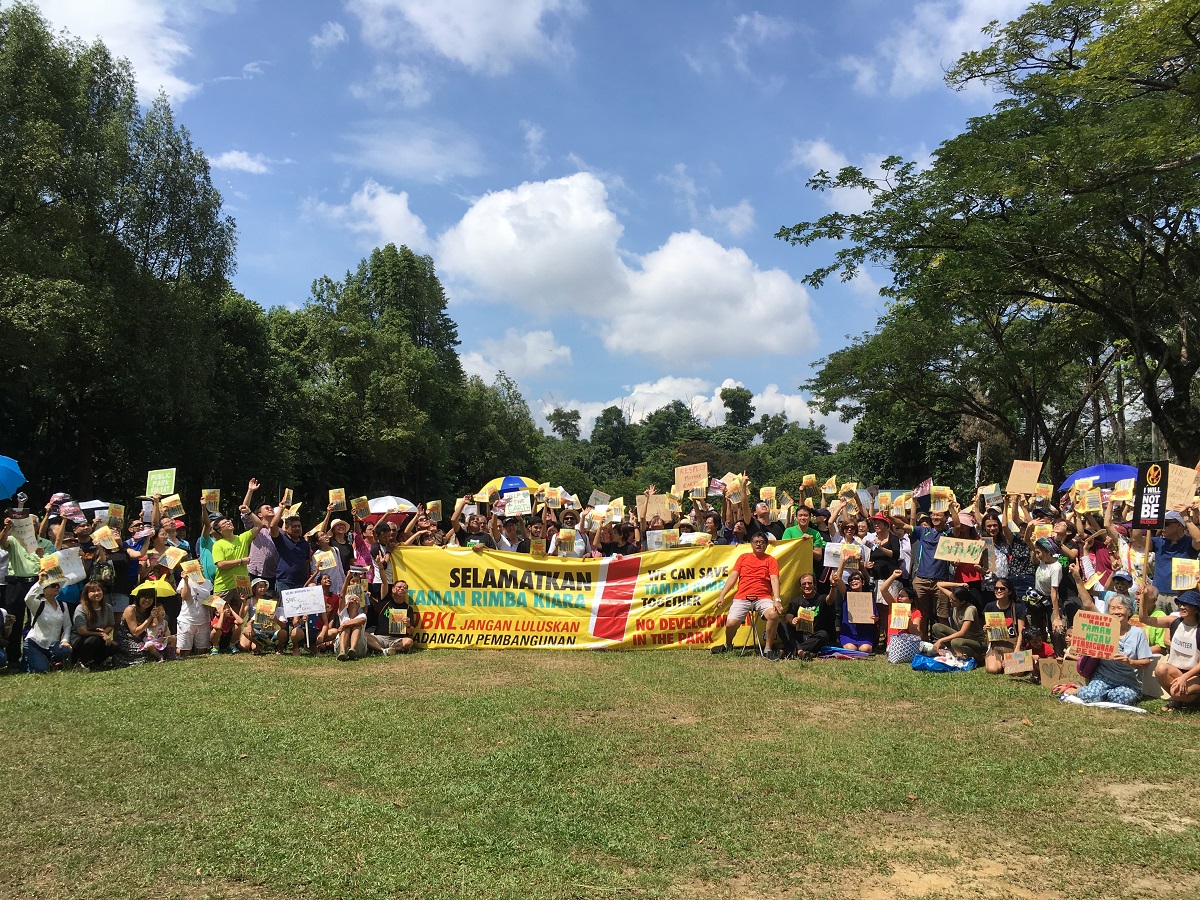 PETALING JAYA (Dec 19): The Taman Tun Dr Ismail Residents' Association (TTDI RA) has refuted several claims made by the Federal Territories (FT) Minister Datuk Seri Utama Tengku Adnan Tengku Mansor regarding issues related to the proposed high-rise development near Taman Rimba Kiara (TRK).
Tengku Adnan had in a press release earlier today said Dewan Bandaraya Kuala Lumpur (DBKL) had conducted dialogues with the residents regarding the proposed development on July 20, 2017, and Aug 3, 2017.
TTDI RA chairman Abdul Hafiz Abu Bakar however denied that there were such public engagements with the TTDI community on the dates mentioned.
"At the Bicara Rakyat @ TTDI held on Nov 3, 2017, the Minister was shown evidence that the proposed mega development will occupy almost half of Taman Rimba Kiara, a 25-acre plot of land clearly earmarked as a green open space in the gazetted Kuala Lumpur Structure Plan 2020 and the Kuala Lumpur Draft City Plan 2020 (KLDCP 2020).
"It was highlighted to the minister that there is ample evidence showing that the original footprint of TRK was 25 acres and not 13 acres," clarified Abdul Hafiz in a press statement this evening.
Tengku Adnan had said the TRK which he spans 13.3 acres and has never been gazetted as a public park but is used as a public open space.
"This [proposed] development would not touch the 13.3-acre area at all," he had said.
Following the dialogue, Hafiz recalled that the minister had kindly offered to meet and discuss the matter at his office, however, "emails seeking an appointment with him remains unanswered till today," said Abdul Hafiz.
Abdul Hafiz added that a huge amount of money and time were spent to draft the KLDCP2020, hence, though not gazetted, it would still be a fair expectation that the contents of KLDCP2020 be honoured and that the authorities adhere to what they themselves have created and published.
"We are very encouraged by the statement made by the minister that he is a responsible and caring person.
"As this is a public interest matter, we urge him to show and display his compassion towards the rakyat by waiving entirely the cost awarded by the KL High Court to Yayasan Wilayah Persekutuan (YWP) and KL Mayor," he said referring to the RM40,000 legal cost incurred for the stay application that was filed by the residents to stop the proposed mixed development in TRK pending a judicial review. The KL High Court had dismissed the stay application on Dec 14, 2017.
Tengku Adnan had said he was glad that the court dismissed the stay application.
"Please don't blame me and DBKL for the loss and the cost that the court has asked them to pay over the issue.
"As I said, this land is to be developed and also to solve the housing issue of the longhouse residents. These people were estate workers in this area before the government took the land to develop TTDI, with a promise that they will be given new houses in the same area," he said.
To that, Abdul Hafiz reiterated that the TTDI RA has never opposed permanent housing for the longhouse residents on their current footprint and has worked out an alternative low-impact townhouse design with a cost of RM15 million, instead of having to build a mega project encroaching TRK.
At the same time, he appealed to the property developer Memang Perkasa Sdn Bhd, which Malton Bhd holds a 51% stake in, to "do the right thing" by calling off the development and help save and preserve TRK.
"We wish to categorically affirm that all our actions are purely made out of the concern to save, protect and preserve TRK in its entirety as displayed in the KLSP 2020 and KLDCP 2020 and it is a public interest initiative with no gains, financial or otherwise to be made by anyone, save for the preservation of TRK," said Abdul Hafiz.
He said the TTDI community has never been and "never will be influenced, guided or directed" by any politicians and/or any political parties as they are only a neighbourhood-based non-governmental organisation to act for the community's best interest.
"The actions taken thus far by the TTDI RA, Save TRK Working Group and the residents of TTDI are a public interest initiative to save, protect and preserve TRK from being irreversibly degraded."
The proposed development involves the building of eight blocks of 42- and 52-storey high-end serviced apartments (1,766 units) and a 29-storey affordable housing block (350 units), thus increasing the population density in the area from 74 persons per acre to 979.
It also involves the construction of a six- to eight-lane highway. A total of 2,116 units of homes will be built.
On Aug 23, 2017, the TTDI residents were granted leave by the KL High Court to pursue a judicial review against DBKL and the KL mayor.
The judicial review seeks to quash the condition al planning permission and development order (DO) granted by DBKL to property developer Memang Perkasa, on Feb 28, 2017 and July 13, 2017, respectively.
Protests have been staged by the residents and a public dialogue has been held on Nov 3 with the FT minister, who promised to further discuss the issue with the TTDI community but has made no contact with them thus far.
Instead, a few days after the public dialogue, DBKL had on Nov 6 granted approval for a property sales gallery to be built on the project site.
Like our content? Check out
Narratives
– where we curate stories based on topics to keep you well and broadly informed about Malaysian real estate.
Looking for property? Check out
Location Scan
, where we summarize all available options and facts you need in a few clicks. We have updated the tool to include MRT3 stations too.
Curious how much you can borrow? Use
LoanCheck
to get your maximum loan eligibility from various banks, or
LoanReport
to get a FREE CTOS/CCRIS credit report.