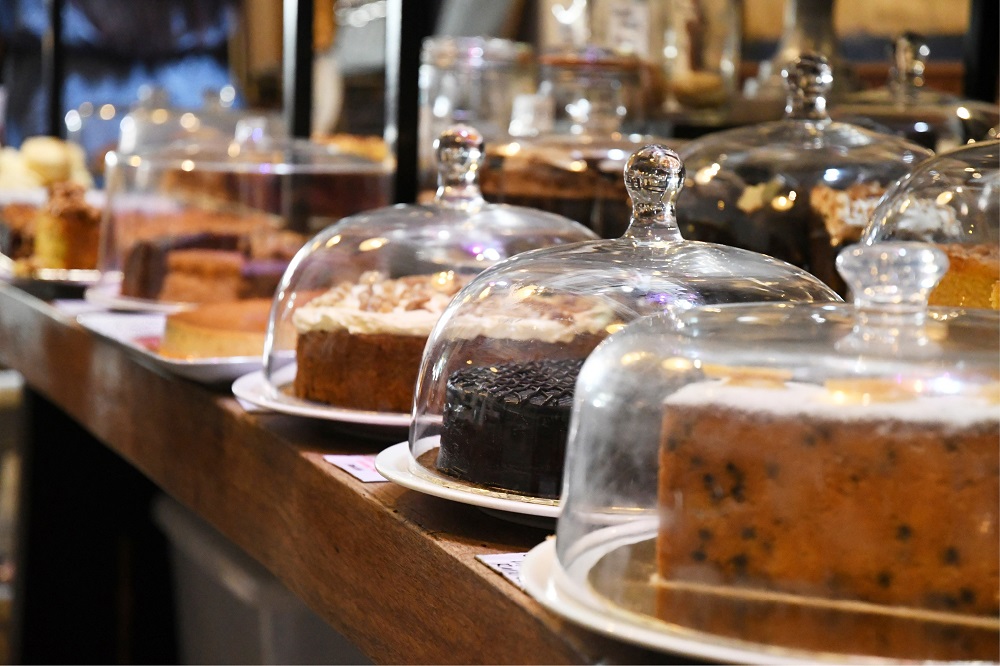 Julia Child once said: "A party without cake is really just a meeting."
Perhaps that is why people love to gather at ChinaHouse in George Town, Penang. Besides offering many conversation pieces in its creative decor, it also houses the Beach Street Bakery — the most famous attraction at ChinaHouse — with more than 30 different cakes on a long display table to satisfy your cravings. In short, it's a place that induces more conviviality than a virtual chat room and certainly more fun than a video-game against your computer.
Originally a warehouse for carpets, ChinaHouse has, since 2011, been rolling out its welcome mat to visitors thronging its shops, cafes, restaurants, galleries, live music and bakery housed in three heritage buildings connected by an open air courtyard.
Its founder, Narelle McMurtie, had conceived ChinaHouse as a people-connector, and set out to offer a different vintage cafe with a combination of old and new elements.
McMurtie, an Australian who hails from Junee, New South Wales, is not new to the hospitality industry, having established resort complex Bon Ton and Temple Tree in Langkawi.
Under her hands, the outworn storehouse was injected with a fresh awakening. "We had to redo the wiring and rectify the roofs. Meanwhile, most of the spaces were kept intact with no structural changes," says McMurtie, adding that the entire flooring in ChinaHouse is the original installation.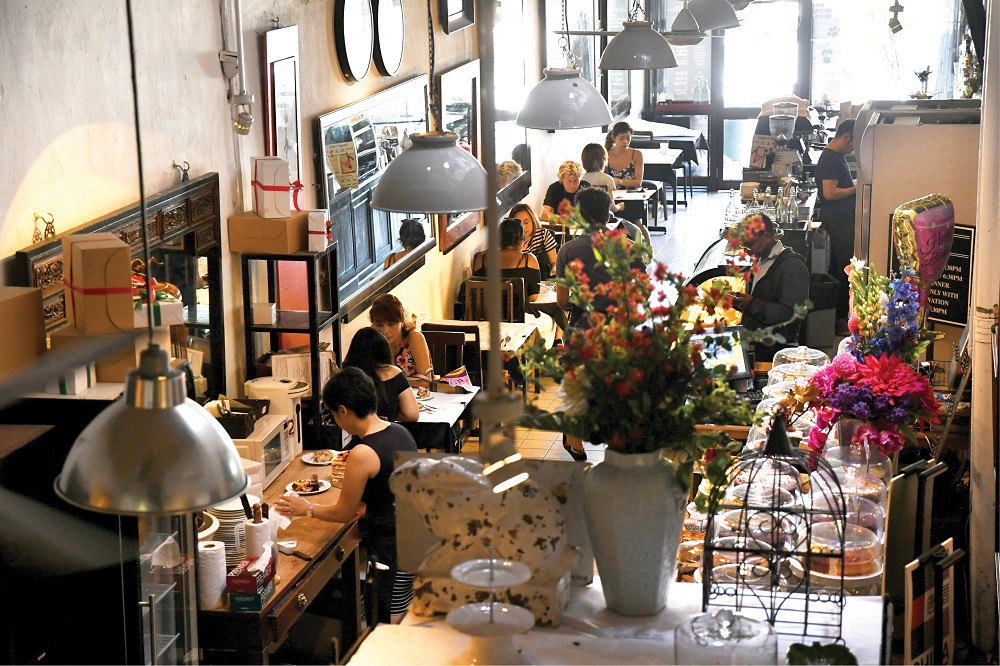 The restoration works, involving interior electrical upgrading, plumbing and painting, took about four to five months. Most of the furniture used in the shops — including wooden tables, chairs and cabinets — were sourced from Malaysia, especially Kuala Lumpur. Hanging around the shops are also beautiful paintings, traditional wooden Chinese signages with carved characters and mirrors that create the illusion of a bigger space.
Conceived to link people and conversations, McMurtie found the 4ft-wide lane along the units to be very conducive for this purpose. "From the Beach Street entrance, the passage allows proximity to customers, employees, and easy access to the cake display. The cafe is also accessible from the other end via Victoria Street. Everyone flocks to the cake counter to discuss what they should pick," she says.
The array of cake selections, coupled with a variety of muffins, biscuits, breads and pies can present a challenge to customers. "Opt for the tiramisu cake. It's our bestseller. We sell 650 slices [of tiramisu] a day during the weekends," McMurtie exclaims. Despite the heavy demand, rest assured that your pick will not run out of stock as the bakery is backed by a manpower of 10 bakers.
"You also watch people playing games and taking photos. But most importantly, you see families and friends bonding with one another through conversations and a hearty meal," says McMurtie. She notes that during the weekends, the compound is similar to a grand central station — jam-packed with visitors either coming for a full meal or to satisfy their sweet-tooth cravings. In fact, even on weekdays, it is full house after 10.30pm.
Besides the bakery, ChinaHouse has several other themed components including concept dining sections. One of them is a cafe called kopi-C, which whips up salads and sandwiches for its lunch menus and simple fast mains for its dinner including its signature chicken mushroom pie. When we visited the cafe, there were spreads of mahjong papers wrapped around the dining tables and a cup of coloured crayons to doodle with while enjoying a freshly brewed coffee.
The other components include a fine diner called BTB, which serves western style dishes influenced by a mix of Asian and Middle Eastern cuisines; the reading room for art and games; and Vine & Single bar, well known among those who love sipping spirits.
BTB also features live deejay performances on Thursday, Friday and Saturday nights. For those who enjoy live music featuring a different band each night, they can proceed to the Canteen, which is located at the Victoria Street's side of ChinaHouse. There is also an event space in the floor above called Vics and a retail shop and an art gallery — both of which are located above kopi-C.
"In our Art Space, we frequently hold exhibitions. We have hosted workshops, storytelling, comedy nights, meetings and many parties [in our event space]. Most of the events are art-driven... paintings, installations, photography, films and festivals. Permanent art pieces and sculptures are on display and we renew our art and photography exhibitions every month. We really encourage artists and students to hang out here," McMurtie adds.
Sitting on a 10,000 sq ft space on the ground floor with an additional 10,000 sq ft on the first floor, McCurtie notes that visitors often wander around the compound, taking their time to explore. "When many of them think they have finally come to the end of ChinaHouse, they are surprised to find another garden that leads up to another cafe or event space."
Attracting some 1,000 visitors on average on the weekends with 80% of them mainly locals, she hopes to continually create elements of surprise in the menus and dining experience to draw returning crowds.
ChinaHouse:
153, Lebuh Pantai, George Town, Penang
Opening hours: 9am to 1am
Phone: (04) 263 7299
This story first appeared in EdgeProp.my live! magazine. Download a FREE copy of live! magazine here.