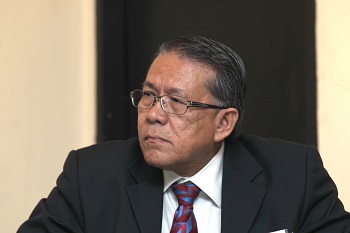 PETALING JAYA (May 26): Kuala Lumpur mayor Tan Sri Mohd Amin Nordin Abd Aziz (pictured) has agreed to cease clamping cars immediately before a meeting with Kuala Lumpur MPs on May 30, reported The Star.
According to him, this was requested by the MPs after they met with parking operators a few days ago.
"So on Monday, we won't be clamping any vehicles but I do anticipate some problems as people will be parking everywhere and obstructing since there will be no enforcement," he said.
This follows calls to Kuala Lumpur City Hall (DBKL) to suspend the parking contract it had awarded to Yayasan Wilayah Persekutuan (YWP), the welfare arm of the Federal Territories Ministry, as it was awarded without an open tender.
YWP hires parking contractor Vista Summerose to carry out its parking contract jobs.
Mohd Amin said that it was a request by the MPs after they met with parking operators a few days ago.
He also noted that the compensations on terminating the contracts would have to be reviewed if the MPs were not happy with the current operator.
Kepong MP Lim Lip Eng said the contract should be reviewed if there were no reasonable grounds to award it.
He added that DBKL should suspend the collection of parking fees temporarily.
Meanwhile, Vista Summerose managing director Datuk Nik Haidi Nik Mohamad said he will abide by the mayor's decision to suspend clamping, but cautioned that more people may flout traffic laws in the long run.
"Clamping is a good way to educate people as it deters them from breaking the law," he said.
Nik Haidi estimated the compensation that DBKL will owe the contractor for termination of the contract amounts to RM100 million, and added that it would not be easy to find another contractor with the technology to perform the job.