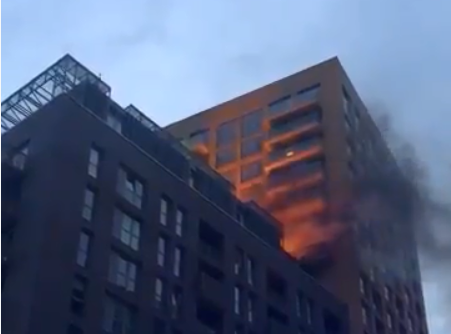 PETALING JAYA (June 14): A 20-storey block in Lewisham, south London, caught fire early in the morning – on the same day of the Grenfell Tower fire's first anniversary.
About 180 people escaped from their homes in the wee hours after the fire broke out from a flat on the 12th floor of the tower, reported The Guardian.
Almost 60 firefighters and eight fire engines were dispatched to combat the blaze at around 4.14am at local time.
Fortunately, a sprinkler system in the building – which was lacking in the Grenfell building – contained the flames.
London fire brigade announced the fire was finally under control at around 6.20am.
The balcony of the flat where the fire originated as well as part of another unit on the 13th floor was damaged in the incident.
Residents complained that there were no alarms in the building, which was completed around four years ago by Barratt Homes, saying they only found out about the blaze when their neighbours alerted them.
Twenty-seven-year-old structural engineer Nick Cheuk said he left his flat's windows open and did not hear any alarms ring.
"A fella from the bloke opposite was shouting 'fire' and that woke me up.
"I looked outside our balcony and could see the smoke. From there we just evacuated and I knocked on all of the neighbours doors on our floor and then ran down the stairs.
"Given that a year today was Grenfell, the first thing I thought was to just get out. That was in the back of everyone's mind. There is a stay-put policy. Not everyone left, there was a fella on our floor who literally slept through the whole thing. The fire was contained in the flat, so in this case the stay-put policy worked."
The Grenfell Tower tragedy claimed 72 lives last year.
The fire started by a Hotpoint fridge freezer on the fourth floor of the 24-storey building, but quickly engulfed the whole building due to flammable cladding on the exterior of the block.