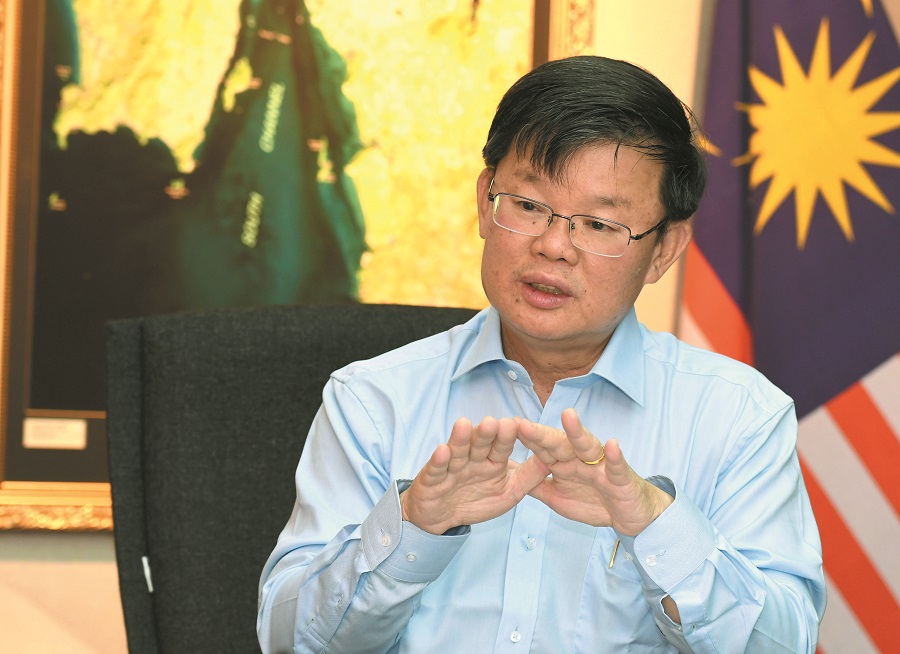 Newly appointed Penang Chief Minister (CM) Chow Kon Yeow is not an unfamiliar face in the state. When Lim Guan Eng who is now the country's Finance Minister, was the CM, Chow had held the Local Government, Traffic Management and Flood Mitigation portfolio for two terms. He is now chairman of the State Land Matters and Land Development, Information and Transportation Committee.
In the weeks after being sworn in, Chow had immediately stated his stance on housing and infrastructure developments in Penang. He is clearly committed to continue where his predecessor left of. He wants to enable the people of Penang, especially those in the low income group, to have a roof over their heads. He also believes that all developments have to take into consideration the long-term environmental impact.
In a recent interview with EdgeProp.my, the soft spoken Chow sheds more light on housing and property development issues, his thoughts on the future of Penang and the status of the state's ambitious Penang Transport Master Plan (PTMP).
On the Penang Transport Master Plan
The PTMP is one of the most ambitious projects to be undertaken by Penang. It is estimated to cost RM46 billion. First proposed in 2016, PTMP is a medium to long-term plan to be implemented in phases.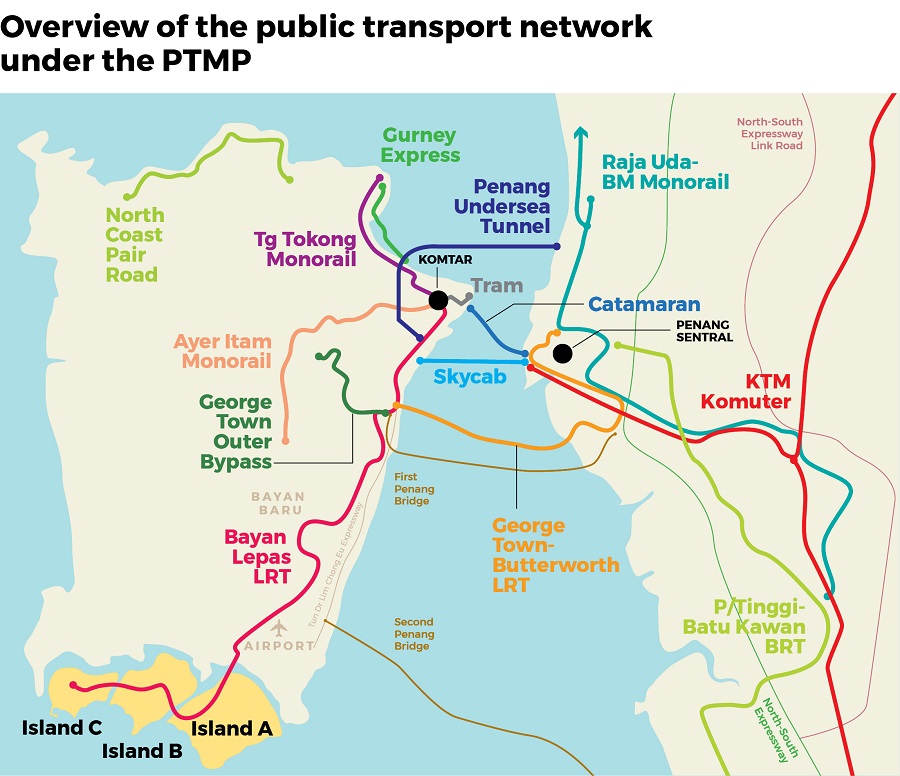 Zenith Consortium, a special purpose vehicle appointed to undertake the Penang Undersea Tunnel component and given the concession to build three major roads — a 4.08km paired road from Gurney Drive to the Tun Dr Lim Chong Eu Expressway bypass, the 10.53km north coastal paired roads from Tanjung Bungah to Teluk Bahang and the 5.7km paired road from Air Itam to the Tun Dr Lim Chong Eu Expressway bypass — has been tasked to first focus on the implementation of the latter.
"That is basically the old Penang Outer Ring Road alignment mooted in the mid-1990s. The urgency is there because of the growing catchment in the Air Itam and Thien Teik area. We will be focusing on the implementation of this package first. They [Zenith] would have to complete all their studies by October followed by the signing of the construction agreement as provided for in the preliminary agreement," says Chow, adding that the state government will be looking at the construction agreement for each package and not one single agreement for all four components.
"They (Zenith) would be able to start off [the PTMP] maybe next year. Whether it is 1Q or 2Q would depend on the progress of the work that is done over the next few months. By October, they would have to complete all their studies. We think that by 2H2018, we can finalise the design and work on the agreement.
"There is also a deadline which they do not want to miss which is the Environmental Impact Assessment (EIA) approval. It is only valid for two years — that is until October or November next year. They have to start by that date or else it would render the EIA invalid and they would have to submit a new application."
Meanwhile, SRS Consortium headed by Gamuda Bhd, has also submitted the necessary studies for the three components under them — the Light Rail Transit (LRT) project, the Penang Island Link and new reclamation sites.

"We are awaiting approval from the Land Public Transport Commission (SPAD) for the LRT scheme we have submitted more than two years ago, so that is still outstanding. That is preventing us and the consortium from proceeding to other more detailed design works. Without this approval, we can't progress to the next phase — that will incur cost."
EIA studies have also been submitted on the Penang Island Link and land reclamation works.
"Our EIA consultants believe that there are no other projects in the country that require so much study or to have so many studies to be submitted to various agencies for evaluation.
"And although this reclamation proposal was presented to the National Economic Council two years ago and approved in principle, nothing much has taken place at the federal level. We understand that they require all these studies to allow them to come to a conclusion and decision," says Chow.
Nevertheless, hopes are that by 2H18, the necessary proposals can be tabled to the relevant councils including the National Physical Planning Council for approval and that the relevant ministries would have resolved the outstanding issues.
If the approval is secured, SRS Consortium can look to kick-start the three components under them by 2H19, Chow adds.
On Pulau Jerejak
Last month, the Penang Island City Council (MPPP) announced that it has given the approval to developer Tropical Island Resort Sdn Bhd to demolish existing building structures on a 80 acres site on Pulau Jerejak to make way for redevelopment of the islet off the eastern coast of Penang Island.
Tropical Island Resort is a joint venture between Penang Development Corp (PDC) and UDA Holdings Bhd. It has in turn signed a joint-venture agreement with Q Islands Development Sdn Bhd, a subsidiary of Ideal Property Group to redevelop the site of the Jerejak Rainforest Resort & Spa.
However, some parties have raised concerns that the redevelopment of the area will affect the island's forest ecosystem which is to be gazetted as a forest reserve.
Chow says Pulau Jerejak's redevelopment became an issue because there was confusion over the facts of the redevelopment.
"When we talk about gazetting the island as a forest reserve, we are talking about Pulau Jerejak minus about 80 acres of land which has already been given to the PDC and UDA Holdings' joint-venture company. When they proposed the plan to develop that 80 acres of land, it is often taken as developing the whole island which is not true. The 80 acres have been developed in the past although not fully," explains Chow,
"In Penang, development is always a dirty word," he says, adding that the state remains committed to gazetting the rest of the island as a forest reserve.
"In the proposal, there is a bridge from the island to Pulau Jerejak to allow for electronic cars as the island has no carrying capacity for [normal] vehicles," Chow reveals. It was previously reported that the proposed redevelopment includes the bridge, 1,200 residential units, a marina, hotels and a theme park.
On balancing heritage preservation and development
Inscribed as a UNESCO World Heritage Site since 2008, one of Penang's most notable features is its pre-war shophouses and buildings at George Town.
The strict development guidelines in the heritage zone and the surrounding areas have drawn mainly investors who are interested in heritage preservation and conservation, offers Chow.
"There is tight heritage development control in the George Town World Heritage Site. And in fact, elsewhere outside the world heritage site, there is also a heritage guideline to be adhered to whenever there is a development.
"In the world heritage site, I think whoever wants to purchase a property here must be made aware that there is this height control. That already drives away a lot of developers for sure. What is there to be built when there is a height control of 18m and you can only build five storeys? This will not be a feasible proposition for many investors.
"I think we must view this in the right perspective and context. Even though there are height restrictions, approval is still on a case-by-case basis. For instance, if the neighbouring properties are two-storey shophouses, you can't build a five-storey development as it will be protruding out and disturb the streetscape of that particular street. We are really strict, so how many people would want to invest? To address the issue of development, we are not looking at wide scale development like tearing down everything and rebuilding," he says.
Changing the façade of the original buildings into something modern is also usually not acceptable.
"There is this one Singapore-based company that came to invest and to refurbish some of these buildings which were in dilapidated condition. They have a few dozen of such properties, a few rows here and there but one thing I cannot agree with them is that they always change the façade of the original buildings into something modern with glass panels and all that.
"I hope the local councils and the technical review committee can look into ensuring that the façades be retained as much as possible although the functionality of the properties will need to be addressed," he shares.
Is compliance cost too high?
According to some property developers in the state, compliance cost has gone as high as RM460 psf but this has been reduced to RM390 psf earlier this year. Nevertheless, developers lament that the cost is still too high. Will compliance cost be reduced further?
Chow admits that the Real Estate and Housing Developers' Association of Penang (Rehda Penang) and FIABCI Malaysia had previously requested the state government and local councils to allow higher density and plot ratio.
"Because the guidelines have been in place since the 1980s and some in the 1990s, they are no longer suitable for the current market as developers require higher density and higher plot ratio in order to overcome high land cost. We agreed to increase the density from 15-30 units per acre to 87 units per acre. But that came with new contribution [costs] and various charges.
"Developers can choose to use the old guidelines and pay the old rates, but if they opt for the new guidelines, they got to pay the new rates. It is both an incentive and disincentive in a way. If you want to use the new guidelines which allow you to have a higher density for units per acre, you can use it provided you pay the necessary contribution.
"Our purpose was to allow market prices to be controlled. Now that you get more units out of your land, with some contribution, you should be able to keep the prices at the affordable level. That was our main reason we agreed to the proposal, hoping that with higher density, they can keep prices to a level that buyers can absorb," offers Chow. Nevertheless, at the beginning of this year, infrastructure contribution was reduced from RM15 psf to RM5 psf, which is essentially the old rate.
He also notes that developers had requested for a review of the contribution for public and social amenities and facilities such as hawker centres. Following their request, the contribution cost was reduced by close to 50%.
"For developers who choose to build affordable housing, some of these contributions have been waived altogether as an incentive for them to build. The category of housing that we want to promote is affordable housing, which we have capped to a range of RM200,000-RM400,000," says Chow.
On a rent-to-own scheme for Penangites
The CM also wants to enable more Penang folk to have a roof over their heads. He feels that fresh graduates may not be able to afford a home as their incomes are not growing in proportion with housing prices. Hence, while the current low-cost and low-medium-cost housing schemes will still carry on, the state is also mulling rent-to-own schemes.
"Even for units that are [priced at] RM42,000 or RM72,000, many are still unable to own a home in this category. Securing a bank loan has been a problem in recent years, so we are thinking of this segment of people who can't afford to purchase even a low-cost or low-medium-cost unit. We hope the rent-to-own concept would be able to fulfil the needs of this category of people.
"We will convert some existing [affordable housing] schemes into rent-to-own schemes as some of these projects are ongoing and we have yet to allocate the units to buyers. Once we start allocating the units, we can offer this scheme instead of outright purchase. This will also help us to reduce the holding cost of the units. We may work with private developers to sell the units they have built to the state government at cost price and the state government can then allocate these units as part of a rent-to-own scheme," he shares.
Chow also sees the need for a paradigm shift in the idea of homeownership.
"We have been inculcated with the idea of home democracy where everyone should own a home. But if we are talking about having a roof over our heads for our family, then we need to do some rethinking — can we achieve that through rental?
"Especially for the young working group with income levels at the starting level, maybe they can have a roof over their heads through the rental market," he suggests.
However, he notes that there is one thing preventing the implementation of rent-to-own schemes — rental defaulters, which is an issue even for rental units that are only costing RM100 per month.
"I am sure you read about the execution of a recent eviction that we carried out recently. Even [at] RM100, they cannot afford to pay or they don't want to pay for whatever reason. This is a challenge for the authorities if people cannot or do not fulfil this basic responsibility. Probably, there is no [sense of] ownership. They keep paying their rent and in the end they get nothing. But if the unit is tied to ownership, this rent-to-own [scheme] may encourage them to pay the rent which they can consider as instalment as eventually, they will own the house. Hopefully, this will change the equation as to why people default on rent," he says.
On the struggle of middle income earners
Chow stresses that the state government will continue to focus on affordable housing schemes, especially those in the RM200,000-RM400,000 price range to cater to the middle income group.
"Under the old guideline where developers can build 30 units per acre, developers will build as big a unit as they can because they want to maximise [the land] and there is no control over the floor area. They hope that when they sell bigger units, they can set a higher price. This will only cater to the affluent population. So, the middle income group is caught and trapped between the high-end category which is beyond their reach and the low-end housing as they do not qualify for them.
"So, the affordable housing priced between RM200,000 and RM400,000 are catered to them. We are also looking at bringing prices even lower to RM150,000, all with the determination to satisfy the needs of our people so that they can have a roof over their heads".
However, he advises homebuyers to think about settling in not-so-popular locations in Penang. "Many are looking to stay on the island and close to George Town, which is quite impossible to have this kind of (affordable) developments.
"I think developers are also unable to sell some of these units because of the geographical mismatch. There are a lot of housing units at the mainland such as Batu Kawan. Even our PDC project, we face difficulties in getting buyers even for the RM72,500 units. So, this is the problem with geographical mismatch," he notes.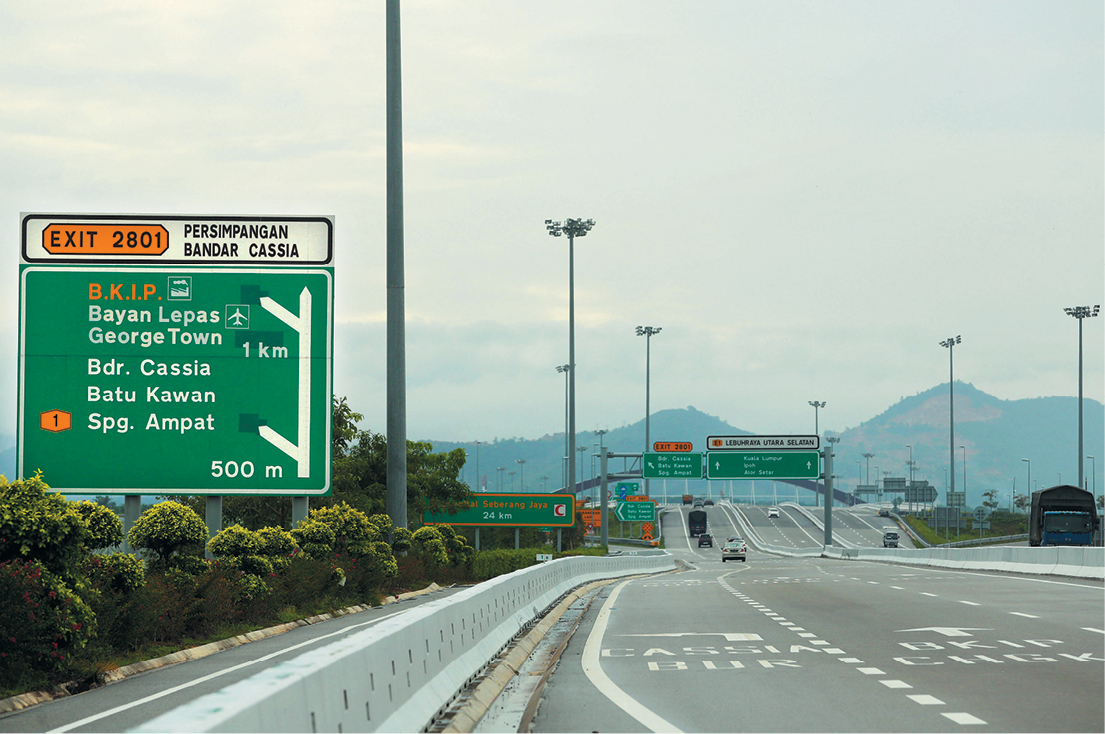 Mainland — the future of Penang
Speaking of Penang mainland, Chow believes that the future of Penang lies in this part of the state.
"I made a statement a few years back on the occasion of the swearing in of the Seberang Perai municipal councillor where I said the future of Penang is in Seberang Perai (the mainland). And the then chief minister concurred with me 100% because we understand that Penang [island] land development is close to optimum so the future lies with the mainland, which has great potential for growth.
"In the various development allocations, you can see that we give emphasis on Seberang Perai. It is actually 77% (mainland) against 23% (island) allocation for infrastructure and others.
"This is the state government's position — that we want Seberang Perai to be given emphasis so that it can also offer opportunities for all categories of development," says Chow. Currently, the booming area on the mainland is the Batu Kawan area, of which prior to the change in government in 2008, there was little activity other than a few landed housing developments.
"Under the leadership of Saudara Guan Eng (the previous CM), if you go to Batu Kawan now, the industrial land there has almost run out. PDC is now working on land acquisitions at the south and east of Batu Kawan because we need that landbank to promote Penang as a preferred choice for investment. We have run out of industrial land. Meanwhile, from my visits and observation [to the mainland], the area south of Bukit Mertajam right up to Nibong Tebal over the past few years have been very active in terms of development.
"There are so many various categories of development so much so that there is a clash of land use when developments come near to poultry farming areas, for instance," says Chow.
Whereas for Seberang Perai Utara — he notes that there has not been much housing and commercial developments but he believes things are about to change owing to upcoming developments such as by S P Setia Bhd, which is working on 677ha of freehold land there that it bought from Boustead Plantations in 2016.
"The master plan is almost completed and it has 15 to 20 years to develop the land. Hopefully, that will have a spin-off effect on the surrounding areas.
"The master plan of Batu Kawan is a mixed development of residential, commercial and industrial so that didn't take off that well in the beginning. But of course to be fair to PDC, they were involved in making sure the land is ready for development — it was basically a swampy area and [they] have to put in the roads and the infrastructure.
"For many years, they were involved in the preliminary works to get the land ready for development. [With] the change of government, it was ripe for investment principally on the industrial land. It also got the attention of IKEA and Aspen Group. Even Eco World has a big parcel of land there".
According to Chow, land sold by PDC has to be developed within three years as stated in the Sale and Purchase Agreement. "There were some bungalow land plots that have been purchased and left idle so PDC went after them to buy back the land".
Meanwhile, Invest Penang, a non-profit entity of the state government with the role of promoting investments within Penang, will chaperone investors through the whole process of investing in the state so that any problems can be overcome through them with the various related agencies.
"In fact, they [the developers] can build before planning approval. There is a mechanism to allow construction to start while plans are being processed. There was even a case that within 10 months, a factory was put up. That is the kind of KPI we want to work with so that investors don't have to wait or deal with red tape. This makes Penang an attractive investment destination," says Chow.
This story first appeared in EdgeProp.my pullout on June 29, 2018. Download EdgeProp.my pullout here for free.