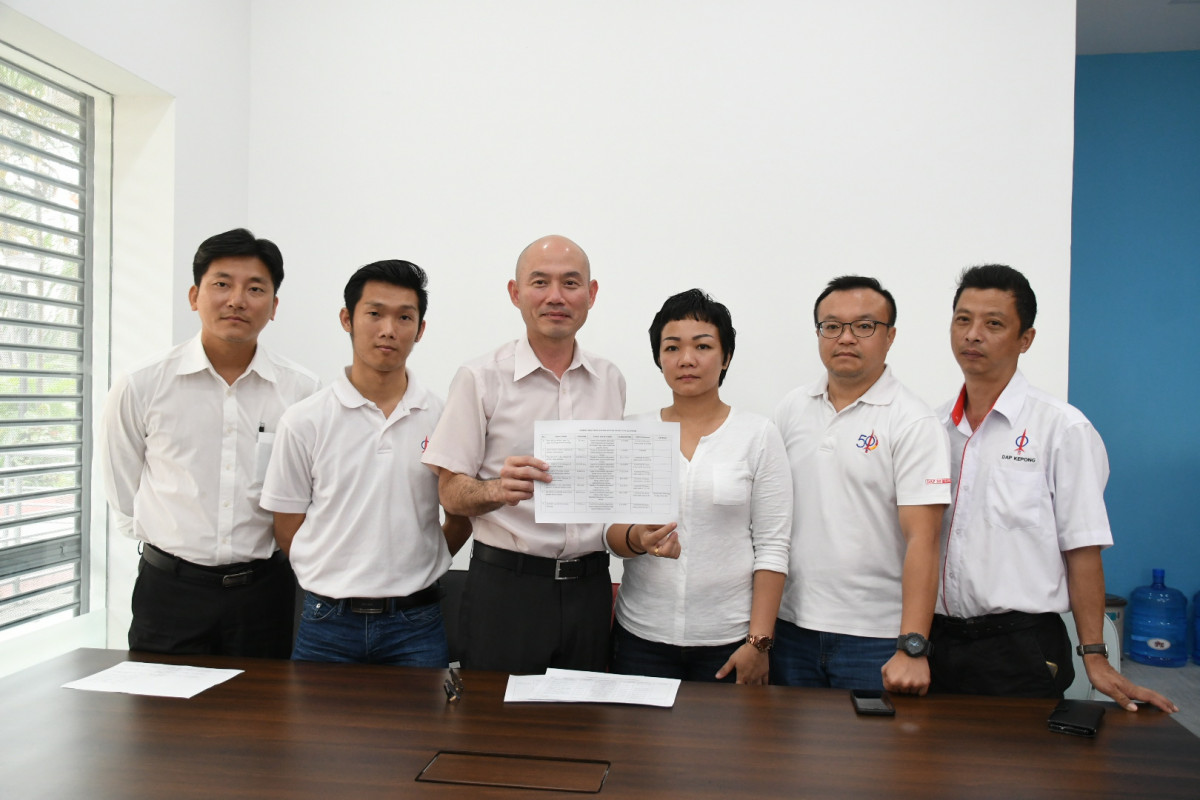 KEPONG (Aug 23): Kepong MP Lim Lip Eng will lodge a report with the Malaysian Anti-Corruption Commission to investigate 19 pieces of land owned by Yayasan Wilayah Persekutuan (YWP).
According to Lim, these 19 plots are cumulatively over 30.2 acres, all of which are prime land in KL, including a piece of land in Taman Rimba Kiara.
He said based on information obtained from the Kuala Lumpur Land Office, the land sizes of some of these parcels range between 236 sqm (0.06 acres) and 48,610 sqm (12.01 acres).
These plots are a mix of freehold and leasehold-titled land while their usage are for commercial, residential or mixed-use developments.
Lim noted that some of the lands are being transacte and is urging Federal Territories (FT) Minister Khalid Samad to freeze the transactions and file caveats on these plots to prevent misuse of power or illegal transactions by YWP.
Lim stressed that YWP was set up with the objective of looking after the welfare of the bumiputera, so the funding should come from government allocation and not land sales.
"It's abnormal for a government agency to hold this amount of land and sell them off to the private sector without [going through an] open tender process," he said at a press conference at the Democratic Action Party (DAP) office here today.
Among these plots, nine pieces of the land were transferred to YWP under former FT Minister Datuk Seri Tengku Adnan Tengku Mansor's administration.
Tengku Adnan had also previously sat on the foundation's board of trustees.
"The previous 64 dubious land deals which have been reported to MACC, together with these 19 plots [makes up a total of 83 tract], which means during Tengku Adnan's administration, he has on average sold one plot every month during his five years at the FT Ministry," he added.
He noted that if the plots were sold at below market price for the development of affordable homes, the transactions should be carried out through the open tender process which is transparent and efficient.
"The unfair part is why only one company owns so many plots and why some of the land were sold to non-property development companies?" added Lim.


Information of the 19 plots owned by Yayasan Wilayah Persekutuan

No

Location

Size (sqm)

Land title

Permitted developments

1

PM 7426 Lot 44016, Batu 7½, Jalan Puchong, Mukim Petaling

317

Leasehold

(tenure ends 2103)

Shops and offices

2

GRN 73570 Lot 20012, seksyen 41, Bandar Kuala Lumpur

783

Freehold

Commercial

3

HSD 119755 PT 158, Seksyen 55, Bandar Kuala Lumpur

236

Leasehold (tenure ends 2113)

Shops

4

HSD 120047 PT 157, Seksyen 55, Bandar Kuala Lumpur

236

Leasehold (tenure ends 2115)

Shops

5

HSD 1197 PT 15232, next to Sungai Besi Expressway, Mukim Petaling

8,464

Leasehold (tenure ends 2113)

Commercial and offices

6

PT 154, Jalan Union, Seksyen 79, Bandar Kuala Lumpur

554

Leasehold (tenure ends 2113)

Residential

7

HSD 119506 PT155, Jalan Union, Seksyen 79, Bandar Kuala Lumpur

567

Leasehold (tenure ends 2113)

Residential

8

PN 52874 Lot 480948, Bukit Kiara, Mukim Kuala Lumpur

48,610

Leasehold (tenure ends 2113)

Mixed development

9

PN 52903 Lot 102132, Mukim Petaling

23,340

Leasehold (tenure ends 2113)

High-rise residential

10

PN 52948 Lot 201395, Mukim Setapak

30,970

Leasehold (tenure ends 2113)

Mixed development

11

PM 8671 Lot 102138, Mukim Petaling

7,326

Leasehold (tenure ends 2116)

Affordable apartment

12

PN 53000 Lot 101882, Bandar Tasik Selatan, Mukim Petaling

796

Leasehold (tenure ends 2115)

Commercial

13

*HSD 119599 PT 9244, Mukim Kuala Lumpur

-

-

-

14

*HSD 120752 PT 9695, Mukim Kuala Lumpur

-

-

-

15

*HSD 120753 PT 9696, Mukim Kuala Lumpur

-

-

-

16

*HSD 120754 PT 9697, Mukim Kuala Lumpur

-

-

-

17

*HSD 120755 PT 9698, Mukim Kuala Lumpur

-

-

-

18

*HSD 120756 PT 9699, Mukim Kuala Lumpur

-

-

-

19

*PN 52244 Lot 101856, Mukim Kuala Lumpur

-

-

-

Source: Kepong MP Lim Lip Eng

*According to Lim's sources, no further details