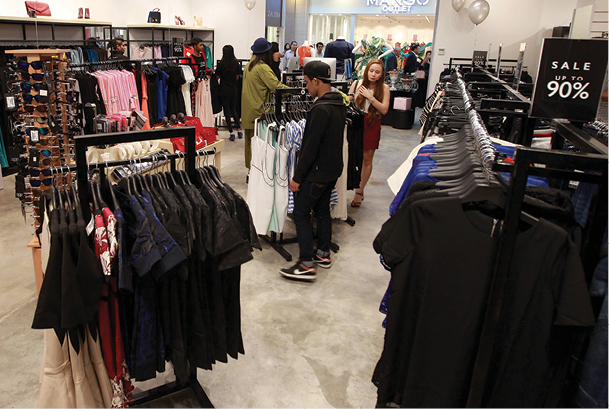 KUALA LUMPUR (Sept 18): Consumer spending — which accelerated during the tax holiday period from June to September that saw a mad rush for automotive purchases — is expected to decline from the fourth quarter (4Q18) onwards following the implementation of the sales and service tax (SST) on Sept 1, say economists.
Data from Bank Negara Malaysia showed private consumption expanded at a stronger pace of 8% in 2Q18, the highest since 1Q15, while the Malaysian Institute of Economic Research findings showed that the Consumer Sentiment Index soared to a 21-year high of 132.9 in 2Q18.
Domestic demand driven by the private sector is seen as one of the main drivers for gross domestic product (GDP) growth, which came in at 4.5% in 2Q18.
Economists contacted by The Edge Financial Daily opine that consumer spending is expected to taper off in the later part of the year, but is nevertheless expected to fuel growth, albeit at a slower pace.
Socio-Economic Research Centre executive director Lee Heng Guie expects private consumption to increase 7.2% this year and 6.8% in 2019.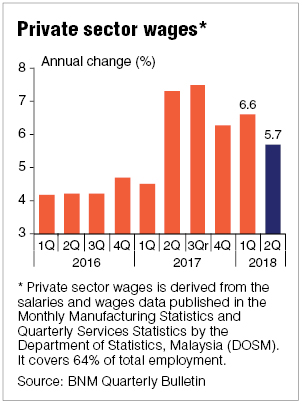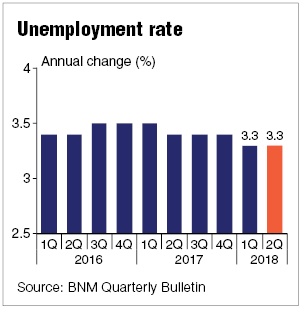 "The fundamental drivers to support household spending will have to be sustained," said Lee. "These include continued strength in income and employment as well as stable prices of goods and services [with] the SST [implementation]. It must be noted that private sector's wage growth has moderated to 5.7% in 2Q18 from 6.6% in 1Q18, while the unemployment rate has inched up a little to 3.4% in June from 3.3% in May."
"The support for consumer spending is higher minimum wage increases of between 5% and 14.1% starting Jan 1, 2019. Another wild card on consumer spending is the possibility of reviewing the Cost of Living Aid (formerly known as BR1M) [1Malaysia People's Aid] to the well-deserved households," he said.
MIDF Research chief economist Dr Kamaruddin Mohd Nor opined that private consumption is expected to remain as a main driver for domestic growth underpinned by continued income growth and better sentiments.
"Despite the introduction of [the] SST, the overall price level is expected to remain tepid. Real private consumption growth of 8% seen in 2Q18 will continue into 3Q18 amid the tax holiday period
"The continued wage growth of 6.15% in the first half of the year, which was driven by a robust external sector is expected to be sustained into the second half, and this will boost the domestic spending.
"In addition, less items covered in [the] SST will hopefully translate into lower prices for excluded items and boost consumer purchasing power," he said.
AmBank group chief economist and head of research Dr Anthony Dass noted that 5,443 items were declared exempt under the SST.
"This will put less burden on consumers and boost spending power although the government might be on the losing end by foregoing extra revenue under the GST regime.
"Besides, the steady GDP growth, healthy labour market and fairly contained inflationary pressure will continue to support consumer sentiments positively," he said.
As to whether Malaysians have the capacity to spend as "belt tightening" is said to be the theme for the upcoming Budget 2019, Dass said they would have the capacity as their disposable income should have improved since the goods and services tax (GST) was scrapped on June 1.
"Purchasing of cars during the GST tax holiday break is more of the pent-up demand, bringing forward their planned purchase by taking advantage of the 6% drop in price, which now translates into lower monthly repayment compared to if the 6% GST remained.
"The savings from this monthly repayment following the purchase of the car are expected to filter into the system through spending on goods and services [if not set aside as savings] ," he said
Last week, a few automotive players shared the new pricing for their models which were shown to be 1% to 3% cheaper with sales tax, compared to GST.
However, an economist from a local investment bank does not think consumer spending looks promising, given the reports that BR1M will be reviewed.
"BR1M plays a significant part in spending as it is for the bottom 40 percentile and the middle income to some extent by supplementing their income. When you give RM1 to the poor they will spend it but if you give that same RM1 to the rich, they will save it, so with BR1M out of the picture, consumption may not be as robust as before.
"There is too much of uncertainty now [in terms of policy] and this will lead to cautious spending from the rakyat," she said.
Retail Group Malaysia (RGM) reported last Friday that the Malaysian retail industry reported a lower growth rate of 2.1% in retail sales in 2Q18 compared with 4.9% in 2Q17. The report said Malaysian consumers did not go all out to spend on all kinds of retail goods mainly because they did not have extra incomes to do so, despite the zerorisation of the GST in June, the Hari Raya festivities, the World Cup and Father's Day taking place during this period.
RGM then revised its 2018 Malaysian retail sales growth forecast downwards to 4.1% from its earlier forecast of 5.3% in June.
This article first appeared in The Edge Financial Daily, on Sept 18, 2018.