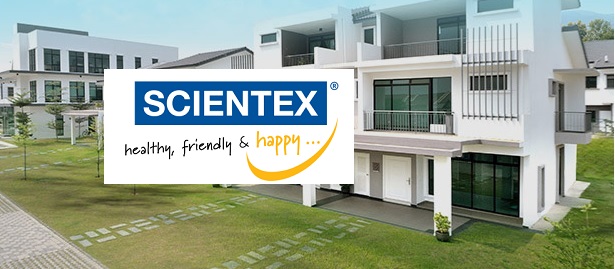 KUALA LUMPUR (Sept 21): Scientex Bhd has reported its best quarterly net profit of RM88.29 million in the fourth financial quarter ended July 31, 2018 (4QFY18), driven by robust sales volume in the manufacturing segment and maiden contribution from the recently-acquired Klang Hock Plastic Industries Sdn Bhd (KHPI).
This was also complemented by higher profit from the property development segment on greater efficiency and better product mix, it said.
The packaging manufacturer and property developer's net profit rose by 22.4% in 4QFY18 from RM72.13 million in 4QFY17.
This resulted in a higher earnings per share of 18.06 sen for the quarter under review compared with 15.02 sen for 4QFY17.
Revenue for 4QFY18 grew by 13.5% to RM733.15 million — the group's highest ever so far in a quarter — from RM646.07 million a year ago.
The group also proposed a final dividend of 10 sen per share for FY18, subject to approval at the coming annual general meeting. This will bring total dividend for the year to 20 sen per share or RM97.8 million.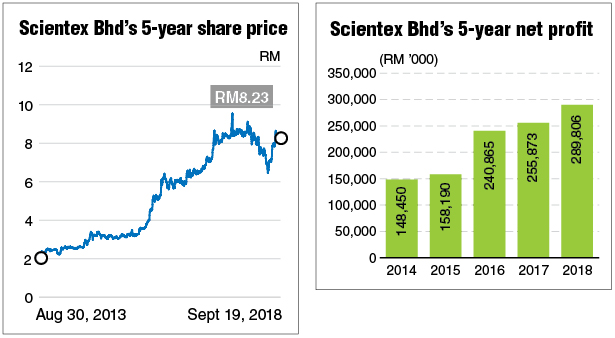 The strong quarterly performance has helped it deliver a record net profit of RM289.81 million in the full year ended July 31, 2018 (FY18), a 13.3% increase from RM255.87 million a year ago.
It also delivered its best-ever revenue of RM2.63 billion in FY18, up 9.3% from RM2.4 billion in FY17.
In a statement yesterday, Scientex attributed the improved performance to higher sales volume in the manufacturing segment, on account of higher utilisation in its Malaysia plants, as well as expanded total annual output capacity to 450,000 tonnes in FY18 from 356,000 tonnes in FY17.
"The expansions undertaken throughout FY18 comprise the establishment of a new stretch film plant in Arizona, US and the acquisition of KHPI, a leading regional flexible plastic packaging (FPP) player (in February)," it added.
Scientex managing director Lim Peng Jin said the expansion in production capacity gives the group a geographically diverse exposure across key customer markets in Asia and the Americas.
"(It) also lends significant support to our long-term growth aspirations as we strive to capture a larger share of the robust FPP market globally and reinforce our position as a leading FPP manufacturer in the world," he added.
New launches in FY18 also reached a record high of RM1.2 billion in gross development value (GDV), bringing the GDV of ongoing and future developments to RM13.5 billion which would sustain the group for over 10 years.
On property development prospects, Lim is confident of the group's progress in meeting its vision of delivering 50,000 affordable houses by 2028, which in turn will establish its reputation as one of Malaysia's leading builders of affordable homes.
"This vision is supported by our landbank purchases worth close to RM500 million in FY18 in strategic locations such as Rawang, Selangor, Senai and Pulai in Johor and Durian Tunggal, Melaka," he said.
"We are extremely buoyed by the demand for our developments, as our new launches in Melaka, Johor and Ipoh have achieved overwhelming take-up rate within six months from the launch dates," he added.
On prospects, Scientex said with its overall capacity expansion recently completed boosted by the recent acquisition of KHPI, it is well-positioned to move aggressively into existing and new markets soon and is cautiously optimistic that positive results will be seen in the coming financial year.
This article first appeared in The Edge Financial Daily, on Sept 21, 2018.