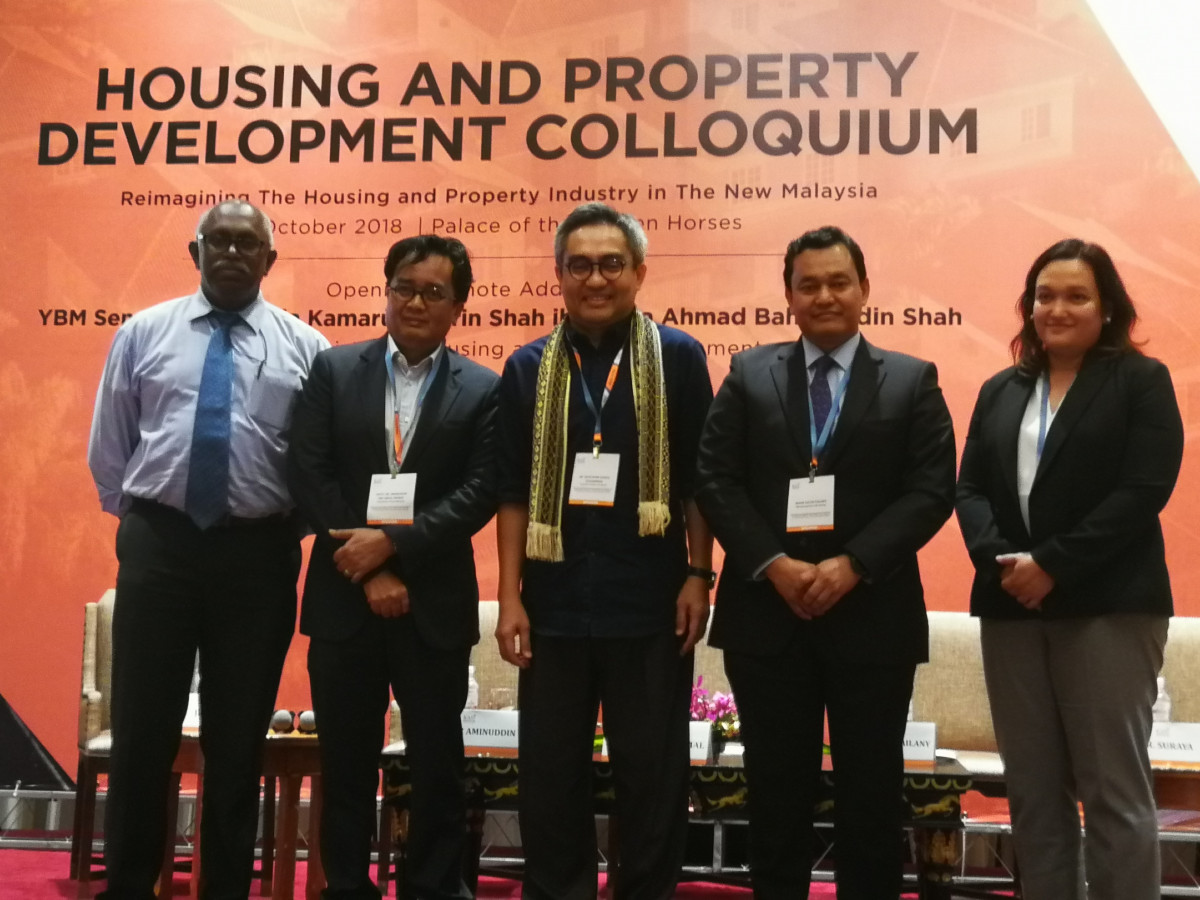 SERI KEMBANGAN (Oct 2): Developers, researchers and policy makers opined that to resolve the affordable housing availability problem, all stakeholders in the public and private sectors need to work together to offer multiple solutions.
National Housing Department director-general Jayaselan Navaratnam said many people are arguing over the suitable price for affordable homes but it is impossible to standardise the calculations into one price tag.
He noted that different development have different costings due to location and construction cost, thus it will be hard to fix a price at a pre-determined period.
Thus, National Housing Department has set a reference price for three types of affordable homes which caters for different needs – RM150,000 and below (type I), RM150,001 to RM300,000 (type II) and RM300,000 to RM500,000 (type III).
Besides this, the Housing and Local Government Ministry also plans to build 10,000 units of one-bedroom apartments for singles or small families who are looking at smaller homes with more affordable prices.
"We have shortlisted five locations for this project, all are in the pipeline," he said during the session titled "The affordable housing debate: Solving the conundrum" today.
It was one of the sessions under the "Housing and Property Development Colloquium" held here today.
Other panelists who took part in the session include Khazanah Research Institute director of research Suraya Ismail, 1Malaysia People's Housing (PR1MA) chief operating officer Datuk Aminuddin Abdul Manaf and PNB Development Sdn Bhd CEO Mohd Salem Kailany.
The session is moderated by Mustapha Kamal Zulkarnain, a committee member of the Housing & Urban Wellbeing and Malaysian Institute of Architects.
Suraya said the usage of technology, for example, Industrialised Building System (IBS) could be a way to lower the cost of construction.
"For instance, Forest City developer [Country Garden Pacificview Sdn Bhd] which has invested RM3.2 billion in building an IBS plant has seen its prefabrication mould segment making profit. The company's precast concrete could bring down the cost to RM65 psf," she noted.
She opined that developers should embrace new technologies, not only for building affordable housing, but also to enhance their competitiveness in global market.
"Building affordable homes shouldn't be something that drains developers' profit," she said.
Meanwhile, PR1MA's Aminuddin revealed that the company has difficulties in building more homes as obtaining land from state government is not easy.
Besides this, obtaining end-financing is also another problem for homebuyers.
"From July 5 to September 2 this year, there are a total of 11,311 people who attended our open day event; 4,638 interested buyers have passed the initial eligibility checkpoint and among them 2,789 are qualified for unit selection. However, at the end, only 25% of them could secure mortgage loans to purchase the unit," he noted.
Mohd Salem from PNB Development concurred that the usage of new technologies such as IBS and solar powered system could be one way to bring down construction costs.
However, he noted that to resolve the problem, all stakeholders need to contribute to make houses affordable.
For instance, the authorities could help by reducing or waiving land premium or development charges, provide facilitation fund or provide land for affordable homes project.
As for suppliers or vendor, they could play a part by reducing their charges to reduce the construction cost.
He revealed that PNB Development has taken the initiative to build 5,000 homes prices between RM180,000 to RM250,000 within five years for low to middle income group.
"We have built 140-unit single storey houses with built-ups of 960 sq ft in our pilot project in Port Dickson. [Another] upcoming project will be [a further] 1,500 houses in Banting," he added.
Themed "Reimagining the Housing and a Property Industry in the New Malaysia", the one-day colloquium is organised by Kingsley Advisory & Strategic Initiatives Institute (Kasi Institute).
EdgeProp.my is the media partner for the event.