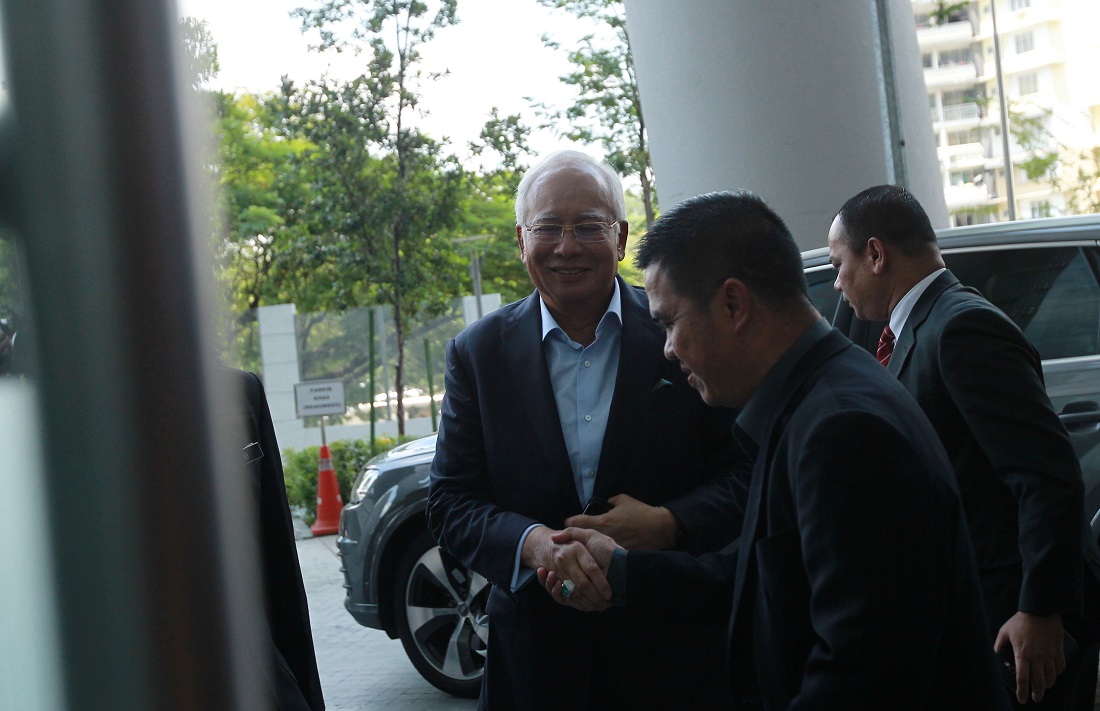 KUALA LUMPUR (Oct 25): Datuk Seri Najib Razak, who was charged today with diverting RM6.636 billion of government funds, argued the action was to avoid a national default amid numerous contractual obligations.
The former prime minister, alongside former Treasury secretary-general Tan Sri Mohd Irwan Serigar Abdullah, face six counts of criminal breach of trust involving the sum which was diverted from its original intent and instead used to repay obligations involving 1Malaysia Development Bhd (1MDB), the East Coast Rail Link project, and two gas pipeline projects.
"My conscious is clear," Najib told the media about his partaking in the decision to divert the funds, shortly after posting half of his RM1 million bail in relation to the charges.
"The decisions taken were taken for the interest of the nation, in the context of when you receive certain money you have to pay back.
"Otherwise, we will be at default and it will lead to collapse of the bond market. That will be very serious," he said at the Kuala Lumpur Court Complex.
As such, Najib, who is also former finance minister, described the charges as unjustified.
"There were no indication, no accusation of personally benefitting [from] the decisions that we've taken," he said.
1MDB had borrowed US$1.2 billion from IPIC in 2015. The sum was repaid by 1MDB under a settlement agreement inked in 2017. 1MDB said at that time that it raised the funds for repayment via asset sales, but did not give details.
As for ECRL, the government through Malaysia Rail Link Sdn Bhd (MRL) had paid the project's contractor China Communication Construction Co (CCCC) some RM19.68 billion for advanced payment, as well as for completed portions of the project.
Separately, MoF's unit Suria Strategic Energy Resources Sdn Bhd (SSER) paid 88% of the RM9.4 billion costs to develop two gas pipeline projects to contractor China Petroleum Pipeline Bureau (CPPB), despite it being only 13% completed.— theedgemarkets.com