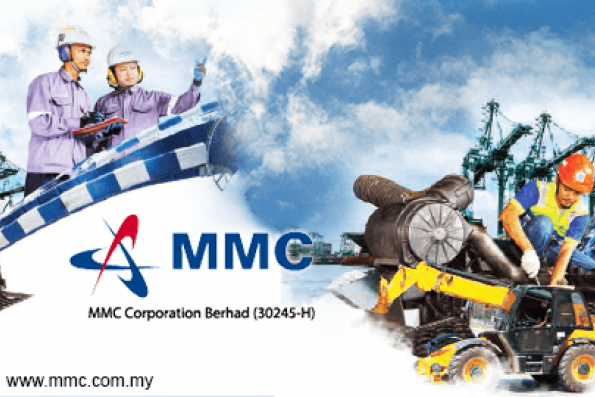 MMC Corp Bhd (Oct 29, RM1.10)
Upgrade to outperform with a lower target price (TP) of RM1.30: Positive on the news that the cabinet has accepted MMC Corp Bhd-Gamuda Bhd joint venture's (JV) offer to reduce the cost of tunnelling works for the mass rapid transit line 2 (MRT2) by RM3.6 billion to RM13.1 billion, we raise our financial years 2019 to 2020 estimate (FY19 to FY20E) core net profit (CNP) by 46% to 62% respectively. We upgrade to "outperform" (OP) but on a lower TP of RM1.30 (from RM1.45) after lowering valuations on Malakoff Corp Bhd and Zelan Bhd, as well as removing the Senai Airport land valuation despite strong earnings adjustments.
The finance ministry (MoF) announced on Oct 26, 2018 that the cabinet took the offer from MMC-Gamuda JV on the RM3.6 billion cost reduction for MRT2 tunnelling works, bringing the cost down from RM16.7 billion to RM13.1 billion. The remaining works' value would be reduced from RM9.6 billion to RM6 billion. Recall that this is after the MoF's announcement on Oct 7, 2018 that it will be terminating the MMC-Gamuda JV as the main contractor for the MRT2 tunnelling works worth RM16.7 billion as the government was looking at cost savings from RM4.2 billion to RM5.8 billion for the remaining tunnelling works.
We are positively surprised as we did not expect the JV's reappointment in light of the sudden termination recently. As such, we laud the government and MMC-Gamuda for their efficiency in concluding the renegotiation within a limited time frame. The renegotiated terms include cancelling two underground stations — Bandar Malaysia (North) and Bandar Malaysia (South). We opined that cancelling these stations as reasonable for now due to the lack of development activities in Bandar Malaysia.
We are positive on this news impact to earnings as the MMC-Gamuda JV will proceed with works in full swing albeit at a lower contract sum of RM6 billion for the remaining works without compromising the original timeline, while the MRT2 is scheduled to be fully operational by 2022. To recap, during the contract's termination, we initially downgraded FY19 to FY20E CNP by 43% to 63% after removing the tunnelling works from our estimates, and downgraded our call to "market perform" (from OP) and the TP to RM1.45 (from RM1.95). All in, we raise FY18 to FY19E CNP by 46% to 62% to RM88 million to RM76 million after accounting for the renegotiated tunnelling works into our forecasts.
After accounting for the resumption of MRT works, we also lowered our sum-of-parts (SoP) discount rate of 25% (from 35%), closer to our in-house levels of 15% to 20% on this news' positive impact, meaning stronger earnings visibility. However, our TP is essentially lowered after also accounting for a lower market value from Malakoff after recently lowering our in-house TP to RM1.05 (from RM1.20); removing the Senai Airport land, valued on land basis at RM20 per sq ft over 2,080 acres (841.75ha), from our SoP valuations due to the lack of land sales in recent years; and lower valuations for Zelan in line with its current market capitalisation. We believe our "OP" call is justified at current levels as it is still supported by the groups' port business making up the largest portion of its valuations, as well as listed associates Malakoff and Gas Malaysia Bhd (Gasmsia). The upside to our valuations could come from the potential sale of the Senai Airport land, which may prompt us to include it back into our SoP. The risks to our call include lower-than-expected port activities, slower-than-expected construction progress, and derating of associates Malakoff and Gasmsia.
We expect MMC Corp's earnings outlook to rely heavily on port operations going forward. Currently, its portfolio of ports consists of Port of Tanjung Pelepas, Johor Port, Northport, as well as the recently acquired Penang Port. That said, we do not discount management's continued pursuit to acquire additional ports to boost its profile as the largest port operator in the country. Meanwhile, the construction progress for MRT2 is currently at 24% for the elevated portion, and 33% for the tunnelling portion, with expected completion in 2022. — Kenanga Research, Oct 29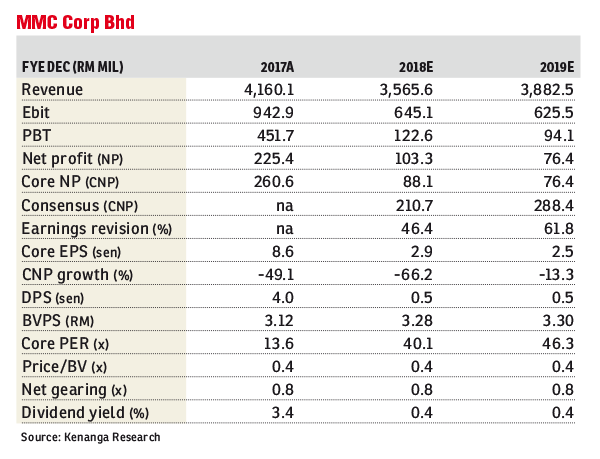 This article first appeared in The Edge Financial Daily, on Oct 30, 2018.