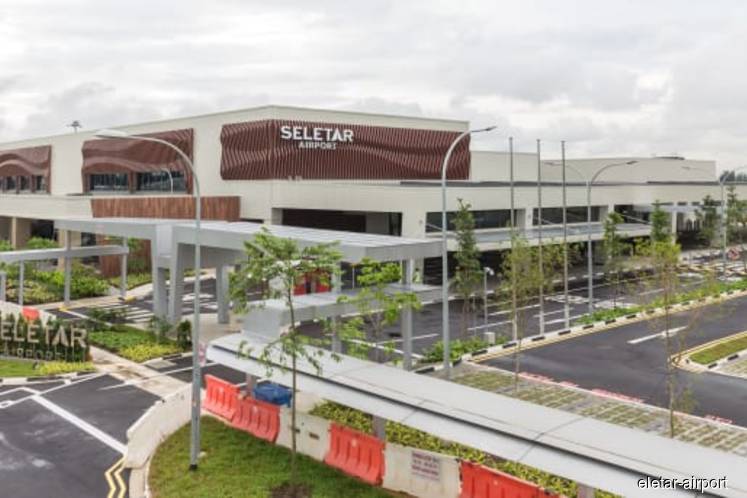 KUALA LUMPUR (Dec 13): The northerly flight path for Singapore's Seletar Airport that is disputed by Malaysia is necessary, says Singapore, because wind blows from different directions in this region in the first and second half of the year.
"Flight procedures for both directions are necessary because aircraft land and take off into the wind. In this region, winds blow from a north-easterly direction for half of the year, and a south-westerly direction for the other half of the year.
"Therefore, flight procedures for a southerly approach cannot safely replace all flight procedures for the northerly approach," Singapore's Transport Ministry said in a statement last night.
Which is why CAAS had explained to CAAM in a meeting on Nov 29 that in addition to the current approach of the new Instrument Landing System (ILS) procedures for the northerly approaches into Seletar Airport, CAAS would also be implementing instrument flight procedures for the southerly approaches, it said.
It also denied Malaysia's claim that the implementation of the ILS procedures for the northerly approach into Seletar Airport would violate Malaysia's sovereignty and international law and standards.
"It is not uncommon for flight procedures to/from airports in one State, especially those near other States, to traverse the territories of neighbouring States. This does not entail a violation of the sovereignty of the States being overflown. The instrument flight procedures for some Malaysian airports also extend into the territories of neighbouring States," it said.
"Singapore respects Malaysia's sovereignty. Cross-border airspace management is not incompatible with sovereignty. The purpose of airspace management is to ensure the safety and efficiency of air traffic," it added.
On that note, it said Malaysia had agreed to Singapore's management of airspace over Southern Johor in 1973, and a bilateral agreement was signed in 1974 to operationalise this agreement. It added that the ILS procedures for Seletar Airport were published in accordance with Singapore's responsibilities under the relevant ICAO requirements as well as the bilateral arrangements with Malaysia.
"Singapore had nonetheless consulted Malaysia since December 2017 in the spirit of goodwill. Malaysia has never raised any objections to the existing flight profile in place for Seletar Airport which the ILS procedures adhere to. They provide an additional tool for the safe and efficient operation of aircraft, for the benefit of all," it said.
Nevertheless, it said it is prepared to discuss Malaysia's technical concerns in good faith.
"On Dec 4, 2018, Malaysia Minister of Transport Anthony Loke stated that Malaysia would be giving Singapore its counter proposal. We look forward to receiving Malaysia's counter proposal, and would be pleased to meet with Malaysia thereafter," it added. — theedgemarkets.com