KUALA LUMPUR (Dec 20): Tan Sri Vincent Tan (pictured), who is back at the helm of the Berjaya group, yesterday unveiled his big plan to restructure his business empire that may involve the sale of assets, privatising two companies — 7-Eleven Malaysia Holdings Bhd and Berjaya Land Bhd (BLand) — as well as the listing of hotel business in Singapore.
The plan will start with asset sale at his flagship Berjaya Corp Bhd (BCorp). According to Tan, the group is in the midst of sealing a deal to sell its Four Seasons Hotel and Hotel Residences Kyoto for about US$700 million (RM2.93 billion) to US$800 million, which will translate into a divestment gain of US$400 million.
After the sale of the hotel in Kyoto, BCorp will have an expanded war chest to buy out 7-Eleven Malaysia Holdings, whose share price has slipped to a 15-month low of RM1.27.
To do that, Tan will sell his majority 46% stake in 7-Eleven Malaysia Holdings to BCorp, which will then launch a takeover offer to buy out the convenience store chain operator. Based on yesterday's closing of RM1.27, 7-Eleven Malaysia Holdings' market capitalisation stood at RM1.56 billion. Tan's stake is valued at RM756.8 million.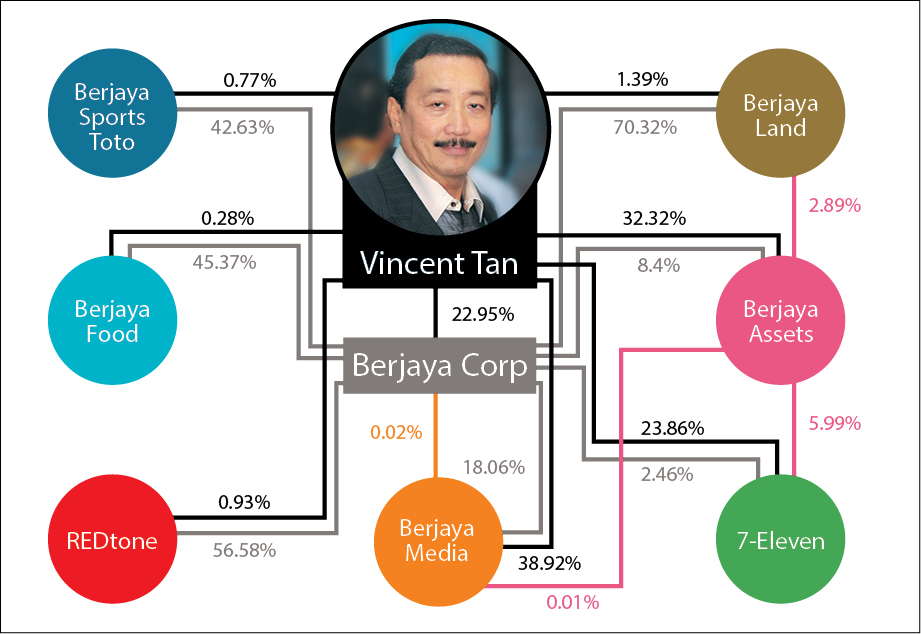 Meanwhile, BCorp may carve out the hotel assets from BLand, in which it controls a 70.32% stake, and float the assets in Singapore. BLand, which is trading at a sharp 77.8% discount to its net asset per share of 81 sen, will be taken private.
Furthermore, Tan intends to inject his private business into Berjaya Media Bhd (BMedia) given that the company's media business has not fared well. Tan holds a 38.92% stake in BMedia, while BCorp holds an 18.06% stake.
Speaking to the media yesterday, Tan, the executive chairman of BCorp, said the restructuring exercise would enable BCorp to acquire the prized assets held by the listed subsidiaries at the current cheap valuations.
He commented that shares in the listed entities in the Berjaya group are largely undervalued, citing BLand and 7-Eleven Malaysia Holdings as examples, and that the market has not given the decent valuation that BCorp deserves as a diversified conglomerate.
"We are considering maybe selling all my 46% shareholdings in 7-Eleven to BCorp, then let BCorp launch a general offer, but nothing is firm yet. 7-Eleven is being undervalued; to me it should worth more than US$1 billion," said the tycoon, who relinquished his position of executive chairman in BCorp in 2012 at the age of 60.
In 2011, Tan handed over the role of chief executive officer (CEO) to his eldest son, Datuk Seri Robin Tan Yeong Ching, who assumed the executive chairman post in January 2012. The tycoon returned as the group's executive chairman last year, while Robin remains the CEO.
"BLand is very much being undervalued, so we might delist it, and list the hotel business at SGX (Singapore Exchange), I think there will be five or six hotels there. We cannot list it here (Malaysia), because of SC's (Securities Commission Malaysia) chain listing requirements, there are a lot of requirements, so it is easier for us to list there," said Tan.
Commenting on Berjaya Food Bhd, Tan said management has stopped the bleeding at Kenny Rogers Roasters, which is breaking even now.
At U Mobile Sdn Bhd, Tan said, the initial public offering plan remains intact and will happen next year, or by 2020, at the latest.
"U Mobile is ready for listing, it is Ebitda (earnings before interest, taxes, depreciation and amortisation) positive now," he said.
Temasek-owned Singapore Technologies Telemedia has a 49% stake in U Mobile, followed by Tan (through U Telemedia Sdn Bhd's 21.44%, a direct stake of 6.2% and Berjaya Infrastructure Sdn Bhd's 2.01% stake), Sultan Ibrahim of Johor (14.98%) and billionaire Tan Sri Surin Upatkoon's Magnum Bhd (6.33%).
Also, Tan is interested to form a joint venture with the Johor state government to build a new international airport on Tioman Island.
"I think it will be a viable business, and Tioman Island needs such an airport. We are proposing to the federal government now, hoping that they support the idea," he said.
This article first appeared in The Edge Financial Daily, on Dec 20, 2018.