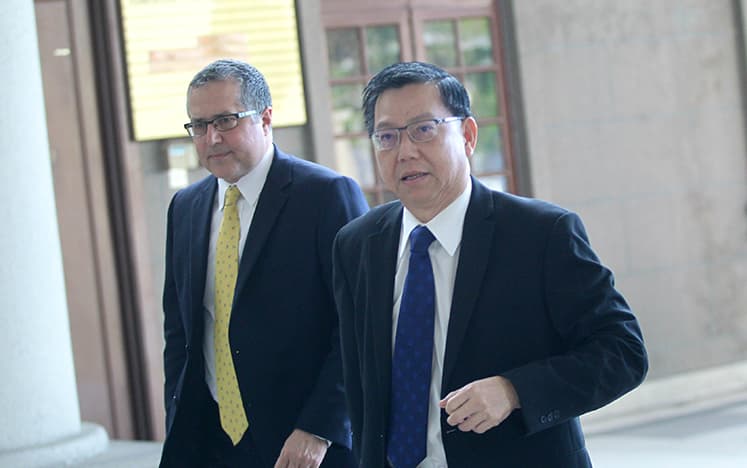 KUALA LUMPUR (Jan 4): The Sessions Court has issued a temporary remand on Roger Ng Chong Hwa before deciding whether to grant bail to the former Goldman Sachs employee amidst his extradition hearing.
Judge Edwin Paramjothy Michael Muniandy said he needs more time to study some of the previous judgement made in relation to cases similar to Ng's extradition.
However, Ng's lawyer Datuk Tan Hock Chuan said according to Section 16(2) of the Extradition Act, Ng's remand only last until his first appearance at the Sessions Court.
Therefore, Edwin Paramjothy issued the temporary remand on Ng until Monday (Jan 7).
This morning, Tan told the Sessions Court that it was difficult for him to prepare for the defence as Ng has limited access to his legal counsel.
According to Tan, Ng was only given one hour per week to meet with his legal counsel for preparation of defence against this extradition application to the US and charges against him in relation to abetting Goldman Sachs' alleged crime in 1Malaysia Development Bhd (1MDB) bond issuances.
Tan had earlier requested 15 minutes to confer with his client, who appeared wearing a blue shirt with a shaven head and looks thinner than images used on media.
Last month, Ng was charged with abetting his former employer in the issuance of bonds worth RM6.5 billion relating to 1MDB.
Ng claimed trial in the Sessions Court to four charges of abetting Goldman Sachs in the sale of the guaranteed notes and bonds belonging to 1MDB's subsidiaries by omitting material information and publishing untrue statements.
Each of the charges under subsection 370(c) of the Capital Markets and Services Act 2007 carries a punishment of up to 10 years' imprisonment and a fine of not less than RM1 million.
Judge Ahmad Kamal Ariffin Ismail then allowed Ng bail at RM1 million in two sureties for all the charges and ordered him to surrender his passport to the court. Ng, however, was not released as he was still under remand for his extradition case.
At Ng's extradition hearing at the court this morning, Tan informed the court that Ng was willing to abide by any conditions, including surrendering international passport, house arrest, reporting to police within any intervals of time, and even having an electronic monitoring device installed on him.
He also argued that there was no way of co-existence of Ng's extradition to attend US Department of Justice charges while facing charges in Malaysia.
"My client cannot be in two places in one time," he said.
He was seeking Ng's release from remand after the latter's appearance at the Sessions Court today.
Presenting his case further, Tan said Ng's health had deteriorated since he was in custody; Ng was hospitalised for five days from Dec 3, suffering from illnesses like leptospirosis, food poisoning, dengue, and viral infection.
However, the prosecutors in Ng's extradition hearing objected to the bail, pointing out that all the points raised by Ng's lawyer have been considered at High Court, yet the High Court judge decided to dismiss the bail application.